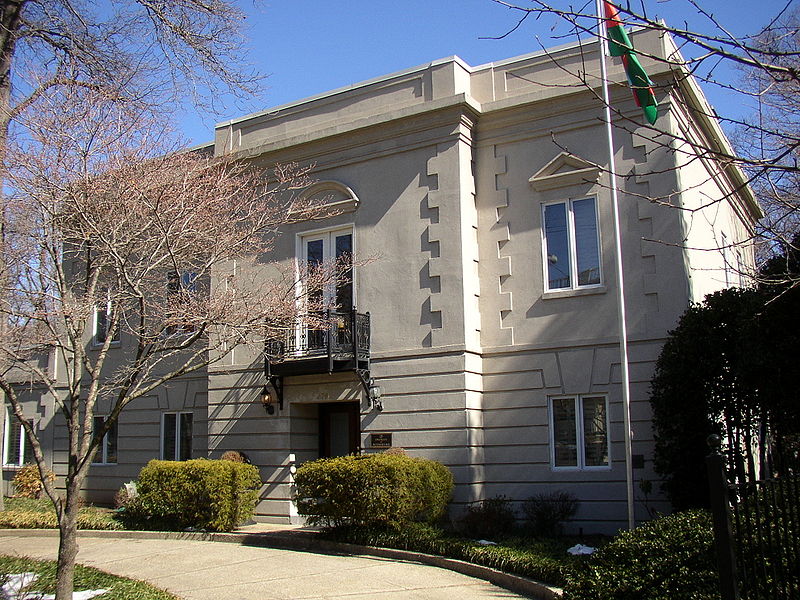 By Peter Tase
Since its independence in 1991, the Republic of Azerbaijan places a special importance to the relations with Western countries and particularly with the United States of America.  While maintaining such strong relations, with the United States, this partnership has always helped strengthen Azerbaijan's territorial integrity, secured better economic reforms for its people, promoted regional transportation projects and above all, Washington has highly supported the democratic values and governance in Baku.
The United States opened its embassy in Baku, and established its diplomatic relations in 1992.  The United States has demonstrated a great commitment to help Azerbaijan establish an open market economy and embrace the strengthening democratic institutions and an independent justice system.
The United States has supported efforts that bring peace and prosperity in the region, as well as promoted peaceful ways to resolve the Nagorno – Karabakh conflict.
An important project where the United States has played a critical role is the Oil and Gas Transportation Projects, the establishment of the trans-regional corridors that will physically connect Europe with Azerbaijan, generate important revenue for its people and above all secure a long lasting partnership of this majestic nation, at the heart of the Caspian Sea, with the United States.
The close cooperation between Baku and Washington is a fundamental component for Azerbaijan in order to be integrated in the Global Economic network.
The recent developments in Ukraine, public's support for referendum in parts of Belarus and the three year civil War in Syria, have increased the strategic cooperation between Azerbaijan and the United States has increased in many areas.  Azerbaijan is America's most important partner in the region and both nations continue to develop join projects in many sectors, such as with the development of energy corridors to Europe, national security reform, Azerbaijan's Armed Forces training and foster cultural ties.
An important initiative in the area of regional economic development is the establishment of the Baku-Tbilisi-Ceyhan strategic pipeline, a corridor that would deliver the Caspian Sea's oil and hydrogen carbonate resources to the World Market as well as integrate Azerbaijan's economy with the world's commerce.  This pipeline took shape at the OSCE Istanbul Summit in 1999, where the presidents of Azerbaijan, Turkey, United States, Georgia, Kazakhstan, signed the mutual declaration on the development of the Baku – Tbilisi – Ceyhan corridor.
Another important project is the recent joint venture of a group of companies led by BP in signing a US$45 billion deal to transport natural gas, through a pipe line,  from Azerbaijan's Shah Deniz field to Italy, offering the European Union an alternative to Russian supplies.
Through this deal, BP will expand the Shah Deniz project in the Caspian Sea and the construction of pipelines across Turkey and into Greece, Albania and Italy. In a statement of December 2013, BP stated that "Production from the field will increase by 16 billion cubic meters a year.  That is equal to about 1.5 percent of Europe's total consumption.  [1]
The supply of Azeri gas to Europe will lessen the increasing reliance on Russian export monopoly OAO Gazprom (GAZP), which supplies roughly 25 percent of gas in Europe.  This pipeline has emerged as EU's top priority, immediately after the disputes on gas pricing between Russia and Ukraine.
Italy is expected to purchase fifty percent of the project's gas beginning in 2019.  According to U.K. Foreign Secretary William Hague, "[this project] will increase our (EU) energy security by providing an additional route and a new source for gas supplies to Europe.  There is also the potential to expand the southern corridor to reach major gas suppliers in the Middle East, which could bring huge additional benefits."
Azerbaijan's economic relations with United States have flourished since the establishment of their diplomatic ties in 1992.  Both countries have a bilateral trade agreement and a bilateral investment treaty. According to the State Department, American energy companies, are engaged in "offshore oil development projects with Azerbaijan' as well as are exploring opportunities in the telecommunications sector.   Additionally, Baku has been designated as a beneficiary country under the Generalized System of Preferences (GSP) program, under which a range of products that Azerbaijan might seek to export are eligible for duty-free entry to the United States. This program is essential for Azeri investors who produce commodities in the Caspian nation and are able to export duty free products that can promote Azerbaijan's international trade objectives in the US Markets.
Bilateral defense and security partnership has been intensified in the last year.  In August 5th, 2013, the US Secretary of Defense Chuck Hagel hosted Azerbaijan's Defense Minister at the Pentagon
In this occasion, Secretary Hagel expressed his gratitude to Azerbaijan's defense minister Safar Abiyev, for his country's support to the war in Afghanistan.  Azerbaijan has contributed with troops in Kabul, under the command of International Security Assistance Force.  Additionally, the United States has secured from the Government of President Ilham Aliyev, a free transit by ground, air and sea, to support its war efforts and logistical support in Afghanistan. According to the Pentagon's Press secretary "the two leaders agreed to continue to work together on issues to include North Atlantic Treaty Organization interoperability, counter-terrorism, defense transformation and maritime security.  Secretary Chuck Hagel recognizes Azerbaijan's role in fostering regional security and stability, [as well as] he looks forward to continuing the strategic partnership." [2]
The Republic of Azerbaijan, under the assistance of United States armed Forces, has improved the performance of its inter-operational units which are present now in Iraq, field troops in Afghanistan as well as Kosovo.
According to the Department of Defense, in the last decade, United States has showed a great commitment towards strengthening Azerbaijan's security forces and improves its role to contribute to security and stability in the broader region. The U.S. supports the development of Azerbaijan's defense and security institutions, includes training and advising in civil-military relations, professional military education, and emergency management.
References:
[1] 
http://www.bloomberg.com/news/2013-12-17/bp-led-group-signs-45-billion-deal-to-pipe-azeri-gas-to-europe.html
[2] 
http://www.defense.gov/news/newsarticle.aspx?id=120580