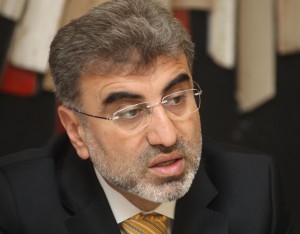 Turkey's largest domestic drilling rig built by a Turkish manufacturer was unveiled by Energy Minister Taner Yildiz on Thursday.

Speaking to the press during the opening, Yildiz said that the rig, which can drill for oil, gas or geothermal at a depth of 10 thousand meters, will help Turkey to be self sufficient in its oil, gas and geothermal energy exploration activities.

Turkey spent seven billion dollars last year on drilling and exploration and five billion dollars on importing drilling equipment.

Production of the deep drilling rig is essential in order to decrease expenditure and current account deficit of Turkey, Yildiz said.

Since 1934, over four thousand oil and gas wells have been drilled, he said.

Around 50 firms are involved in drilling operations around Turkey – 173 wells were drilled in 2013 alone. Out of these wells, 80 are currently in production in Turkey, according to the Turkish Petroleum Corporation (TPAO).

Turkey has an ambitious energy program to supply its energy needs which consists of investing more than $100 billion in the next decade.

Turkey aims to use its domestic energy resources such as coal, hydro, solar and wind, and also plans to construct two nuclear power plants and country constantly searches for domestic fossil resources to diversify energy sources.

Turkish manufacturer Pi Machines based in Ankara built the rig, which costs 20 million dollars.
Source: AA