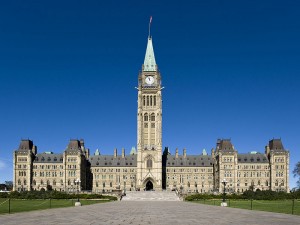 The Canadian Parliament and its surrounding area have been under lockdown after multiply gunshots were fired inside the legislative building on Wednesday morning.
It is reported that a suspected gunman was shot dead inside the parliament building. No organization or individual has claimed responsibility for the shootings.
Police believed there are maybe more gunmen inside the Parliament building, and multiple shots were reportedly also fired at nearby hotel and Ottawa shopping mall.
TV footage showed that police are still searching for the gunmen and investigating the shooting incident.
Jason MacDonald, director of communications for Canadian Prime Minister Stephen Harper, tweeted that Harper is safe and has left the area. The office of the Canadian prime minister is opposite to the Canadian parliament.
Several parliament members tweeted that they were safe but scared.
At the National War Memorial, one km away from the parliament, a man was shot and wounded by a gunman. Witness told Xinhua that the wounded looks like a member of the Canadian Forces.
They also said they saw a man fleeing the scene in a car toward the parliament buildings. Local police and tactic teams soon converged on the area.
Canadian police warned people in Ottawa to stay away from windows, roofs and lock the doors after the shooting.
Canadian police stations are closed to the public after the incident, media reports said.
Source: Xinhua