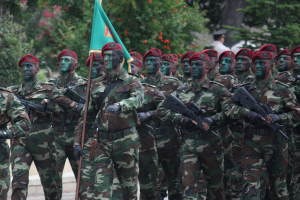 Following this week's downing of an Armenian helicopter by Azerbaijani air defense, and subsequent threats of retaliation from the Armenian defense ministry, Baku launched new large-scale military exercises.
At least 5,000 troops, 40 boats, 58 missile and artillery launch systems and 20 aircraft and helicopters are involved in the exercises, Spanish agency EFE reported today referring to the statement of the Azerbaijani defense ministry.
The exercises supervised personally by the defense minister Zakir Hasanov are being held in close proximity of the Line of Contact (LoC) between the Armenian and Azerbaijani forces. The drills began a day after the Armenian MI-24 military helicopter piloted by three Armenian servicemen was reportedly shot down by Russian-made 9K38 Igla-S (SA-24) man-portable infrared surface-to-air missile fired from Azerbaijani air-defense position.
The helicopter was part of a combo military choppers flying over Azerbaijani positions over the Azerbaijani positions in the district of Agdam, partially occupied by Armenian forces in 1993. Only one of helicopters was downed by a direct hit.
Armenian defense ministry in Yerevan claims the helicopter was unarmed and was conducting a training drill. However, there have been no further explanation as to why three servicemen of Armenian air force were onboard a military helicopter within the internationally recognized territory of Azerbaijan.
According to the Azerbaijani defense ministry, the MI-24 helicopter was downed after it fired on positions of the Azerbaijani army. The event is considered as an unprecedented resumption of military engagement in the last two decades since the singing of ceasefire agreement. Hostilities reached new heights in July-August 2014, when 25 servicemen (14 Azeris and 11 Armenians) on both sides were killed in combat along the line of contact. Downing of a helicopter is the first occurrence of air fight since 1994.
The presidents of Armenia, Serzh Sargsyan, and Azerbaijan, Ilham Aliyev, pledged to resume Nagorno-Karabakh talks during a recent summit in Paris organized by French President Francois Hollande.
The conflict traces its roots to Soviet period when Armenian separatists backed by Yerevan declared independence from Soviet Azerbaijan. The tension grew further with the collapse of the Soviet Union, when newly independent states of Armenia and Azerbaijan fought a brutal interstate war resulting in 30 thousand dead and over one million refugees and IDPs.
Despite continuous attempt to gain legal status, separatist authorities in Nagorno Karabakh have not succeeded in bringing recognition from any sovereign state or international organization.