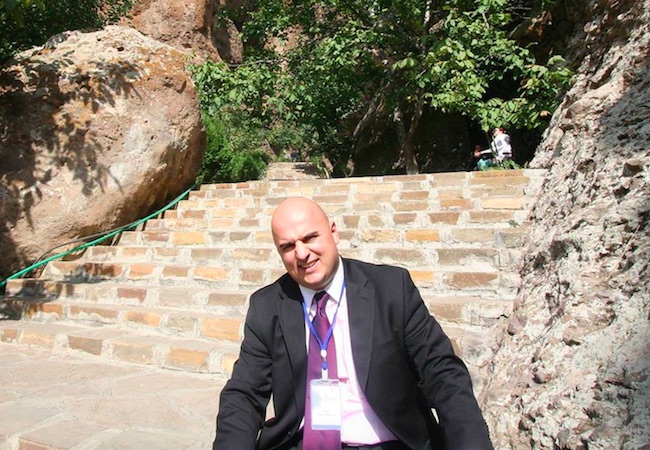 By Peter Tase
The Autonomous Republic of Nakhchivan, Azerbaijan, has a wealth of archeological sites that are a unique testimony for the world and its latest archeological discoveries, ancient culture and to Eurasia's ancient history.  One of these remarkable sites is the Salt Mine of Duzdaǧi (from the Turkish language meaning: a mountain of salt), an elevated area located ten kilometers to the west of Nakhchivan City, sitting above the former 'Silk Road" that is now the main road connection between Nakhchivan City and the Turkish border.
The Duzdaǧi Salt Mine is still operational, until today, it has large rooms where patients that suffer from lung decease continue to receive medical treatment on Speleotherapy, a treatment that involves breathing of the minerals' infused air inside a salt mine.
In Duzdaǧi salt deposits have been estimated by Azerbaijani engineers to be approximately 150 meters of thickness and cover several square kilometers.  Today, steel cargo wagons bring salt blocks from deep mining galleries of Duzdaǧi to outside modern installations where the salt is grounded into powder and widely used in local and international markets.  In the 1970s, as modern miners were digging salt out of this mine, they accidentally perforated the wall of an ancient tunnel that had previously collapsed.   They had discovered the remnants of four miners, who had been buried under the rubble together with their stone tools.  The study of these tools showed that the crumbled tunnel was very old: while using as a reference similar tools that had been found at Kültepe I (Nakhchivan), these tools excavated at Duzdaǧi Salt Mine, were made back in the Middle Bronze Age (MBA).
However, according to archeological research conducted by Professor V. B. Bakhshaliyev; it ensures that the exploitation of salt in this mine has taken place at much earlier periods, starting in the Late Chalcolithic Period.  In 2007, a French-Azerbaijani expedition led a systematic geo-archeological survey in Duzdaǧi, it showed that: hundreds of stone tools, together with pottery shreds, lay scattered over the slopes of this salt mountain of Nakhchivan; a wide selection of artifacts was concentrated over the white areas of the mountain slope, that correspond to layers of clay and sediment that alternate with other layers of reddish deposits and sediments.  There have been discovered, the entrance of a dozen narrow galleries, that have all been demolished and fallen inside.
All of these galleries have been dug horizontally into the white layers of the slopes.  The dating of the galleries awaits a specific study of a number of pot remnants and the distribution pattern of shreds.  However, according to a preliminary analysis of these ancient items, salt exploitation at Duzdaǧi seems to have been particularly active during the Early Bronze Age (EBA), based on the results of thirty percent of all shreds that have been collected in 2006-2007 (approximately 300 pieces), therefore we can ascertain that they belong to the Kuro-Araxes era of clay potteries and pieces.   All of these items, among them pot shreds that were surfaced, are usually badly worn-out and poorly preserved, so that it is not always easy to distinguish whether they belong to the earlier or the later Kuro-Araxes pottery productions.
A series of typical Nakhchivan lugs coming in different kinds of arrangements, from grayish white to red and black (on most of the items the burnishing has been totally vanished as a result of poor preservation conditions), these features strongly suggest that Duzdaǧi has even been exploited at the very beginning period of Early Bronze Age.
Late Chalcolithic shreds are rare so far (only two pieces of this period are found) but they unmistakably prove that this part of Nakhchivan has been very important during the Late Chalcolithic period (clay ware with a similar shape to the covering chaffs of grain seed).  A few shreds may also date back to the Middle Bronze Age (black monochrome painted platters on red burnished clay paste); there are also discovered pot shreds from the Late Bronze Age, rare items of the Early to Late Iron Age.  Indeed, the Sassanid period and even late periods demonstrate that Duzdaǧi Salt Mountain of Nakhchivan has been continuously exploited from the V Millennium to the present day.  An intact mug, founded on the mountain's surface towards the south-western slope is dated back to the Early Iron Age; perhaps it is one of the most interesting discoveries of 2008 and that makes this region of Azerbaijan become utterly valuable to the archeological breakthroughs across the world.
Sources:
Veli Bakhshaliyev, Catherine Marro (2009); "The Archeology of Nakhchivan: Ten Years of New Discoveries."
Aliyev V. H. (1977); "Azerbaycanda Tunc dövrünün boyali kablar Medeniyyeti: Elm, Baku.