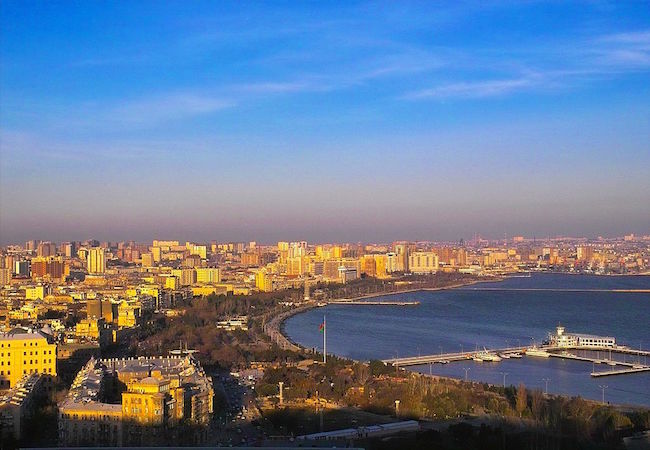 Azerbaijan is continuing on its undertaken path of economic diversification. This diversification of its industrial system and economy is aimed at guiding the Country in the "post-oil Era", as stated by the same President of Azerbaijan, Ilham Aliyev.
In Azerbaijan, the Primary Sector also has a leading role, with the 40% of the local labor force employed (47% of the Azerbaijani population lives in rural areas).
According to World Bank data, the Country's arable lands equal to the 57.7% of its total extension, with a significant variety of climatic areas compatible with different types of crops. A particular mention goes to the wheat that, with a 64.1% share (amounting to over 1.8 million tons produced in a year), represents the main productive segment of the Azerbaijani Agriculture sector.
In recent years, other types of cultivation have grown in importance, too: it's the case of potatoes, whose volume of production increased in 2013 by 2.5%, but also of fruit (+ 5.3%), sugar beet (+ 3.2%) and grape (+ 2.1%).
In Azerbaijan, the Agribusiness sector is developing fast, representing a key component of the non-oil economy as well as of the politics of the Country. In 2015, there has been a 5.7% increase in GDP, up to a total of 75.2 billion dollars, 660 million of which came from the Agriculture sector. Over the last few years, the Country's economic growth has led to a rapid increase in consumption and to an evolution of consumer tastes, together with the need to adapt and modernize the entire Agribusiness sector.
The policy of opening to foreign countries, combined with governmental incentives and programs, aimed to encourage imports of know-how and foreign investments in technology, have created an opportunity-rich environment. The agricultural sector is also completely free from customs duty, and benefits from a very favorable tax regime.
Moreover, the opportunity of relying on the expertise and collaboration of the Italian-Azerbaijani Chamber of Commerce "Itarzecom", means being able to count on excellent skills and abilities: the goal is to succeed in representing the best part of our firms, showing the great value of Italian know-how and of the real Made in Italy, which is always very appreciated and demanded in the thriving Caucasus Republic of Azerbaijan.
Due to the close collaboration with the institutions of the Republic of Azerbaijan, the participation in the Agribusiness Fair in Baku, Azerbaijan, from May 17  to 19 (11th Edition – Agricultural Fair Caspian Agro 2017; 22th Edition – Food Industry Fair Worldfood 2017), will be a privileged occasion to gain visibility, to pave the way to new collaborations for the Azerbaijani and Caucasian market, and to internationalize one's business.
This is an unmissable opportunity for anyone who wants to show its excellences in the Caucasus market.
Opportunities
• "The agriculture sector is completely free from customs duty, and benefits from a very favorable tax regime"
• "According to World Bank data, the Country's arable lands equal to the 57.7% of its total extension, with a significant variety of climatic areas compatible with different types of crops"
• "The opportunity of relying on the expertise and collaboration of the Italian-Azerbaijani Chamber of Commerce "Itarzecom", means being able to count on excellent skills and abilities: the goal is to succeed in representing the best part of our firms, showing the great value of Italian know-how and of the real Made in Italy, which is always very appreciated and demanded in the thriving Caucasus Republic of Azerbaijan."
For further information:
Mr. Domenico Letizia, Ph.D. – Political Analyst – Master's Degree in Historic Sciences, President of the Association "Amici dell'Azerbaigian Centro Sud Italia" – 338 4162841 – do.letizia@gmail.com
Mr. Francesco Della Peruta, Ph.D. – Agrotechnician – Degree in Animal Production Technologies, Member of the Association "Amici dell'Azerbaigian Centro Sud Italia" – 333 7821907 – francescohomer@gmail.com
Translation by:
Mr. Fortunato Materazzo, Ph.D. – Political Analyst – Master's Degree in International Relations – Relations and Institutions of Asia and Africa, Member of the Association "Amici dell'Azerbaigian Centro Sud Italia" – 338 8999328 – fortunato.materazzo@gmail.com
Original source (in italian): http://perqasje.com/2017/02/fiera-agroalimentare-di-baku-azerbaigian-maggio-2017/