The Embassy of the Republic of Mauritius has a vital role to play in the Kingdom of Saudi Arabia. It is one of two hundred foreign offices in Saudi Arabia and is one of the one-hundred and thirteen foreign representations in Riyadh. The newly-opened embassy's primary objective is to consolidate the already excellent friendship that exist between the two nations. Notably, it is keen on establishing a strong people-to-people contacts and it has embarked on a campaign to encourage the Saudis to visit Mauritius, which is known as a prime tourism destination. The Embassy is also keen to boost bilateral trade between the two countries and attract Saudi investment into Mauritius.
Mr. Mohamed Iqbal Latona is the first Ambassador of the Republic of Mauritius to Saudi Arabia. An admired man, known for his politeness and humble demeanor, Ambassador Latona has been known to stand behind the stage out of view and yet one who has had considerable influence on the Mauritian diplomacy.
He has had a distinguished career as a diplomat, and since 1988 has attended a number of conferences and symposia.  He is known for his hard work on behalf of the Republic of Mauritius at the United Nations and has contributed to the work of UN bodies which work for the settlement of armed conflicts and for the promotion of human rights.
In April 1988, Ambassador Mohamed Iqbal Latona was recruited as Second Secretary in the Ministry of Foreign Affairs. His success continued when in 1993 he was assigned to the Mauritius High Commission in Kuala Lumpur as the Second Secretary.
He continued to make progress within the Foreign Service. Almost three years later, he was promoted to the rank of First Secretary in the Ministry of Foreign Affairs; and was assigned to the Asia and Africa Desk in the Ministry of Foreign Affairs.
In 1999 Mr. Latona was posted to South Africa as the Deputy Head of Mission of the High Commission of Mauritius in Pretoria. In his position as First Secretary, Mr. Latona joined the Mauritius Mission team at the United Nations in New York in 2000 and served as the Deputy Permanent Representative and Coordinator of the Mauritius delegation on the United Nations Security Council.
In 2004, posted at the Mauritius Mission of the United Nations in Geneva, Switzerland, Mr. Mohamed Iqbal Latona was a crucial player in the negotiations to establish the United Nations Human Rights Council which replaced the Human Rights Commission.
Admired for his vast experience and knowledge of economic issues, in 2008, he returned to the country to continue work on the Treaty and Multilateral Economic Directorate of the Ministry of Foreign Affairs.
Since September 2017 Saudi Arabia Airlines began scheduled flights between Riyadh, Jeddah and Republic of Mauritius. For the first time, Saudi Arabia and Mauritius have regular scheduled flights and Ambassador Latona does everything possible to sustain this development. This is another evidence that relationship between the two countries is growing.
I had a great opportunity and honor to sit down with the first Mauritius Ambassador Mohamed Iqbal Latona, to the Kingdom and discuss the growing bilateral relationship, diplomacy, leadership, and public health, between Saudi Arabia and the Republic of Mauritius.
A.W.The Embassy of the Republic of Mauritius is one of 200 foreign representations in Saudi Arabia, and one of 113 foreign representations in Riyadh. Since each Embassy represents its country, culture, and heritage, it is expected to bring new ideas to the kingdom to continue its influence in the world community. What has the Embassy of Mauritius brought to the KSA?
Amb. M.L.Until one year ago, there was no Embassy of the Republic of Mauritius in Saudi Arabia. In 2017, the Embassy opened, and changes began to take place after some tireless efforts. Earning the title of the first Ambassador was rewarding as well as an opportunity full of challenges. It offered me a chance to witness the development of the relationship between the Kingdom of Saudi Arabia and the Republic of Mauritius. One year is a relatively short period of time to assess what the Embassy of the Republic of Mauritius has brought to the Kingdom of Saudi Arabia. However, it has opened up the opportunities to explore new avenues of cooperation, enhance the bilateral relationship between the countries, expand trade, and promote the cultural exchanges between Mauritius and Saudi Arabia.
It is important to note that since the Embassy opened, there has been an increase in trade between Saudi Arabia and Mauritius. I am very optimistic about the trade deals that we have worked out and I look forward to an eventual agreement between the Chamber of Commerce of Mauritius and the Council of Chambers of Commerce of the Kingdom of Saudi Arabia.
A.W.Your Excellency, you are the first Mauritian Ambassador appointed in the Kingdom of Saudi Arabia. This is a great honor, as well as a position with many responsibilities. Can you discuss your vision of this appointment on a personal level?
Amb. M.L.As a career diplomat, serving my country for the past thirty years, I have held positions in Kuala Lumpur, Pretoria, New York, London, and Geneva. The work has been very challenging, but indeed also a very enriching experience. Since I first began work in this field, it has always been my dream to become an Ambassador, and my hard work has finally paid off with this tremendous honor. As for being the first Mauritian Ambassador in Saudi Arabia, this is an excellent opportunity to represent the country that has always brought me a sense of pride and honour.  My vision has always been to defend and protect the interests of Mauritius and promote Mauritius as a country that upholds democratic principles, rule of law, good governance and human rights. I will endeavour to enhance the existing bilateral relations between the Republic of Mauritius and the Kingdom of Saudi Arabia in the political, economic, religious and cultural fields.
A.W.On November 21, 2017, the Secretary-General of the Gulf Cooperation Council (GCC) Dr. Rashid bin Abdullatif Al-Zayani, Secretary General of the Gulf Cooperation Council, welcomed and congratulated you as the Ambassador representing the Republic of Mauritius. It is clear that creating scientific research centers is one of the objectives of the GCC. Since science appears to be the milestone in every field, what scientific exchange programs were completed most recently, as a result of the collaboration of both countries?
Amb. M.L. It is interesting that you mentioned my meeting with Dr. Rashid bin Abdullatif Al-Zayani since it was a very productive meeting. We discussed the GCC objectives, and I also spoke about the possible collaboration between the Indian Ocean Commission and the Gulf Cooperation Council, both being regional organizations.
GCC is an organization which primarily deals with the regional organizations rather than dealing with individual countries. When I met with Dr. Rashid, we discussed the idea of a possible collaboration. It would be between the Indian Ocean Commission, which comprises of groups of island countries of the South West of the Indian Ocean: Mauritius, Réunion, Seychelles, Madagascar, and Comoros and the GCC. We looked into various opportunities as to how the GCC could cooperate with the IOC. In any regional project benefitting from GCC assistance, Mauritius would stand to benefit indirectly from the collaboration. My intended purpose is to try to find common goals and bring the GCC and IOC together.
A.W.Both the Kingdom of Saudi Arabia and the Republic of Mauritius are among the countries with the highest aging population (Life Expectancy for both sexes in the RM 74.6, the KSA 74.5, WHO 2015). Can you discuss any specific programs that can help to develop the birth rate and the human quality of life which could positively affect the life expectancy in the RM?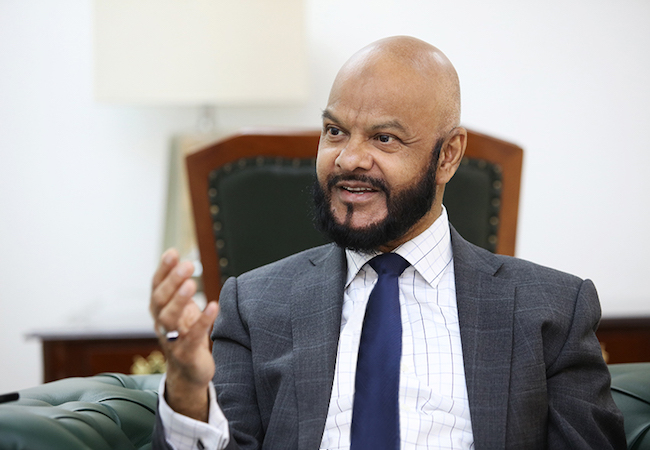 Amb. M.L.The level of literacy in Mauritius is very high; almost 95%. The people are highly educated; helped by the fact that public school and college education are free. Medical services are also free of charge in Mauritius. Any person can walk into a hospital or public care clinic and be treated without any payment, which has resulted in a positive quality of living standard of the people in the country. The average per capita income is about 12.549 USD (when adjusted by the purchasing power parity); this combined with free education and free medical care; leads to a more harmonious social culture and an increased life expectancy. As the standard of living of the people of the country improves, most people are contented with their living conditions and the way their country treats its citizens.
A.W.The 10th annual Riyadh Travel Fair took place from 10 –13 April 2018. The Minister of Tourism, Anil Gayan, personally led the delegation to the trade fair which represented the participation of the RM along with fifty-five other countries. As a participant, please name the central visions and objectives of Mauritius that you gathered from this personal experience.
Amb. M.L.Upon the personal invitation of the HRH Prince Sultan, this was the first time that Mauritius participated in the annual Riyadh Travel Fair. Following the opening of the Embassy, it was vital to attend the fair and the invitation was a great honor. The importance of our participation was that it allowed us to showcase our country and attract Saudi tourists to visit our land. We were particularly proud to introduce our new flights which are operated by the Saudi Airlines and the travel arrangements from Riyadh and Jeddah to Mauritius. Our participation undoubtedly helped to improve our bilateral relationship not only between our two nations but also among all of the participating countries.
A.W.Since 1993, when you were assigned as a diplomat, to the Mauritius High Commission as the Second Secretary in Kuala Lumpur, you have experienced a productive career. How has the world changed since then? How have diplomatic affairs improved since those years, between developed and developing countries?
Amb. M.L. Since my appointment as a Diplomat in 1988, the world has changed in many ways. Some changes have been positive, and others have had adverse effects. Twenty-five years ago, the world was divided into two groups of countries; the developed and prosperous countries and those that were in the process of development or developing countries. In my opinion, the case remains the same today. However, the economic relations between the two groups have changed. While the developing countries used to be recipients of aid and development assistance from the developed countries in the past, now they have become partners in development. The Economic Partnership Agreement (EPA) between the European Union and the African, Caribbean, Pacific Countries (ACP) is a concrete example of this economic partnership. The countries, both developed and developing, are now working within regional organizations to promote and enhance economic and trade cooperation. The new paradigm now is Trade instead of Aid. Both developed and developing countries are working together to promote human rights, good governance, sustainable economic development and to protect the environment. There is also cooperation at the global level to fight corruption, money-laundering and drug trafficking. Both developed and developing countries are united in the fight against terrorism. The new approach to international relations is one of collaboration and partnership to address global issues for the benefits of citizens across the globe.
A.W.You were a teacher in Zimbabwe from 1983 to 1986 and agreed that our children are our best legacy. As a teacher, how did you educate the younger generation in those years and what did you teach them? Thirty-two years after your teaching career and if you had a chance to teach your students today, what would you teach them.
Amb. M.L.The educational system has changed dramatically in the past twenty-five years; however, even then I feel that most of us would agree that our children are our best legacy. From the viewpoint of an Ambassador, I have seen that all countries are going through challenging times.  Mauritius has not been spared. The country experienced challenging economic difficulties, and many well-educated people who returned to their homeland could not find employment. When Zimbabwe gained independence in April 1980, there was a collaborative effort undertaken between the leaders of Mauritius and Zimbabwe to mutually help both countries. The Mauritius government decided to send its undergraduates to help Zimbabwe to develop its educational sector. I was lucky to be part of that group and still remember what a valuable experience it was for me. I believe it shaped my character and helped me to develop the skills needed for success in the future. I recall the first time I walked into a classroom, I faced an eager-looking group of students and asked a rhetorical question to which all fifty students responded with raised hands. Their hunger for education stunned me, and for the next three-years, as their teacher, I tried to share with them all of the knowledge and skill I had. Their dedication was obvious since I found out that some of the students walked 3-4 kilometers each day to get to school. They arrived each day with radiant smiles and a genuine interest to learn. They stimulated me each day and made me believe that I could make a difference in their lives. As I reflect on those years, I feel that if I had a chance to teach them today, I would use the most modern methods and technologies we did not have then to coach them. My goal would be the same, though, to make sure I prepared them for the real world for them to be able to deal with the issues and problems in today's world.
A.W.According to the Lonely Planet's Best in Travel 2018, Mauritius is considered to be among the top ten countries to visit this year. Travelers today are adventurous and know that visiting a new place is exciting. The opportunity to meet with different people, who have different interests and values can be a life-changing experience. What can you do to help your country maintain its top ten ranking position and continue to make the Republic of Mauritius a place to learn and explore.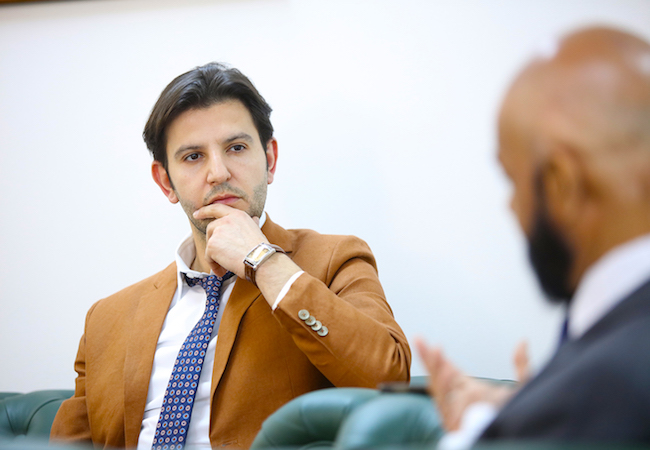 Amb. M.L.There are many reasons why some places are considered favorites by travelers all over the world. With a world full of fascinating destinations, keeping Mauritius in the top ten ranking position can present a challenge.  Mauritius offers many exciting attractions, natural sceneries, landscapes, beaches, tropical weather, historical museums and sporting attractions. Even though the island is surrounded by a reef, which creates calm, blue lagoons for swimming and water sports, many tourists travel to Mauritius for other reasons. Medical tourism has become particularly popular in Mauritius; a place to relax and combat stress. There are specialized centers on the island that offer services for various medical treatments. I feel that it is important to mention that these services are reasonably priced. During the past few months tourism in Mauritius has increased by 61% and we are going to do everything possible to maintain our standing and remain in the top ten ranking position.  We must continue to showcase Mauritius as an interesting tourism destination that tourists will find memorable and ensure that the visitors feel that they are in a safe and hospitable environment. These coordinated efforts will keep us in the top ten ranking.
A.W.When it comes to Medicine and Science, Saudi Arabia has always been an active participant in assisting to improve science and technology. Can you tell us more about Saudi help for Mauritius?
Amb. M.L. The Republic of Mauritius and Saudi Arabia have a long history of medical collaboration and provision of financial assistance to improve medical care in Mauritius. Dr. Hassan Raffah, a renowned heart surgeon, visited Mauritius on several occasions during the 1980s. He would come and perform heart surgery on patients at no cost, and in honor of that work, a school was named after him. This past year, a medical team from the Kingdom came to Mauritius to provide a variety of medical services. Their work was invaluable as has been the medical aid given to Mauritius for the past twenty-five years. Furthermore, Mauritian doctors have been working in Saudi Arabia sharing their knowledge and expertise with medical staff in various hospitals in Saudi Arabia. 
Alexander Woodman, a public health researcher currently teaching in the Middle East. His research interest is in global health, international health policy development, transnational and trans-cultural health politics, medical ethics as well as international diplomacy.