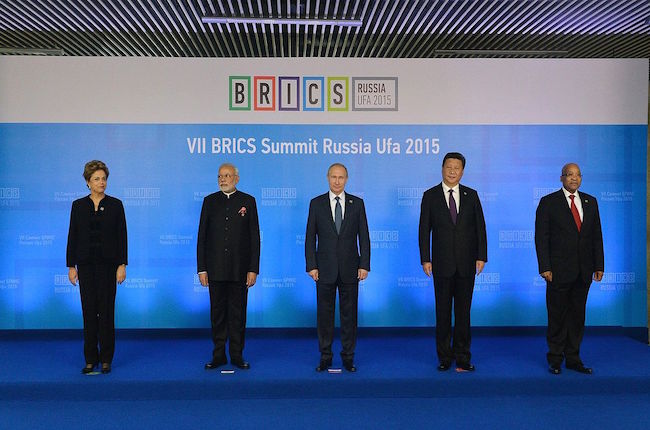 By David McDonald
Overview
Multilateral trade agreements signify the importance of globalization and economic interdependency in our rapidly-changing world. From the WTO (World Trade Organization) to NAFTA (North American Free Trade Agreement) to B.R.I.C.S, global superpowers are realizing and acting on the importance of free trade, and they are benefiting because of it.
B.R.I.C.S is an acronym for Brazil, Russia, India, China, and South Africa; it is a free trade agreement that aims to increase cooperations between member nations in order to achieve greater development, provide extensive financial assistance, and support various infrastructure and border defense projects.
It is much like the European Union and NAFTA, which aim to decrease or completely eliminate import and export tariffs, in order to promote the free flow of goods across border countries. The main driver between the creation of trade agreements is the economic model for comparative advantage, which states: the ability of an individual or group to carry out a particular economic activity (such as making a specific product) more efficiently than another activity.
Some countries can produce a greater amount of goods for cheaper than other countries and thus, benefit from trade agreements through decreased tariffs on exports, which allow them to export greater quantities as well as eliminate trade deficits.
BRICS aims to accomplish greater prosperity by encouraging commercial, political, and cultural cooperation between the five participating nations. So far, it looks like they are well on their way to accomplishing this.
However, with trade agreements comes varying skepticism; Jordan Totten of Forbes magazine has made a bold statement saying, "BRICS New Development Bank threatens hegemony of U.S. Dollar" but is this the case?
The Concept of BRICS
Member countries have engaged in several summits that began in June 2009, where they discuss future plans for increasing the collective prosperity of the group. These summits rarely accomplish much due to major differences of the five countries.
A summit in July, 2015, however, proved there is a future for this multilateral trade agreement. Among the several outcomes, three in particular stood out.
China agreed to commit $41 billion to a BRICS currency reserve pool to provide liquidity to other member nations in case of emergency. Brazil, India, and Russia will each contribute $18 billion while South Africa will chip in $5 billion. China's vast foreign currency reserves will thus help to provide a currency pool for the BRICS nations as the dollar is expected to gain in value.
China's President Xi Jinping spoke with Indian Prime Minister Narendra Modi to bolster collaboration between the two nations on the One Belt One Road initiative, which will connect China with many other nations across Europe, Asia and Africa. Modi approved of more Chinese investment. Xi also emphasized that China and India should better manage security in border regions.
Third, the New Development Bank was officially launched with $50 billion startup capital. The Bank is to finance large infrastructure and development projects. The objectives of the New Development Bank fall in line with China's aims to build up infrastructure and investment for the One Belt One Road initiative. To this end, economic cooperation among the BRICS member nations was emphasized.
It is clear that BRICS countries are trying to establish economic sustainability outside of western-dominated markets, and for good reason. From 2000 to 2008, the BRIC countries' combined share of total world economic output rose from 16 to 22 percent. Together, the BRIC countries accounted for 30 percent of the increase in global output during the period.
By investing in their own markets first, they will see substantial domestic growth – something that is very important to BRICS nations, especially China. China has sustained economic growth for decades, and is now in a position to drastically improve their own quality of life, rather than have everyone else benefit off of their cheap products.
BRICS countries will maintain healthy economic growth in coming decades, should Western powers be worried?
BRICS members are powerful, together, they comprise more than 2.8 billion people or 40 percent of the world's population, cover more than a quarter of the world's land area over three continents, and account for more than 25 percent of global GDP.
But just because they have formed a trade agreement amongst themselves does not mean they will not trade with the West. Many countries still rely on the U.S. and Canada for oil, vehicles, machinery, mineral fuels, and plastics.
Some may argue that if BRICS nations can produce these products at a comparative advantage, then trade with the west will diminish.
However, I believe this is an arbitrary assessment of the BRICS trade agreement's potential global influence. We can expect an increase in trade between BRICS nations and perhaps a decline in trade between BRICS nations and the West, but there is absolutely no way for trade to diminish completely if comparative advantages still exist.
Take the graph above for example, if India has a comparative advantage over Canada in providing telecommunications services, they will continue to export these services, just as Canada will continue to export natural resources in which we have a comparable advantage in.
The only force that can hinder international trade is exemptions on trade itself – or tariffs.
Canada has yet to impose hefty tariffs on BRICS nations, but the US has hinted at the idea of adding a 45% import tariff on Chinese goods. If this happens, (I don't think it will) you can expect to see a dramatic decline in Chinese imports coming into the U.S.
Aside from this, the BRICS alliance has been interpreted to be a means through which China can exercise its power outside of the U.S.-dominated international institutions. The creation of a dollar currency reserve pool to avoid the need for an IMF bailout may point in this direction.
However, this may be a somewhat biased perspective. China has recently established itself as the world's number one exporter of goods with exports exceeding $2 billion annually – it makes sense for them to engage in trade agreements that allow for cheaper trade. Furthermore, BRICS countries will benefit from infrastructure projects that will also make trading to the Asian market as a whole, easier.
But with the US, Canada, and Mexico all within the top 20 countries in terms of exports, why are people worried about increased trade in Asian markets?
"The most striking sign of the BRICs' significance to the world economy, though, is probably their share of foreign-exchange reserves. All four are among the ten largest accumulators of reserves, accounting for 40% of the world's total. China is easily the largest, with a staggering $2.4 trillion, enough to buy two-thirds of all the NASDAQ-quoted companies."
The simple reason as to why Western powers are worried is because BRICS nations will not be able to rely on US Debtors or the Western-dominated IMF to bail them out if their economies collapse. By creating a multilateral trade agreement that does not feature any Western powers, BRICS nations have set themselves up for long term sustainability, which will translate into long term growth with the west as well.
These economic and foreign policy issues are too complex to be viewed as "following U.S. leadership," or "pushing back against U.S. leadership." China in the BRICS is attempting to promote the economic and political development of emerging markets, which are by definition not a part of the Western developed-nation group.
These countries have their own approaches to international relations, and do not appear to be operating as an anti-Western body. China in the BRICS Summit acted productively, not only for China but also for other nations. The promotion of economic activity in various global regions helps to generate growth elsewhere, as growth is not a zero-sum game. China in the BRICS should be viewed positively and not as a threat.