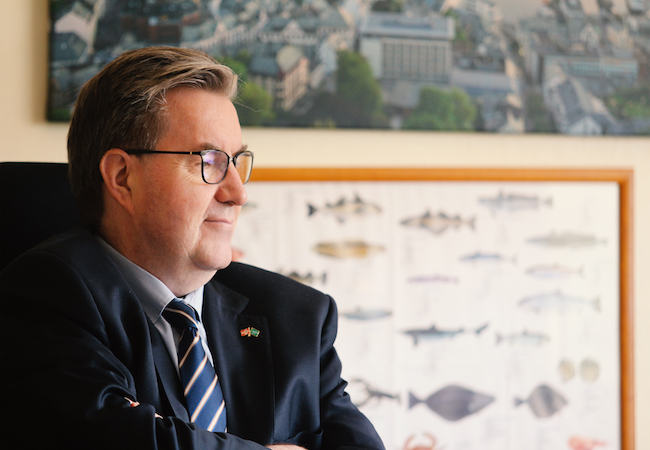 By Alexander Woodman
The history of bilateral diplomatic relations between the Kingdoms of Norway and Saudi Arabia dates back to 1961. Fifteen years later, in 1976, the official Royal Norwegian Embassy to Saudi Arabia opened in Jeddah and subsequently moved to Riyadh in 1985. In 2012, the Royal Saudi Embassy in Oslo was opened to reinforce the development of mutually beneficial relations between these nations.
The two monarchies shared the knowledge and understanding in the petroleum sector, and gradually expanded their expertise. They studied the fields of renewable energy and energy efficiency sectors and eventually became the leaders of in the areas of the energy production and exportation. Both Norway and Saudi Arabia use their rich hydrocarbon resources for the development of social and economic structures.
Norway identified Saudi Arabia as the largest economy in the Arab world, the only Arab member of the G20, and a vital member of the Gulf Cooperation Council (GCC), both regionally and globally.
Norway is considered to be the second largest seafood producer in the world and Saudi Arabia is one of the leading importers of Norwegian seafood. The amount of the seafood imported to Saudi Arabia increased in 2017 reaching about 42 % of all imports. This growing business relationship between the two countries was recognized during a seafood dinner hosted by the Ambassador of Norway to Saudi Arabia, HE Øyvind Stokke. In April of this year, the guests were treated to a delicious meal of Norwegian cuisine which displayed the high-quality of Saudi seafood delicacies.
"This is an inclusive, engaging aspect of food; it opens doors to another country's natural resources, traditions and culture", stated His Excellency. Mr. Øyvind Stokke also presented newly made brochures for the Norwegian Seafood Council; written in Arabic and English, each was filled with recipes of Norwegian dishes of salmon and codfish. The Ambassador stated that he intended to organize more dinners to further explore the secrets of cooking unique Norwegian seafood. The first gathering would be on the eve of the Saudi HORECA exhibition in November; the Saudi International Food, Beverage & Hospitality Exhibition. A sizeable Norwegian delegation was expected to visit Riyadh to celebrate this special occasion.
In August of 2017, his Excellency, the Royal Norwegian Ambassador Øyvind Stokke, was named the head of the mission of the Kingdom of Norway to the Kingdom of Saudi Arabia. His Excellency Øyvind Stokke presented his credentials to the Custodian of the Two Holy Mosques; King Salman bin Abdulaziz Al Saud in November of 2017.
I had a great opportunity to have a discussion with His Excellency Øyvind Stokke.
A.W. Since 1961, the Kingdoms of Norway and Saudi Arabia have established secure and stable bilateral relations. What does the expression 'bilateral relations' mean in Norway today? What do you think are the most pro-active principles possessed by Norway and Saudi Arabia that can be used to develop such long-lasting relationships?
Amb. Ø.S.The expression 'bilateral relations' means many things. Often it means the formal establishment and strengthening of official relations between two countries, like Norway and Saudi Arabia. At the same time, it means all the business contacts going on – trade, commerce, investments, joint ventures, etc. – and it means all the contacts within academic and research cooperation, education, culture, arts, media, sports, etc. For me, 'bilateral relations' is about people meeting each other, from two different countries; i.e. officials, diplomats, businessmen/women, scholars, students, journalists, civil society, etc. My job is to help these encounters happening; prepare a visit by a minister, try to attract more Saudi tourists and travelers to go to Norway, or get more Norwegians interested in doing research with Saudi colleagues here in Saudi Arabia. For a country like Norway, which is somewhat 'far-away' for most people, I feel that one of my main tasks is to draw more attention to interesting things going on my country Norway; the development of green technology, 'smart cities', the record sale of electric cars, our record of gender equality at workplaces, the many beautiful places to visit, etc.

A.W. The Royal Norwegian Embassy in Riyadh is responsible for Norwegian relations not only with Saudi Arabia, but with the Kingdom of Bahrain, the Sultanate of Oman, and with Yemen. In your position as an Envoy, you are provided with the unique opportunity to learn about many different countries in your travels. Please, share some of the experiences and historical discoveries that you have made during your travels. What innovations do you expect to receive in the future and what will you be able to share with the people of these other countries?
Amb. Ø.S.  As a small country (well, not so small when it comes to our coastline and sea resources), with only 5 million people, we are not able to have Norwegian foreign missions everywhere. This is why the embassy in Riyadh also covers Bahrain, Yemen and Oman in addition to Saudi Arabia. Due to the war and conflict, I cannot go to Yemen, but I have been to Bahrain and Oman a few times. I shall refrain from generalizing, but I have to say that Oman is one of the most beautiful and friendly place I ever have visited. I understand well that the number of in-coming tourists, also from Norway, is increasing rapidly now. Norwegian companies have some activities there in the petroleum sector, especially within enhanced oil and gas recovery. Another area in development in Oman is the aqua culture sector, where Norwegian technology is world leading. The focus of Norway's relations to Bahrain is also on business, and some more bilateral political contact is under way. Traditionally, Norwegians in Bahrain have been engaged in financial services, maritime industries, and oil and gas. We do have a very nice Christmas event together, by the way. There are only 20-30 Norwegians in Oman and Bahrain, and 50-60 in Saudi Arabia. This reflects perhaps also the fact that more and more Norwegian companies are represented abroad now by a local company or local agent, in order to save costs. It is fascinating to listen to Norwegians who have been in the petroleum sector in the Eastern Province in Saudi Arabia since the 1980s or 1990s telling stories from how things were 10-20-30 years back. I have also had the time to travel to Jeddah a few times and seen how different the two cities, Riyadh and Jeddah, are. I love the sea, so it is important for me to seek to the sea from time to time. What I need in the coming year is to explore more of Saudi Arabia by taking to the road, or train.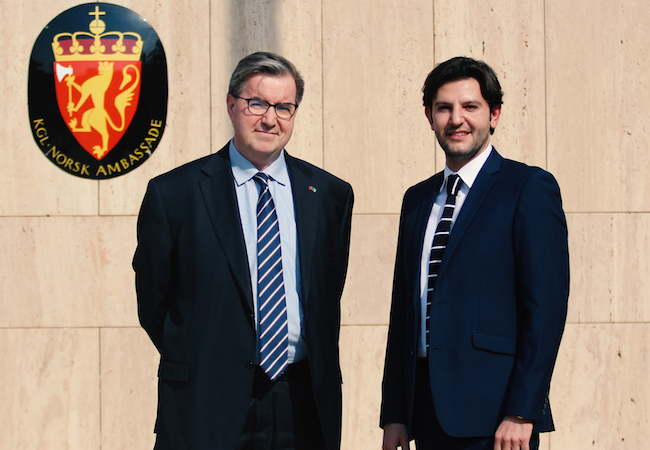 A.W. Snøhetta, named after the highest mountain in Norway, is the architectural and collaborative landscape workshop which was founded in Oslo, in 1989.  Today it is an international architecture, landscape, and design company with approximately 240 employees coming from 32 different nations. It is best known for its slogan: "Snøhetta is a place that nobody is from, but anyone can go to." What is meant by equality and inequality? What is unique about Snøhetta is that everyone is welcome; it is an excellent example of a collaborative working process where professionals from all over the world with many different skills work together. As head of this mission, can you please share any lessons you have learned about "equality," between different nations and the value of the same care, dedication, and attention that is given to each craft.
Amb. Ø.S.I cannot answer for the famous Norwegian architectural company Snøhetta's slogan, but I think I can say for certain that Norway is a country where equality is deep-rooted and highly valued. It comes with the development of the welfare state – as in Norway's case – that all citizens should have the same, equal access to for example education and health care. Everyone in Norway pays a fair share of direct and indirect taxes and they expect the national and local governments' services in return. However, equality is perhaps today even more associated with gender equality and in that respect, I think Norway scores very high on all international ratings. It has been a high priority for all Norwegian governments since the 1960s to strive for gender equality within all areas, segments and sectors of the society. Today, we have a government in Norway where both the prime minister, finance minister and foreign minister are women, the three coalition parties' leaders are women, the speaker of the parliament is a woman, etc. When it comes to businesses, more women are needed in the leading positions. Despite the fact that women now make up half of the labor force in Norway, only 38 % (in 2016) of all managers were women. However, 15 years back women accounted for only 26 % of all managers in Norway, so we are on the right track.
A.W. On the 17 April 2017, Saudi Arabia launched the King Salman Renewable Energy Initiative. Its purpose was to generate 10 % of the power from renewable energy sources. Simultaneously, 98 % of all electricity production in Norway comes from renewable sources. At this time, can you discuss any specific scientific international projects in this field, that have been initiated by the government of Norway, where Saudi Arabia can become involved and gain much-needed experience?
Amb.Ø.S.No, no specific projects yet, but there is absolutely room, knowledge and experience on our side to do more in this field. I want to emphasize that there are many Norwegian companies within wind energy, technology companies, consultants and advisors, who are ready to enter the Saudi market. Norway also have a number of solar energy companies. However, talking about cleaner energy sources, Norway is on top in the world in terms of widespread use of environment friendly electric cars (EVs); last year around half of the total new car market in Norway consisted of EVs, despite the fact that there are very long distances between Norwegian cities and villages; Norway is a large country, geographically. Everyone in Norway, it seems, buys an EV now. Consequently, the pollution in some cities is being reduced substantially. So, if Saudi officials, experts or market players want to go and see with their own eyes how this green development in the transport sector has come about, I would be happy to give advice with regards to people in Norway they should meet, businesses, officials, researchers, NGOs.
A.W. The King Abdulaziz Center for World Culture (Ithra), the Jeddah Public Transportation Program (JPTP), the Qasr Al Hokm Downtown Metro Station, and the Makkah Metro C – Line Stations are some of the outstanding projects entrusted to Snøhetta. How would you evaluate the collaboration of two countries working within the framework of four projects at the same time? Can the trust between these nations stand as evidence of the reliance and partnership between these two nations?
Amb. Ø.S.  I am proud to say that Snøhetta (which is the name of a mountain in Norway) is a world famous Norwegian architectural and design company that have designed the national library in Alexandria, the national opera in Oslo, the 9/11 memorial site in New York, the Ithra in Dhahran and many, many famous buildings around the globe. I am glad that Saudi partners have chosen Snøhetta to work also here in Saudi Arabia. The bilateral relations between two countries always need some models, symbols, a spearhead or a locomotive that other Norwegian companies can follow or look up to. The trust built up in working with one company, and the experiences made along the road of reliability, accountability, flexibility and shared business culture, often have an impact on whether you choose another company from the same country in other business areas.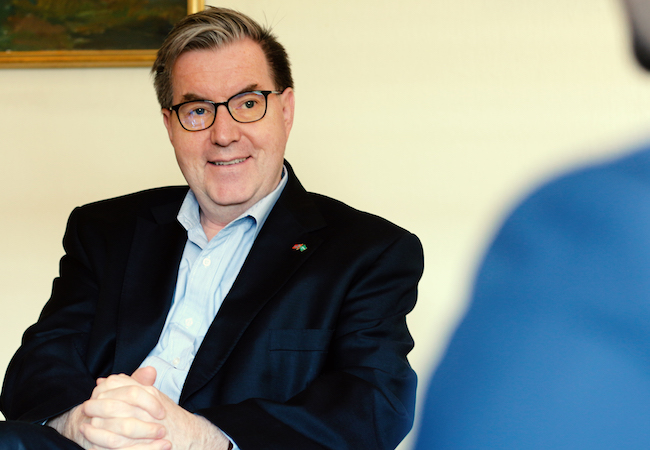 A.W. At the World Economic Forum, in early 2018, the Prime Minister of Norway, Erna Solberg, announced the plans to develop a High-level Panel on Building a Sustainable Ocean Economy. The Khaled bin Sultan Living Oceans Foundation is a marine science and ocean conservancy foundation that was established to research and protect the marine life which is a valuable source of survival for the people of Saudi Arabia and around the world. What do you think are the potentials and opportunities for these two initiatives to collaborate and implement educational programs to improve people's knowledge about the Living Oceans?
Amb.Ø.S.This is something we should find out. I guess there are areas where they can cooperate. The high-level panel, headed by Norway's PM Erna Solberg, is a relatively new group, so personally I do not yet know what other partners around the world they have started to work with. However, I would like to add, in order to bring some more background to your question and for your readers, that Norway is a leading ocean nation in the world. Every day 214,000 Norwegians go to work in the ocean industries – i.e. within the oil and gas, maritime and seafood sectors – which together generate more than NOK 500bn (USD 60bn) a year in wealth and count for about 70 % of Norway's export earnings. Our coastline is one of the longest in the world, and the marine areas we manage are more than six times as large as the land. Norway is one of the largest oil and gas producers, we are one of the world's largest and most advanced shipping nations, the world's second largest exporter of fish and seafood, we have a word-class supply industry, and Norway is at the forefront of ocean research and responsible marine resource management. Every year we provide billions of dollars for research and innovation in the ocean industries through programs at the Research Council of Norway; we map oil resources and mineral deposits on the seabed. We map the seabed and monitor the marine environment. We facilitate the use of environmentally friendly ships. We have established development assistance programs that combats marine litter and plastic waste at sea. We have set up an international panel on the ocean economy, as you mentioned above, and we have stepped up efforts to fight fisheries crime, to mention but a few areas and measures. If Saudi partners are searching for partners in the ocean industries, look to Norway, go to Norway or give me a call.
A.W. During the 2016 forum of "Aquaculture Investment Opportunities in Saudi Arabia" in Yanbu, the Saudi Arabia's Fisheries and Aqua-culture Sector Development Plan announced its annual target to produce one million tons of aquaculture food by 2030. The Royal Norwegian Embassy and Innovation Norway participated in this Forum and with the Saudi Aquaculture Society hosted an interrelating dinner. Would you say that this dinner was a way to generate as well as cultivate new horizons for investors in the field of Fisheries and Aquaculture in Norway and Saudi Arabia?
Amb.Ø.S.Yes, absolutely, these events brought key people together and ideas were discussed. In the coming weeks, now in November, we are doing two important things, to give you some examples: First, we are planning an aquaculture study trip to Norway, where 15-20 key Saudi people within the aquaculture industry and officials from the Saudi ministry, aquaculture society and other agencies can visit fish farm plants, talk to people, gather knowledge, get inspired, perhaps even draft contracts. They will travel to some very beautiful sceneries along the West coast of Norway where many of these industries and companies are located. Secondly, for the first time there will be a large Norwegian delegation – including a world-class chef – attending the Saudi Horeca food, beverage and hospitality fair and exhibition in Riyadh, with their own stand, in the end of November. Exporting more seafood to Saudi Arabia has a high priority for Norway's embassy in Riyadh and our partners, as the Norwegian Seafood Council. The unique combination of nature, culture and management gives Norwegian seafood a world-class position in terms of quality, tradition and sustainability. Did you know that every day, more than 34 million meals of healthy Norwegian seafood, is served in more than 140 different countries across the globe?