AMERICAS
BUSINESS
Editor's Picks
OPINION
The winner of the U.S.-China trade war is…
The United States and China trade war has had serious economic and financial consequences for each nation. But there has been a surprise winner of this trade war between the two economic superpowers that could have interesting long-term consequences.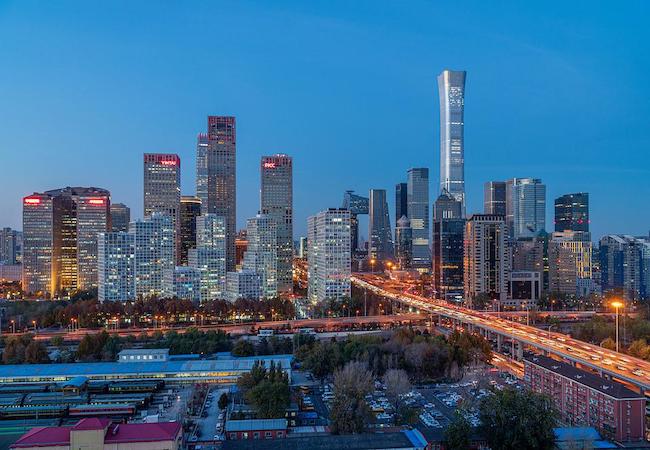 The United States and China have been in a trade war for several years with each making charges and accusations against the other. The United States has accused China of such acts as stealing trade secrets from American companies as well as undercutting prices on goods and products. China feels that the United States is not following the economic concept of free competition and open markets and is trying to protect American companies. This has resulted in a trade war that has had serious economic and financial implications for both nations.
For China, many analysts believe that its economy has slowed down because it cannot export as many products and goods into the United States as it did before. Economic and financial analysts feel that this is the key reason why China's economy is in a recession which has resulted in a spike in unemployment.
For the United States, not being able to export agricultural products to China has impacted American farmers resulting in the Federal government giving them financial aid in order to survive.
But there has been a nation that could accurately say is the winner of the trade war between the United States and China and that is Vietnam. The nation in Southeast Asia that at one time was a focal point of the Cold War between the United States and Communism, has become an economic and trade powerhouse. Vietnam has become the place that major international manufacturers want to have factories in order to make products that once were produced in China but at a cheaper price. International manufacturers have moved their factories from China to Vietnam in order to cut costs but also have the same if not better quality for their products.
Why the U.S.-China trade war occurred
The history of the trade relationship between the United States and China is relatively a short one. The two countries really started normalized relations in 1979 with the visit of Chairman Deng Xiaoping to the United States. The trip was more of a way for American companies to enter the Chinese market not only to sell their products and services but also to invest in the newly opened market. American companies would eventually set up stores and franchises in China and build factories so that goods could be exported to the United States and the rest of the world at a lower cost.
Under Chairman Xiaoping's leadership China also started a journey of economic reform in the latter half of the 1970's in which the central government relaxed its control over the economy while also permitting the development and expansion of private industries. This allowed individuals in China to form companies either with their own financial capital or from interested investors. China became a member of the World Trade Organization (WTO) in December 2001 which was deemed a big step for the once secluded nation. But in order to join the WTO, China needed to make vast sweeping economic reforms. These reforms included severe reduction in import tariffs, respecting patents and copyrights for intellectual property, and becoming transparent regarding its rules, laws, and regulations. With the help of the United States, China's economy was starting to grow as more goods were exported into the American market. The growth of trade between the two nations went from approximately $100 billion in 2001 to $500 billion in 2017. Chinese factories churned out low-cost products to the United States and the rest of the world while it also made an important position for itself in the global supply chains.
However, there were some American critics and policymakers that were seriously alarmed by the ever-growing tag of "Made in China" on many products sold in retail stores. These critics and policymakers saw China's quantum leap in its economic growth as a serious challenge to the economic and geopolitical leadership and dominance once held by the United States. They feared that China's growth was too fast and too soon. Donald Trump based his 2016 presidential campaign on reducing America's trade deficit with China. He based his campaign on China's unfair trade practices, including theft of intellectual property, and encumbered access by American companies into the Chinese market.
This argument worked well enough to help get Trump elected President of the United States in 2016 and based on a report he ordered from the Office of the United States Trade Representative to investigate China's trade and economic practices, he imposed tariffs on Chinese imports. This was followed by a case filed with the WTO of China's trade practices as well as restricting Chinese investment in high technology companies in the United States. Even though the United States under Trump imposed tariffs on Chinese made goods coming into the American market, China would not take this lying down. Under President Xi Jinping, China retaliated with import tariffs and restrictions on imported American goods and products. Hit especially hard were American farmers who regarded China as their biggest customer for such items as soy beans and pork, to name a few. China turned to other foreign producers for items it would normally get from American producers, such as farmers.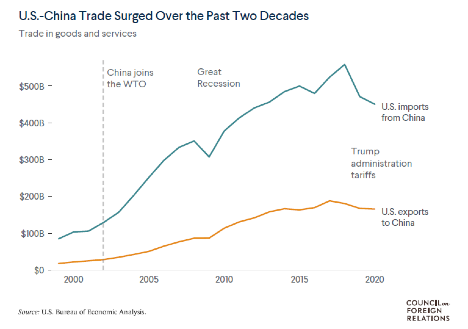 The result of the U.S.-China trade war
The problem is that the trade war between the United States and China ended up costing both countries in terms of revenues and economic growth. For example, the tariffs the United States either increased or imposed on thousands of Chinese made products between the years 2018 and 2019 was approximately $350 billion. China's tariffs on American exported goods affected approximately $100 billion of items from farmers and manufacturers.
Looking at each country, the trade war had devastating results. For the United States, the trade war affected its economy in different ways. Moody's Analytics published a study in 2019 that showed that the trade war cost the United States almost 300,000 jobs while reducing real GDP by an estimated 0.3 percent. Other studies have shown that the economy of the United States was hit other ways. In 2019, Bloomberg Economics reported that the trade war would possibly cost the American economy $316 billion by the end of 2020. In a study conducted jointly by the Federal Reserve Bank of New York and Columbia University, the conclusion was reached that American companies' share price went down $1,700 billion following the increases in tariffs.
There have been other studies that came to the conclusion that American companies were the key payers for the U.S. tariffs at a cost of almost $46 billion. American companies paid a heavy price in the U.S.-China trade war in the form of reduced net profit margins, loss of market share, and reduced revenues. American workers paid a steep price also with a reduction in wages, loss of jobs, and paying more for goods and products coming from other manufacturers world-wide who could now charge more for the same or inferior quality items. As stated earlier, American farmers suffered a serious hit as according to the American Farm Bureau which stated that "farmers have lost the vast majority of what was once a $24 billion market in China". On a larger scale, the number of exports by the United States to China fell a whopping 26.3 percent while its exports globally only went up by a modest 2.2 percent. This was not enough to make up its shortfall with China.
The impact of the trade war on China has also hurt that nation. China saw its exports heading to the United States reduced by 8.5 percent while exportation of its goods and products globally only increase by an insignificant 5.5 percent. For a country as large as China in terms of its population, this is not enough to sustain its economic growth, either in the long or short term. China is an export-based manufacturing nation that must sell its goods and finished products to the rest of the world in order to survive and grow. China needs trade so that its people have jobs and can put food on the table. Without jobs, China's people will go hungry and become unemployed. Not only that, but ancillary factors of China's economy will also feel the effect of the trade war. For example, if Chinese workers do not have jobs, then they cannot afford to purchase homes thus affecting the residential real estate market of China. This will ultimately cause home prices to fall further than they presently are.
The United States imposed tariffs on various Chinese exports, including:
A 25 percent tariff on steel
A 10 percent tariff on imported aluminum
10 percent tariff on approximately $300 billion of Chinese goods starting on September 1st, 2019
10 percent tariff on approximately $160 billion of Chinese imports starting on December 15th, 2019
A tariff on washing machines and solar panels amounting to a $0.2 billion increase based on 2018 import values
The bottom line is that China has never been in a position where it can fully and completely retaliate against the tariffs imposed by the United States since China is not even close in imports of similarly high value goods originating from the United States.
The trade war between the United States and China deeply affected both nations. But there was one nation that benefited from the trade conflict between the two economic giants.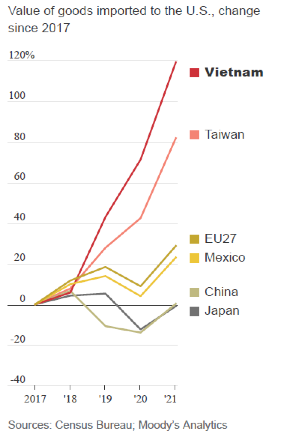 The benefit for Vietnam
If there is one country that has benefited from the trade war between the United States and China, it is Vietnam. This nation in southeast Asia was at one time the focal point of the Cold War between the United States and the U.S.S.R and Communist China. The war between North and South Vietnam tore apart the United States with protests for and against this bloody conflict. The United States finally withdrew from South Vietnam, the North took over the whole country and it became a united nation. Vietnam has built itself into an economic powerhouse in Asia and has profited from the U.S.-China trade war.
For one thing, the trade dispute between the United States and China has been a key factor why numerous multinational corporations have relocated their factories from China. Vietnam is regarded as a source of cheap labor, even less expensive than the cost of workers in China. According to Khiem Vu, Vietnam manager at Global Resources, involved with connecting corporations to various suppliers in Asia, "Many have forced their current Chinese manufacturers to shift production to Vietnam. For example, Chinese manufacturers that produce Crocs (foam shoes) have built multi-thousand worker plants in Phu Tho serving only the U.S. market."
Vietnam has made solid gains in their exports. For example, the country has exported 30 percent more footwear to the United States by the end of 2019 than it did in 2017, while China has seen a 15 percent drop in similar products. But it is not only shoes that have seen a significant increase in Vietnam's exports. There are also suitcases, glasses, apparel, furniture, tech equipment, electronics, and cell phones. Vietnam has experienced a doubling of its cell phone exports to the American market between 2017 and 2019.
The important idea to keep in mind is that Vietnam was quick to fill the export void left by China. American manufacturers were looking for a place to ship their manufacturing operations that would be cheaper than China and not be affected by tariffs. Vietnam is more than willing to grab all the manufacturing opportunities they can get without the political implications of tariffs or fear of cries of global economic domination by the country by critics or policymakers.
Vietnam has filled the gap left by China, according to Kearney. In 2021, Vietnam accounted for $45 billion increase in manufacturing. Vietnam has made a long-term commitment to becoming a manufacturing powerhouse even before the U.S.-China trade conflict. Vietnam has made an honest effort to attract and retain foreign direct investment as well as vast upgrades to its infrastructure and making sure its wages are among the lowest in Asia. This has all been necessary for Vietnam to elevate its economic position in Asia and become a true rival to China.
The Covid-19 pandemic has been a benefit for Vietnam since its government had made highly effective measures against the epidemic which included socio-economic progress. This resulted in a 2.9 percent growth in its GDP in 2020 while other economies were contracting. Vietnam has continued to make an investment for the long-term. The country has made a 34.5 percent increase in public investment, which is considered a very high level in southeast Asia. In sum, Vietnam can be regarded as the winner in the trade conflict between China and the United States.
The long term
It remains to be seen what will happen in the trade war between China and the United States. Will both countries seek some type of settlement in their trade dispute that will result in the reduction or ending of the trade tariffs? Or will tensions only escalate between President Biden and President Jinping, to the point where each economy suffers even more? Has the present trade war been the cause of China's current economic slowdown and shown the world that its economy has some serious problems that must be fixed immediately?
How, when, and if these questions are answered is up to the policymakers of the United States and China. But one thing is very clear: China has more to worry about in the role that Vietnam is playing in Asia and what it, and other nations in the region, can do in order to make the Chinese dragon sweat.