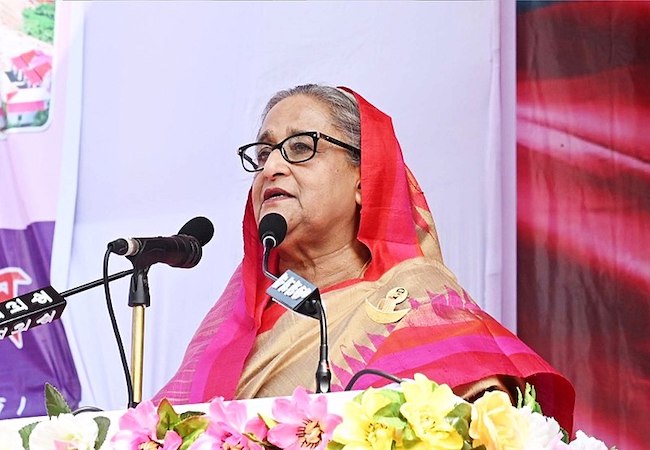 By Shahin Hossain
On May 1, 2023, an event laden with symbolism unfolded at the World Bank headquarters in Washington, DC. Sheikh Hasina Wajed, Bangladesh's Prime Minister, offered an image of the Padma Multipurpose Bridge to David Malpass, the World Bank President. This action, intentional or otherwise, was predominantly interpreted as a direct challenge to the World Bank's credibility, which had previously refused to fund the bridge's construction citing allegations of corruption. Wajed, by presenting this image, showcased Bangladesh's ability to execute large-scale projects without the backing of the World Bank. While the incident bolstered her image of strong leadership, it was also a significant diplomatic misstep.
After her visit to the U.S., Wajed declared a policy of counteracting any countries that enforce sanctions on Bangladesh. While she didn't expressly refer to the U.S., her insinuations were clear. This was corroborated by the May 22 report in The Diplomat, which pointed to the increasing strains between the two nations, articulating that "Relations between the two countries are fraying. This will provide China with space to expand its influence in Bangladesh."
In response, on May 24, the U.S. announced a new visa policy for Bangladesh under Section 212(a)(3)(C) ("3C") of the Immigration and Nationality Act to support Bangladesh's goal of holding free, fair, and peaceful national elections. Under this policy, as outlined in the press statement, "the United States will be able to restrict the issuance of visas for any Bangladeshi individual, believed to be responsible for, or complicit in, undermining the democratic election process in Bangladesh."
This policy was broad enough to cause panic among Bangladeshi elites, who worry about the future of their U.S.-based children. Wajed sought to pacify the situation, promising to strengthen and diversify international relations asserting, "There are other oceans and other continents in the world. We will make friends with those continents crossing the other oceans. Our economy will be stronger and more developed and vibrant."
Wajed finds herself in an increasingly challenging position. The country stands on the precipice of a potential economic crisis, perhaps more severe than what Sri Lanka experienced, driven by a shortage of dollars, as underscored in a May 22 Reuters report titled "Bangladesh struggling to pay for fuel due to dollar shortage". Ensuring essential public services is crucial to avoid public discontent and potential unrest. Additionally, containing inflation is key to prevent a financial crisis like the one in 1974, which resulted in a military coup.
Furthermore, the robust garment industry of Bangladesh, accounting for 84% of the country's exports and employing around 4 million people according to the Bangladesh Garment Manufacturers and Exporters Association, is at risk. Economic instability could disrupt this industry, affecting millions of livelihoods, and potentially destabilizing Wajed's regime.
In these fraught times, Wajed has suggested that the U.S. expressed an interest in purchasing St. Martin Island, which she would never sell. This appears to be a strategy to divert public attention from economic woes to the defense of national sovereignty.
The powerhouse garment industry is at risk amidst these economic challenges. Wajed's tactic to distract attention from these issues, through claims of U.S. interest in purchasing St. Martin Island, is fraught with risk. Such moves could stir nationalist sentiments and push the country closer to China and Russia, as suggested by The D.W. op-ed on June 15 titled "Is Bangladesh edging closer to China and Russia."
While Wajed is trying to use Indian Prime Minister Narendra Modi as a mediator, her failure to maintain civic stability and prevent a food crisis could have serious consequences. The U.S. visa policy is already causing local law enforcement to rethink their actions, as seen in the victory of an obscure housewife over the Awami League candidate in a mayoral election in the largest city corporation in Bangladesh.
In these turbulent times, Wajed must adeptly manage the economy, from the health of the garment industry to inflation control. The garment industry, threatened by COVID-19-induced supply chain disruptions and rising costs, is a particularly sensitive point. The U.S. is a significant economic partner for Bangladesh, so any fall-out could lead to economic repercussions and job losses, potentially causing social unrest.
At the same time, she must tread carefully on the global stage. The Biden administration is increasingly wary of autocratic political leaders leveraging nationalist sentiments for personal gain. These actions could isolate Bangladesh further, intensifying its economic problems.
Her speculations regarding the sale of St. Martin Island, whether based on truth or fiction, have certainly raised eyebrows in the international diplomatic community. If this narrative is disproven, it could damage her credibility and strain relations with key allies, possibly leaving Bangladesh in a vulnerable position.
In the context of U.S.-Bangladesh relations, Wajed's strategy is high-risk. The U.S. is a significant economic partner of Bangladesh, as highlighted by the U.S. Department of State. A sustained rift with the U.S. could lead to far-reaching economic ramifications, potentially even leading to a loss of preferential trade arrangements and subsequent job losses. Coupled with domestic unrest spurred by economic instability, this could result in a precarious socio-political situation.
Wajed's reliance on India, particularly Prime Minister Modi, to mediate tensions with the U.S., is also a risky bet. Despite India's rising global significance, the U.S. has historically tread lightly in South Asian geopolitics. Wajed's strategy could backfire if the U.S. opts to prioritize democratic principles over regional strategic interests.
Wajed's risky strategies reflect the complexity of Bangladesh's current scenario. These moves could jeopardize her political standing and the country's economy. As stakes rise, it is essential for Wajed to foster international goodwill and focus on domestic economic stability, which will shape Bangladesh's future.
Shahin Hossain, specializing in public policy, is currently pursuing a doctorate in Language, Literacy, and Culture at the University of Maryland, Baltimore County.