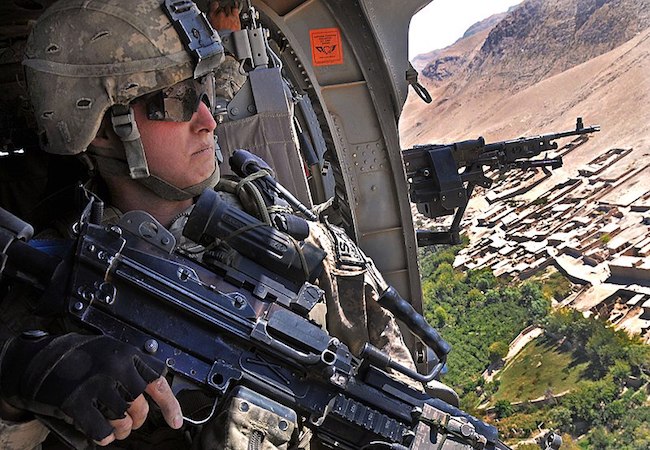 By Arbenita Sopaj
The abrupt withdrawal of the US from Afghanistan on August 20, 2021, left the world in stunned silence.  While the former's foreign policy was seen as a failure to bring strategic goals to fruition, its withdrawal presented a window for other countries to get involved in Afghanistan, including Japan and China.  However, one thing is certain that US departure is likely to have a significant impact on East Asia by rebalancing its Indo Pacific objectives, placing Japan in a more vulnerable position. As a strategic ally to the US, Japan's joint efforts in Afghanistan's lengthy peace and reconstruction process have been a remarkable success. As an example, it is important to take into account the enactment of Anti-Terrorism Special Measures Law through which Japan showcased its determination for a stronger commitment to the international community primarily to the US objectives on fighting terrorism.  Yet,  joint efforts were limited between the two due to Japan's pacifist constitution. Although that was the case, the Japanese Navy's Maritime Security Defense Forces provided logistical support, supplying fuel for American and British vessels. Half of Japan's C-130 fleet and U-4 aircraftprovided airlift to Operation Enduring Freedom in the Indian Ocean. Meanwhile its humanitarian aid was extended to the provision of relief supplies to Afghan refugees in Pakistan worth $ 3.5 million.
Japan's commitment to building a democratic and stable society in Afghanistan can also be seen at the Reconstruction Assistance International Conference, 2002. According to the Ministry of Foreign Affairs, Japan has provided approximately $375 billion in aid to Afghanistan since 2001.  Its assistance has gone towards a wide array of projects, including infrastructure development, agriculture, education, and health care. While it is a fact that Japan's assistance was initially provided via the US as an ally in counterterrorism efforts. An example of such a strategy is Japan's agreement to support US operations overseas in return for security guarantees.
However, regardless of their joint efforts to defuse tensions in Afghanistan the actions they implemented were ineffective.  This primarily because the Taliban seizure of power brought many repercussions, especially for countries that are not in alignment with its ideology.  In light of this, Japan has been positioned as a critical player in the peace process as a country with the second-largest aid in Afghanistan after the US. Its efforts have been evident from that of different NGOs like Japan Platform to the people including late Tetsu Nakamura, who dedicated his life to enhancing the lives of the Afghan people. However, no amount of aid, including that provided by Japan, proved effective as anticipated by the community at large. Following the abrupt withdrawal of US troops from Afghanistan, many countries present expressed concern, including Japan, which evacuated its embassy personnel in an unprecedented move. Despite Japan's pacifist constitution, which limits its involvement in foreign countries' conflicts, the government made a hasty decision with regards to 500 Afghans planning to leave for the former, including personnel from the Japanese embassy and JICA. While traveling to Kabul Airport, a suicide bomber killed 73 people, including 60 Afghan civilians and 13 US soldiers. Despite Japan's successful evacuation of Japanese nationals and 14 Afghans at the US's request, many people in Japan, including Kishida, did not agree that it was a successful operation. In a press conference on December 2021, Prime Minister Kishida emphasized utilizing Afghan experience, he will instruct Self Defense Forces (SDF) to examine alternative strategies to pre-plan the evacuation in dangerous zones. His commitment to furthering SDF's capability stood out during his first visit to Washington DC, after which  the US-Japan Security Alliance took a significant turn, allowing Japan to take a more proactive role in regional affairs. Despite the fact that the US withdrawal from Afghanistan would benefit Japan most due to its pacific orientation, some believe China stands to gain too, enhancing their competitiveness in the region.While Japan is deemed as a favorable contributor, since it is well placed to facilitate peace talks between the parties, not much progress has been made in place.
Regardless of the policy disparity between the two, the acting Afghan interior minister Sirajuddin Haqqani met with the Japanese Ambassador to Afghanistan Takashi Okada in October 2022. Although this could be construed as Japan's intention to facilitate peace talks and to bring more stability to the region through Taliban, there are others, such as former Afghan presidential spokesperson Sediq Sediqqi, voicing concerns about Japan's democratic values, which differ from Talibani's authoritarian regime.
Although Japan's policy toward Afghanistan is in line with its peacebuilding efforts, Kishida's administration faces a pivotal decision when it comes to talks with Taliban officials. A number of Japanese scholars and Afghan diplomats have expressed opinions and suggestions to the Japanese government in relation to Kabul's hostile atmosphere.  As such, in a research report, Professor Daisaku Higashi has outlined a few recommendations for Japan's government. Among others, he emphasized that at a minimum, Japan should notify US President Joe Biden that lifting financial sanctions is urgent in terms of saving lives and combating international terrorist organizations (including ISIS-K); additionally, as part of its collaboration with Central Asia (C5) and the Middle East (Saudi Arabia and Qatar),  additionally, the Japanese government can co-host an Humanitarian Conference on Afghanistan with the UN in late 2022 or 2023, with a focus on the revival of agriculture.
On the other hand, Afghanistan's Ambassador to Norway Youssof Ghafoorzai in a brief interview expressed his opinion that a new international consensus would be necessary to set Afghanistan on the path of stability.In his view, Japan as a member of the UN Security Council can be an important advocate for such a consensus so that a political roadmap for the Afghan people can be established that will support an inclusive and representative government with national and international legitimacy based on the Afghan people's aspirations. Therefore, for an inclusive form of governance, Japan can also support peace talks between the Taliban and other political groups.
While the Japanese government is trying to keep its ties  with Taliban to a bare minimum on the other hand, China has recognized the latter's governance giving them a stronger foothold in the country.  In fact,  its step in Afghanistan's soil was primarily present via Belt and Road Initiative evident in almost every country, which falls under the heading of emerging and developing economy.   A major advantage of this approach for China is that it allows them to take hold of foreign soil more effectively, particularly in countries with pressing needs.  Having recognized the Taliban's governance, China is more committed to advancing the Belt and Road Initiative than ever before which puts Japan's role in jeopardy. Through its embassy, China has facilitated consultations with local authorities to meet its strategic objectives. Although the US and China share similar strategic objectives for Afghanistan, Zhou Bo from People's Liberation Army is of the opinion that they use different methods to achieve these objectives.
He stressed that the Chinese conducted themselves in a more realistic manner than the US, acknowledging the Taliban's power over the region. There was yet another indication of China's commitment when the country pledged of 250 million yuan in food, medicine, and winter supplies to enhance ties. Therefore,  In 2022, Member of the Political Bureau of the CPC Central Committee China Wang Yi met with his Taliban counterpart, Amir Khan Muttaqi, at the SCO foreign ministers' meeting in Uzbekistan. In an effort to strengthen bilateral trade, Wang announced that China would not charge tariffs on 98 percent of Afghan goods imported. Its firmed commitment comes in light of Afghanistan's natural resources,  such as gas, copper. Such strategic motives prompted a Chinese company to sign a contract with the Taliban-led government to drill for oil in the Amu Darya basin. This is considered as the largest deal since the Taliban took control.
However, despite the fact that China is becoming an increasing economic force, during a press conference in January, 2023, Foreign Ministry Spokesperson Wang Wenbin stressed the importance of enhancing stability in Afghanistan by joining with the Taliban. This is mainly due to presence of Uyghur militant groups in the country, which China dreads interfering with its interests there. 
Dr. Sopaj is a Researcher at Research Institute for Indo-Pacific Affairs, Japan.  She obtained a dual MA in European Studies and Political Studies from Kobe University, Japan and Jagiellonian University, Poland.  Recently, she has earned her Doctor of Philosophy degree in Political Science from Kobe University. She is currently a Board Member at Global Peacebuilding Association Japan (GPAJ). She is also an External Liaison at Kyoto Peacebuilding Centre (KPC), and Director of Administration at the Academic Council on the United Nations System (ACUNS), Tokyo.