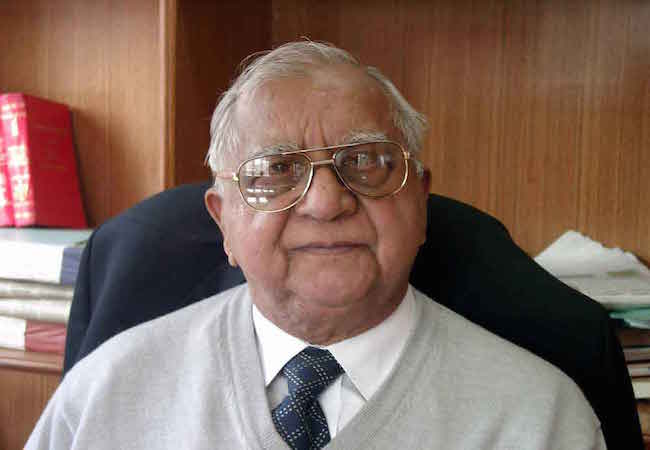 By Dr. Fayaz Ahmad Bhat
Ved Bhasin, 'the grand old man of English Journalism in the state of Jammu and Kashmir' departed for the heavenly abode on November 5, 2015 at the age of 86. He will be always remembered for institutionalization of journalism in Jammu Kashmir and fearlessly upholding the freedom of press. He was a human being par excellence, uncompromising secular icon that the soil of the state has ever produced. Born on 1 May 1929 in Jammu Ved  Bhasin, sir has gone through different phases but he never compromised with his profession and maintained highest standards and ethics in journalism. In his carrier of 70 years of active journalism he always stood against communal forces in the state and selflessly sided with the marginalised section of society.
A crusader against communalism, tyranny, human rights violation, he denounced communalism from his very studentship and stood for secularism and   brotherhood. Ved Sahab, was not just a journalist but an active social worker and close to politics He was the person who was responsible for induction of former Chief Minister of the State Ghulam Nabi Azad into politics. He served Jammu and Kashmir Students Union as President from 1945 to 1949, the President of the Jammu and Kashmir Youth National Conference from 1950 to 1953.
Ved Bhasin was highly respected in journalistic circles for his professional integrity and intellectual acumen; he has been witness to watershed movements in the state during his 70 years carrier of active journalism. He has faced strife resistance from communal forces for his uncompromising secular views and upholding the truth. His love with the truth and critical approach did not go well with different governments of the state even his friend Mufti Syed has been critical of Kashmir Times. Different governments stopped advertisement with Kashmir Times and harassed Ved Sahab on different pretexts. The   people from Jammu showed hostility towards it for being "pro- Kashmir". He did not bow before governments and displayed strife resistance to communal forces. On many occasions he was attacked physically for raising voice against wrong doings of establishment, standing by the poor and oppressed but he always took their cause and raised voice against the wrong doing of government. It was this legacy which was followed by Kashmir Times when ever needed especially, during Amarnath Land Row, Ragda-1, Ragda-2  and in covering Shopain Twin rape case and Triple Murder.
The space and vacuum created by the departure of Ved Bhasin is not difficult to fill but impossible to satisfy. Though Ved Shab, is no more physically with us, he will be remembered for institutionalizing journalism in Jammu and Kashmir, for uncompromising secular views and for fearlessly upholding the freedom of the press. Whenever, wherever people will talk about highest standards, ethics and fearless, bold and independent journalism the name of Ved Sahab, will be at foremost.  He will always live in the hearts of truth loving people and will keep inspiring generations together.