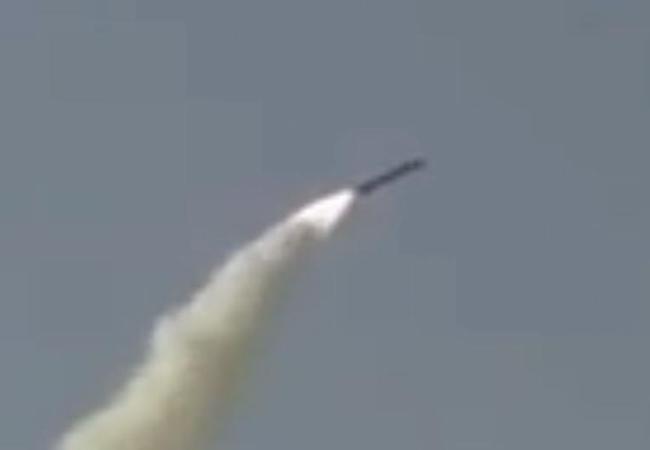 By Saima Ali
The dawn of 10th January, 2017 brought up a wave of happiness and pride all over Pakistan, when Pakistan successfully tested Babur III submarine-launched cruise missile (SLCM). Babur-3, which has a range of 450km, is a sea-based variant of Ground Launched Cruise Missile (GLCM) Babur-2. This was successfully tested earlier in December, 2016. In a public statement, the Inter-Services Public Relations (ISPR) department stated that the Babur III SLCM will provide Pakistan with a Credible Second Strike Capability, expanding deterrence. This accomplishment of Second strike capability can be considered as a foremost milestone in Pakistan Arm forces after the appointment of new  Chief of Army staff General Qamar Javed Bajwa. At the same time as the pursuit and now the successful attainment of a second strike capability by Pakistan represents a foremost scientific milestone; it is the strategy of response to nuclear strategies and postures to India.
India has already developed sea-based missile BrahMos and developing Nirbhay cruise missiles. The BrahMos missile can be launched from submarines, ships, aircraft or land, can carry warheads weighing up to 300kg, and strike targets on land and at sea. It has been in service with the army since 2007 and is currently being tested for use by the Air Force's Sukhoi-30 fighters. But the submarine launched variant of BrahMos has reportedly been tested but its limited range and requirement of rising to 40 meters depth to vertically launch the missile, off course compromise its defensive capabilities. India sing its own praises, shows that  Nirbhay would have an operational range of about 1,000 Kilometres however all its four tests so far have ended in failure. The fourth test of the missile took place on December 21, 2016 in Odisha.
Strategic analysts believe Babur-III being a cruise missile, is better than the Indian sea-based ballistic missiles. Babur-3 SLCM incorporates state-of-the-art technologies, including underwater controlled force and advanced guidance and steering features, duly augmented by global navigation, terrain and scene matching systems. Pakistan's statement illustrates that: "Babur-3 SLCM in land-attack mode is capable of delivering various types of payloads and will provide Pakistan with a Credible Second Strike Capability, augmenting deterrence." Specifically, the statement noted that the Babur-3 test was a "step towards reinforcing Pakistan's policy of credible minimum deterrence."
Looking back in history Pakistani Foreign Ministry spokesperson replied to India's July 26, 2009, launch of its first locally built nuclear-powered submarine by asserting that "continued induction of new lethal weapon systems by India is detrimental to regional peace and stability," adding up that "without entering into an arms race with India, Pakistan will take all suitable steps to safeguard its security and maintain strategic balance in South Asia." In May 2012, Admiral Mohammad Asif Sandila, then-Chief of Pakistan's Naval Staff, announced "the formal establishment of the Naval Strategic Force Command of Pakistan," describing the force as "the custodian of the nation's 2nd strike capability."
General Kidwai indicated in March, 2015 that the submarine program is "a work in progress," adding that "this capability will come into play in the next few years."So here is the output. As mentioned above Pakistan has been working hard towards second strike capability for years in 2012, it set up a Naval Strategic Force Command and the test-launch of Babur-3 does not come entirely as a surprise. Pakistan had established a nuclear naval authority the Naval Strategic Force Command in 2013.
With the successful test of the Babur III SLCM, Pakistan is now a step closer to a functional nuclear triad. While this does complicate Indian strategic calculations and the real challenge to India would be if Pakistan's second strike capability would include Sub launched ballistic missiles. Pakistan possesses three Agosta 90B submarines, the PNS/M Khalid, the PNS/M Saad, and the PNS/M Hamza. China vowed eight submarines to Pakistan, which will be a very complex challenge for India. India should focus on how Pakistan's capacity to develop such missiles would affect India, instead of disparaging the vulnerability of its nuclear submarines as well as its SLCMs. Pakistan will this year receive eight modified Chinese S20 Yuan-class diesel-electric submarines capable of fielding the SLCM. Also the recent Type 093 Shang submarine, docked at the Karachi harbor, is likely being used to inspect the movements of Indian warships far more closely than ever before at a time when China is competing with India for domination of the Indian Ocean. Some analysts believe that after becoming a member of the MTCR, India and Russia are now planning to jointly develop a new generation of BrahMos missiles with 600 km-plus range. Accordingly, Pakistan is planning ahead to assimilate the peril and to sustain credible deterrence.