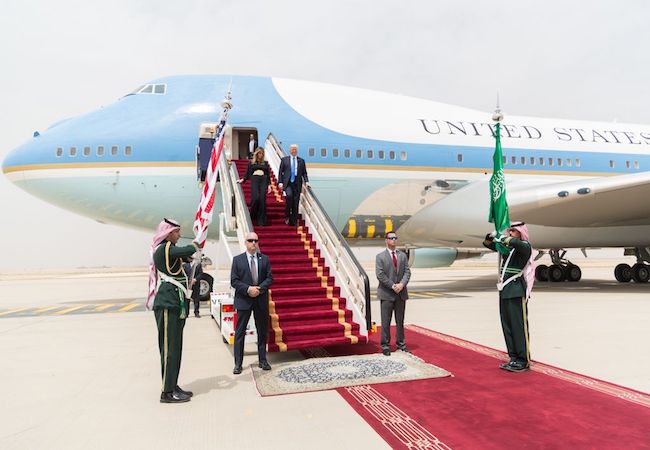 By Zainab Aziz
Visiting Saudi Arabia as a first foreign trip, President U.S Donald Trump has manifested his long-term strategic ambitions. Donald Trump's keynote address at the Riyadh Summit has widely been discussed and analyzed. If the President Trump's speech is critically examined, the essence of his address to over 50 heads of Islamic states was much about praising Middle Eastern Countries in order to fulfill the greater U.S national interests. Moreover, President Trump gave much "guidelines" to the Islamic countries like choking the finance of terrorist groups, countering extremist and violent ideologies or defeating the terrorist forces. Trump also referred the Summit as the beginning of peace in the Middle East followed by the peace in the world. He admired the role of the Middle Eastern states in combating terrorism and extremism in the region. Although his visit and speech was opposite to what he used to refer extremism to only 'Radical Islamic Terrorism' during his presidential campaign. In order to strengthen the military power of Saudi Arabia, U.S also signed an agreement of $110 billion of defense purchase with it. President Trump concluded deals that would result in the mutual interest of both the countries.
However, President Trump failed to acknowledge the sacrifices that Pakistan gave in countering terrorism and extremism. "The nations of Europe have also endured unspeakable horror. So too have the nations of Africa and even South America. India, Russia, China and Australia have been victims," US President Donald Trump said in his keynote address, skipping the name of Pakistan, which lost over 70,000 civilians and more than 6,000 of its valiant soldiers to terrorism. He remarked about some other specific countries e.g. Egypt, Jordan, Iraq, United Arab Emirates and most importantly Saudi Arabia but he didn't even mention Pakistan. For this reason, the Pakistani lawmakers and policymakers must review a Trump's visit and speech which definitely leaves a food for thought for revising our own policies.
The way Pakistan was being ignored and silenced at the US-Arab-Islamic Summit is a matter of serious consideration while Pakistan being handed over the command of Islamic Military Alliance that was also Saudi-led predominantly. Addressing India as a victim of terror in his speech at Riyadh Summit, President failed to recognize Pakistan as one. This at a time when the International Court of Justice (ICJ) has stayed the execution of Kulbhushan Jadhav, an Indian spy convicted of terrorism in Pakistan. However, on Thursday's weekly briefing on 25th May, 2017, Pakistan Foreign Office spokesman Nafees Zakaria claimed that the Saudi Arabian monarch, King Salman had apologized to Nawaz Sharif for not giving him a chance to speak at the US-Arab summit held last week in Riyadh. Regardless of this apology, such conditions turned Islamic Summit to just Gulf Countries meeting where an important country with regards to fighting terrorism like Pakistan did not get a chance to speak. Pakistan was the sole Islamic nuclear state in the Islamic Summit and still getting such treatment indicate the far-reaching ramifications on the role of Pakistan that it has to play in the contemporary circumstances creating 'Global Centre for Combating Extremist Ideology'. This entire scenario has far-reaching consequences on the role that Pakistan has to play in the newly created theater of 'Global Centre for Combating Extremist Ideology'. It seems uncertain now that whether Pakistan will sharing any kind of responsibility in the new emerging geo-strategic environment after getting rebuffed on unsure terms.
Contrary to it, the statement that President Donald Trump gave on a telephonic call to Prime Minister Nawaz Sharif just after winning presidential elections in January 2017 that 'I am ready and willing to play any role that you want me to play to address and find solutions to outstanding issues' shows a shift in his stance towards Pakistan now. This reflects a great change in the foreign policy of U.S towards Pakistan. In the current situation, Pakistan must strive to become a worthy ally of U.S once again for which it may need to bring some changes in its own foreign policy.
Increasing hostilities with the neighbouring countries like Afghanistan, India along with the U.S pressure on Pakistan are making the situation more volatile for Pakistan. Pakistan needs to change its approach to make U.S realize that it has to play a balanced role in order to diffuse a situation in which India is playing more aggressive role day by day. Pakistan must also appoint a full-time foreign minister that can be held responsible for making constructive strategies and policies. Pakistan should also disseminate the account of its efforts in eliminating extremism and countering terrorism in its various regions. The strategic location of Pakistan still makes it relevant and important to the whole world in order to confront the emerging challenges. Therefore, international community must play a role in bringing Pakistan together to resolve the ongoing issue especially related to South Asian region.
Zainab Aziz is a Research Affiliate at the Strategic Vision Institute in Islamabad, Pakistan