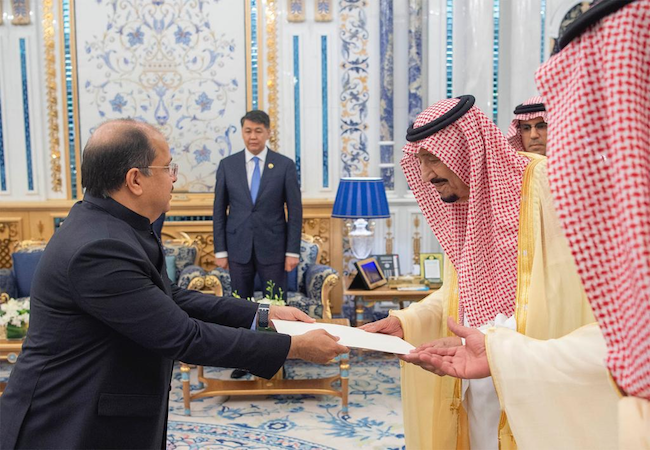 India and Saudi Arabia enjoy cordial and friendly relations reflecting the centuries-old political, economic and socio-cultural ties. The establishment of diplomatic relations between the Kingdom and India in 1947 was followed by high-level visits from both sides. The historic visit of King Abdullah bin Abdulaziz to India in 2006 resulted in the signing of the 'Delhi Declaration' imparting a fresh momentum to the bilateral relationship. The visit of the then Crown Prince Salman bin Abdulaziz Al-Saud, Deputy Prime Minister and Minister of Defense (now King) to India in 2014 has further deepened the relations between our two countries.
On the other hand, the highly successful visit of Indian Prime Minister Narendra Modi in April 2016 has consolidated the domains of the existing partnership. The conferring of the highest civilian honor on Prime Minister Modi by the Saudi king is an indication of the importance it attaches to its relations with India. Further, the honor accorded to the visit of Crown Prince Mohammad bin Salman to India in February 2019 cemented the ties in diversified fields.
The announcement on Saudi investments of worth $100 billion in India; increase in Haj quota to 2,00,000; release of 850 prisoners; proposal to set up a high-level mechanism at the leadership level; and identifying India as one of the Kingdom's eight strategic partner countries under 'Vision 2030' clearly earmarks the growing bilateral ties in an upward trajectory. On the commercial front, Saudi Arabia is India's 4th largest trade partner and is a major source of energy as India. In the 2018-19 financial year, the India-Saudi bilateral trade has increased by 23.83 percent to $34.03 billion. Not only this, the Saudi Arabian oil major Armaco and a partner UAE company has decided to invest half in a planned $44 billion a refinery-cum-petrochemical project in India billed as the world's biggest.
The two countries have defense, security and counter-terror cooperation. Indian Prime Minister Narendra Modi's visit to Saudi Arabia in October 2019— his second in three years —has further given a boost to bilateral links. The visit was important both symbolically as well as substantively. Ostensibly, this visit was about Modi delivering a keynote at the high-profile Future Investment Initiative Summit, dubbed "Davos in the desert," an initiative of Crown Prince Mohammed bin Salman. But the visit turned out to be about much more. There is a substantive shift happening in India's approach to the Middle East policy including its policy towards the Gulf states, especially the Kingdom.
The Saudi announcement to invest in downstream oil and gas projects in India is part of the strategic partnership between the two countries, a move that would also help the world's top oil exporter find a stable outlet for its crude. This will also change the dynamics from a purely buyer-seller relationship to a closer strategic partnership. On top of this, India and Saudi Arabia have also set up a Strategic Partnership Council and inked agreements to bolster security cooperation as well as collaboration between defense industries of the two nations.
Another important element of Saudi-Indo relation is the presence of a large number of Indian expatriates in the Kingdom. The 2.6 million-strong Indian community in Saudi Arabia is the largest expatriate community in the Kingdom and is the 'most preferred community' due to their expertise, sense of discipline, law-abiding and peace-loving nature. In a wide-ranging interview, Dr. Ausaf Sayeed, Indian Ambassador to Saudi Arabia, spoke to the Foreign Policy News at length and touched a range of bilateral, regional and international issues. Here are the excerpts of the interview—
Question: Saudi Arabia shares an excellent history of relations with India, and both sides have seen many high-level visits during the last few years. How do you personally evaluate relations between the Kingdom and India in political, economic and cultural fields? 
Ambassador Dr. Ausaf Sayeed: Formal diplomatic relations between India and Saudi Arabia span over more than seven decades. The two-way exchange of high-level visits between our countries during the last 5-6 years has progressively transformed the bilateral relationship into a strategic partnership. The top leadership of both countries is keen to strengthen and diversify the bilateral relationship in different domains such as energy security, food security, trade & investments, security & defense cooperation, civil aviation, tourism, culture, and people-to-people engagement.   Several ideas are being discussed in each of these fields and I am confident that concrete proposals will emerge soon which will be mutually beneficial for both countries.
Question: India and Saudi Arabia have agreed to set up a Strategic Partnership Council to boost bilateral cooperation in critical areas. Has the Council been formally set up? Please share details about the council, its maiden meeting and the areas of cooperation discussed within its framework.
Ambassador Dr. Sayeed: Yes, the 'Strategic Partnership Council' was set up in October 2019 during the official visit of Prime Minister Narendra Modi to Riyadh.  The Strategic Partnership Council would be headed by Crown Prince HRH Prince Mohammad bin Salman on the Saudi side and Prime Minister Modi on the Indian side. It would have two verticals: (a) Political, Security, Culture and Society headed by the two foreign ministers and (b) Economy and Investment headed by the Commerce and Industry Minister on the Indian side and the Minister of Energy on the Saudi side.
The two sides are currently in the process of identifying various sub-groups under the Council.  Over the course of the year, we will have meetings both at the Ministerial and senior official levels covering all areas of cooperation, leading up to the maiden meeting at the leadership level later in the year.
Question: Indian Prime Minister Narendra Modi visited the Kingdom in October 2019. He has had bilateral meetings with top Saudi officials and also addressed the high-profile FII conference? What were the highlights and outcomes of the premier's visit? 
Ambassador Dr. Sayeed: This was the second visit of Prime Minister Modi to the Kingdom after his State Visit in April 2016. During his visit, Prime Minister Modi had extensive discussions both with Custodian of the Two Holy Mosques King Salman Bin Abdulaziz Al-Saud and Crown Prince Mohammed bin Salman to explore ways of further strengthening and cementing our multi-faceted ties with the Kingdom.
In addition to the signing of the agreement to set up a Strategic Partnership Council between the two countries, 11 other agreements were signed in diverse fields such as Security Cooperation, Defence Industry Collaboration, Civil Aviation, Renewable Energy, Training of Diplomats, combating Drug Trafficking, cooperation between the SME sectors and stock exchanges and launching of the RuPay payment gateway in the Kingdom. The signing of an MoU paving the way for the Saudi participation in India's Strategic Petroleum Reserves program was another significant outcome of the visit.
Prime Minister Modi's keynote address at the Third Session of the Future Investment Initiative (FII) during which Crown Prince Mohammed bin Salman was also present was very well received by the audience.  Prime Minister Modi noted India's endeavor to work hand-in-hand with Saudi Arabia on the Vision 2030 program and also invited Saudi companies to invest in India, highlighting the various initiatives taken by the Government of India to improve the business and investment climate.
Question: Saudi Arabia also announced investments of $100 billion in India during the visit of Prime Minister Modi. Are the two countries currently working on some projects in which the chunk of this investment will be utilized?
Ambassador Dr. Sayeed: During his state visit to India in February 2019, Crown Prince Mohammed had pronounced the Kingdom's plans to invest $ 100 billion in India in diverse sectors of energy, refining, petrochemicals, infrastructure, agriculture, minerals and mining, manufacturing, education, and health over the coming years.  India's NITI Aayog and the Saudi Centre for International Strategic Partnership have jointly identified more than 40 opportunities for joint collaboration and investments across various sectors, which would be beneficial to both the countries. The 'Invest India' team visited Saudi Arabia in April and July 2019 and interacted with business chambers, leading businessmen, entrepreneurs presenting the various investment opportunities available in India. Besides, the Saudi major companies are also involved in substantial discussions with Indian private players, to invest in India.
Question: Please provide information about Indo-Saudi trade and investment relations, their volume and sectors. How many joint ventures have been set up in the wake of the Kingdom's economic reforms program?
Ambassador Dr. Sayeed: Saudi Arabia is the fourth largest trading partner of India.  The bilateral trade stood at $34 billion, which includes a non-oil component of around $10 billion. India's main items of export include rice, spices and other agricultural products, electric machines and equipment, iron and steel, meat, articles of apparel and clothing accessories, plastic items and motor vehicles.
The trade is growing at a healthy pace of 24 percent annually. I feel there is potential to double the non-oil trade to $20 billion in the next five years.
According to data released by the Saudi Arabian General Investment Authority (SAGIA), 140 new licenses were issued to Indian companies during 2019.  We estimate that the Indian companies have already brought in investments over $1.5 billion into Saudi Arabia.
Question: How do you evaluate the bilateral cooperation in the energy sector following the acquisition of a 20 percent stake in India's Reliance by Saudi Aramco? What is the volume of Saudi oil exports to India during the first half of 2019 compared to the first half of 2018?
Ambassador Dr. Sayeed: Energy security remains a key pillar of the strategic partnership and Saudi Arabia has been a time-tested and reliable supplier of crude oil to India. Saudi Arabia caters to around 18 percent of India's crude oil requirement and 30 percent of its LPG needs.  During 2018-19, India imported around 39.8 MMT of crude oil from the Kingdom, up from 36.85 MMT imported during 2017-18. For the period of Apr-Nov 2019, crude oil imports from Saudi Arabia were around 23.7 MMT.
Saudi Aramco plans to increase its footprint in India's downstream sector through key partnerships with both Indian PSUs as well as private players and by participating in India's Strategic Petroleum Reserves program. Saudi Aramco's participation along with UAE's ADNOC in the proposed 1.2 million bpd West Coast Refinery & Petrochemicals Project which is likely to be commissioned by 2025 reflects Kingdom's keenness to expand its engagement in India's hydrocarbons sector. The proposed refinery is expected to help India raise its refining capacity by 77% to 8.8 million bpd by 2030.
Question: Saudi Arabia's launch of "Vision 2030," which is aimed at economic diversification, has given opportunities for partnerships in different areas. Which are the areas/projects on which the Kingdom and India are closely working within the framework of the Vision 2030?
Ambassador Dr. Sayeed: India welcomes the series of economic reforms, the ambitious 'Vision 2030' and the 'National Transformation Programme' initiated by Crown Prince Mohammed bin Salman to create a thriving economy by weaning it away from its over-dependence on oil. This is a positive step in the right direction and we are looking forward to contributing to the Saudi growth story by participating in mega projects like NEOM, Red Sea Project, Qiddiya, Amaala, King Salman Energy Park and other such projects.
Question: India and Saudi Arabia have moved beyond energy following the visit of Crown Prince Mohammed bin Salman to India and his meetings with Prime Minister Modi. Which are the new areas of cooperation between the two countries? Please reply with a special reference to the defense and security cooperation between Riyadh and New Delhi.
Ambassador Dr. Sayeed: India and Saudi Arabia are emphasizing on developing deeper partnerships in non-traditional areas such as renewable energy, space, civilian nuclear energy and defence. India and Saudi Arabia signed an MoU for Cooperation in the field of renewable energy in October 2019. We have developed expertise and technologies in the field of solar and wind energy and are ready to share our experience and expertise with the Kingdom. We also welcome the Kingdom's decision to join the International Solar Alliance.
On the space front, the Indian Space Research Organization (ISRO) is keen to engage with the Saudi Space Commission on remote sensing, satellite communication, and satellite-based navigation. Also, India is looking forward to engaging with Saudi Arabia in harnessing civil nuclear energy for desalination and production of medical isotopes.
We have robust defense cooperation with Saudi Arabia which is based on the MoU on defense cooperation signed between the two counties in February 2014. The bilateral mechanism of Joint Defence Committee Cooperation (JCDC), which has already met four times, continuously explores newer areas of defense cooperation. The recent signing of an MoU between the Kingdom's General Authority of Military Industries (GAMI) and India's Department of Defence Production marks a new chapter in bilateral defense ties.
On the other hand, Saudi Military Officers are undergoing training courses at some of India's most prestigious training establishments. Indian senior military officers are also undertaking regular tours to Saudi Arabia in their pursuit of shared learning.  The regular and active participation of Saudi dignitaries at AERO India and DEFEXPO shows every year are other key components that help in furthering our bilateral defense ties. The two sides are also keen to enhance maritime security cooperation under IFC-IOR framework to ensure the safe passage of international trade and crude supplies.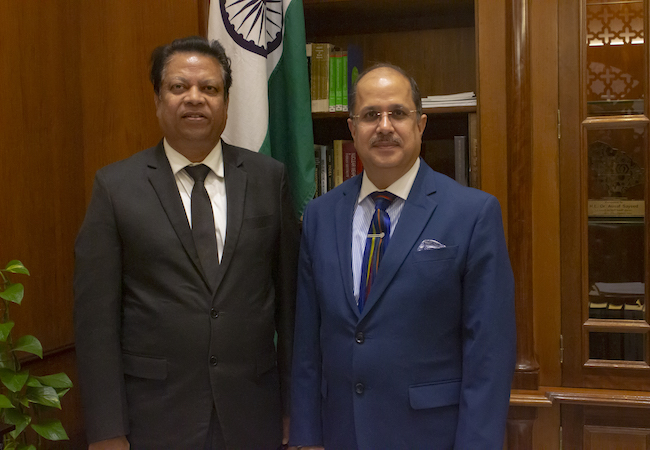 Question: Saudi Arabia has taken over the presidency of G20 on December 1, 2019, and will host the G20 summit in November this year. How closely India and Saudi Arabia are working within the framework of the G20, which seeks to promote good global governance, development, inclusive growth and a better world for mankind?
Ambassador Dr. Sayeed: We congratulate the Kingdom on assuming the presidency of G-20 in December 2019 and we look forward to the G20 Summit meeting in November 2020. India and Saudi Arabia being developing countries are working closely on several issues of mutual concern. India was the first country to be visited by Saudi G-20 Sherpa Dr. Fahad Al Mubarak in October 2019 for consultations with his counterparts to develop the G-20 agenda.
India has assured its full support to the Kingdom to make its G-20 Presidency a resounding success. Nearly 140 delegations from India, including several cabinet ministers, are expected to visit the Kingdom this year and engage with their Saudi and other international counterparts on a range of issues such as finance, infrastructure, innovative technology, health care, climate change, energy sustainability, and food security.
Question: India's vibrant business sector has always been an attraction for MNCs. Are there some MNCs or giant Saudi companies looking forward to setting up their base in India? Are there some MoUs likely to be signed shortly?
Ambassador Dr. Sayeed: India's improved business and investment climate have made the Indian market very attractive to foreign players and Saudi businessmen are no exception. Saudi Majors such as Aramco, SABIC, Zamil Group, AlFanar have a significant presence in India. Several Saudi companies have been entering the Indian market through their non-Saudi subsidiaries. The geographical proximity, potential market, Ease of Doing Business and ancient cultural linkages strongly favor Saudi businessmen to select 'India' as their first choice of destination for investment.
Question: What is New Delhi's vision of GCC-India relations in political and economic contexts as India lies in the GCC's extended neighborhood in geopolitical terms?
Ambassador Dr. Sayeed: We consider the GCC as part of our extended neighborhood. India has special ties with the GCC encompassing political, economic and people-to-people contacts. There has been a deep sense of political understanding at the highest level, which is reflected by the high-level visits at regular intervals. Prime Minister Narendra Modi has visited the GCC countries eight times in the last five years.
The GCC states are our long-term reliable partners in ensuring India's energy security. The India-GCC Trade stood at $121 billion in 2018-19. Nearly nine million Indians are working in the Gulf region, remitting $37 billion annually to India. India is strongly committed to enhancing these multi-faceted ties with the GCC over the coming years.
Question: Indian people, whose number currently exceeds 2.6 million in Saudi Arabia, are known around the world for their work ethics and good manners. How can this be explained in the context of the Kingdom?
Ambassador Dr. Sayeed: People-to-people ties have always been the bedrock of our relations with the Kingdom. The 2.6 million-strong Indian community is the largest expatriate group in the Kingdom. It is a matter of great pride for me to state that the community has contributed immensely to the growth and development of the Kingdom, and is well regarded by the Saudi leadership for its sincerity, discipline and hard work. Today, many Indians hold important positions in various sectors of the Saudi economy.  This has generated a lot of goodwill for India among the Saudi nationals and has helped in strengthening our bilateral ties. 
Question:  There have been reports of a slowdown in the Indian economy, which can hamper commercial plans of the Kingdom and India. What is your view on the current state of the Indian economy?
Ambassador Dr. Sayeed: Despite a slight slump in India's economy last year, the future looks promising. The IMF has projected that India's GDP would grow at the rate of 5.8% in 2020 and rise to 6.5% by 2021, keeping India on course for a $5 trillion economy by 2024-25.
Last year, India climbed to the 63rd spot in the World Bank's rankings for Ease of Doing Business. Also, India has made significant progress to achieve 52nd rank in WIPO's Global Innovation Index (GII) 2019 and 54th rank in Bloomberg Innovation Index 2020 which implies that the culture of innovation is taking a center-stage. Our Foreign Exchange reserves also rose by $64 billion in 2019 to touch a record $457.5 billion.
Several major incentives have been announced by India in the Annual Budget 2020-21 to attract foreign investments into the country. Our commitment to transparency and market principles in economic decisions and our will to keep our economy open makes India a favored economic partner for countries across the globe, including the GCC.
Question: Your Excellency, you have a special affinity for the Middle East, especially Saudi Arabia. Tell me about your experience of living and working in the Kingdom.
Ambassador Dr. Sayeed: Yes. I have a special bonding with the Middle East, particularly Saudi Arabia. This is my third stint in the Kingdom. I have been posted here in different capacities and at different periods. You can say that I am a witness to all the perceptible changes that have come about in the Kingdom since 1995. The participation of Saudi youth, particularly women in the government and private sector is very visible. They seem to be very upbeat about their prospects, especially under the ambitious 'Vision 2030'.  I am also here at the right time when there is a strategic push being given to the bilateral ties following the two successful high-level visits last year. I and my team are in regular touch with the Saudi establishment to implement the directives of our leadership to further strengthen this important partnership.