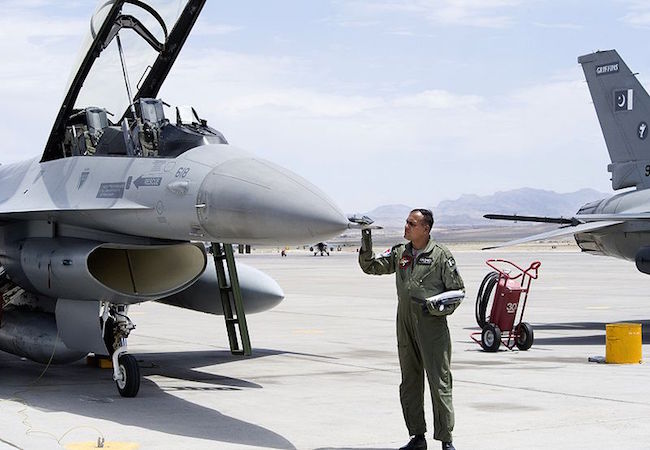 By Shahzadi Tooba Hussain Syed
Every gun that is made, every warship launched, every rocket fired, signifies, in the final sense, a theft from those who hunger and are not fed, those who are cold and are not clothed. The world in arms is not spending money alone. It is spending the sweat of its laborers, the genius of its scientists, the hopes of its children. (Dwight Eisenhower)
President Barack Obama's administration announced on Feb. 12 that it had approved the sale to Pakistan of the aircraft, as well as radars and other equipment. In the early 1980s, the U.S. government initially agreed to sell Pakistan 111 F-16 aircraft. This decision was influenced by the close partnership with Pakistan during the Soviet invasion of Afghanistan. The mainstay of the air force was the F-16 fighter.
India expressed disappointment over US administration's decision to sell eight F-16 fighter jets to Pakistan, saying it disagrees that "such arms transfers will help combat terrorism". Foreign Secretary S Jaishankar summoned US Ambassador Richard Verma to convey India's "displeasure". "We are disappointed at the decision of the Obama Administration to notify the sale of F-16 aircrafts to Pakistan. We disagree with their rationale that such arms transfers help to combat terrorism. "The record of the last many years in this regard speaks for itself". And the record they are talking about is that F-16s provide a critical counterterrorism capability to Pakistan and the Pakistan Air Force (PAF) has made extensive use of its aging F-16 fleet to support Pakistan Army operations in the Swat Valley and in the Bajaur Agency of the Federally Administered Tribal Areas (FATA). According to information furnished by the Pakistan Embassy in Washington, the PAF flew 93 sorties in August 2008 in operations against the Taliban. Furthermore "It is in America's national interest to sell eight F-16 fighter jets and related equipment to Pakistan," the Defence Security Cooperation Agency (DSCA) notified US Congress.
The DSCA rejected India's claim that the proposed sale will alter military balance in South Asia. "The DSCA delivered the required certification notifying Congress of this possible sale on February 11, 2016. This proposed sale contributes to US foreign policy objectives and national security goals by helping to improve the security of a strategic partner in South Asia."
The F-16 is a true multi-mission aircraft and can carry up to 15,200 lb. of bombs, missiles and rockets. It can locate targets in all weather conditions and detect low flying aircraft in radar ground clutter. In an air-to-surface role, the F-16 can fly more than 500 miles (860 kilometres), deliver its weapons with superior accuracy, defend itself against enemy aircraft, and return to its starting point. An all-weather capability allows it to accurately deliver ordnance during non-visual bombing conditions. The F-16 can withstand up to 9-g's – nine times the force of gravity – with internal fuel tanks filled -. The F-16 is amongst a few aircraft in the world which can go up in a 90-degree vertical climb like a rocket.
Pakistan had originally planned a total purchase valued at $5.1 billion, almost all of it in national funds. The 2005 Kashmir earthquake and subsequent financial constraints caused Pakistan to reduce the number of new planes it wanted to purchase from 36 to 18, which lowered the overall value of the deal to approximately $3.1 billion. The 18 new planes are valued at $1.4 billion, with the remainder of the $3.1 billion dedicated to associated munitions (valued at approximately $641 million) and 46 Mid-Life Update (MLU) kits for Pakistan's existing F-16 fleet (estimated to cost $891 million). Additionally, the United States has provided Pakistan with 14 F-16s designated as Excess Defense Articles (EDA).
The proposed sale improves Pakistan's capability to meet current and future security threats. These additional F-16 aircraft will facilitate operations in all-weather, non-daylight environments, provide a self-defense/area suppression capability, and enhance Pakistan's ability to conduct counter-insurgency and counterterrorism operations. This sale will increase the number of aircraft available to the Pakistan Air Force to sustain operations, meet monthly training requirements, and support transition training for pilots new to the Block-52. Pakistan will have no difficulty absorbing these additional aircraft into its air force.
The U.S. has never hesitated in withdrawing its support but it has also introduced many sanctions on Pakistan from time to time against its all-time most allied ally. This has further exacerbated and undermined its ability to play any productive role and called an "uncertain ally". But that uncertainty is a reaction of "uncertain" U.S. policies towards Pakistan.