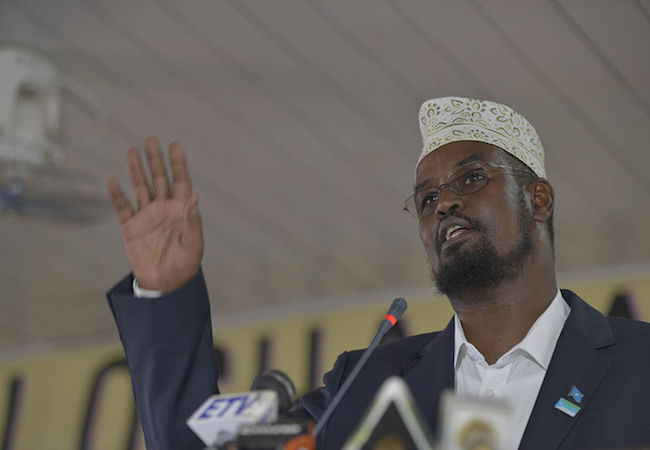 By Ahmed Hassan
As Somalia's balkanization – masquerading as federalism— intensifies, neighboring states have embarked on a mission to get a share of the country and instill a proxy leader to represent their interests. Every former warlord and aspiring politician is indefatigably working round the clock to create a fiefdom and declare de facto autonomy from the central government.
The Interim Jubbaland Administration (IJA) is similarly trying to carve its own path. It has cut ties with central government and formed a strategic relationship with Ethiopia and Kenya. While it has maintained a commitment to integrate troops into the Somali National Army (SNA) and added 10 members to the regional parliament to address complaints from its opposition, the IJA has ignored parts of the Addis Ababa agreement, as displayed by the controversial firing of Gedo's governor Mohamed Abdi Khalil and failure to transfer control of Kismayo ports to the Somali Federal Government (SFG).
Under the aegis of Ethiopia and Kenya, the IJA's parliament 'elected' Madobe in a landslide victory. He garnered 92% of total vote, and the international community, along with a host of Somalia's political leaders, attended his inauguration this weekend.
The election of Madobe was a harbinger of who calls the shot in Jubaland's affairs. In retrospect, Ethiopia is known to meddle with Somalia's internal affairs for decades and Kenya is making its debut with Jubbaland being its pilot project. Ethiopia is an arch enemy of Somalia, but Somali politicians like Madobes exploit foreign influence for their own political purposes.
Understanding Madobe
Apart from being the former protégé of the late career jihadist, Sheikh Hassan Turki, Madobe is more than meets the eye.
After the invasion of Ethiopia troop in 2006 that expelled the Islamic Courts Union (ICU) from Mogadishu, every leader in the country fled with their small battalion because they were being hunted by Ethiopians and American elite forces.
Madobe knew that he was on the target list and fled with his Raskambooni brigades but the Americans used his Thuraya satellite phone to trace his location and on 23rd January 2007, his camp was strafed with fire from an AC-130. Most of his comrades were killed, and he was seriously wounded. After bleeding for several hours he was air-lifted to Kismayo and later to Ethiopia.
He was held in Ethiopia for two years and in that period they were seriously coding him with the most complex political programming language and later returned to Somalia with cash and enormous weaponry. He pledged allegiance to serve Ethiopian interests first above all and that's why Ethiopia prefers him as president of Jubbaland. With Ethiopia's help, he is seeking to expand his influence outside of Kismayo into regions where the IJA still faces opposition, such as in the Gedo region, and critics say he is attempting to suppress his opponents.
The Dolow accord
As Ethiopian troops captured large swathe of land in Gedo region from Shabaab, Madobe paid a visit weeks ago to a small town in the north of Gedo at the border of Ethiopia—Dolow. After lengthy discussions with selected members of the Marehan clan, he signed an agreement that all but abolished the Addis Ababa agreement as a deal outlining how Madobe, Gedo stakeholders, and the Somali government were to negotiate a political settlement to issues in the region.
The aim of the meeting was to show that his power was no longer limited and that he could appoint his allies to various posts and above all to change the governor of Gedo, which was not under his purview according to the Addis agreement. This political aggression that was sanctioned by Madobe's Ethiopian sponsors is based on a divide and rule stratagy and is not sustainable. It will raise unnecessary inter-clan tension and derail prospects of long-term peace.
The few politicians including the former governor of Gedo and some of IJA cabinet who refused Madobe's political aggression were temporarily detained by the Ethiopians until they acquiesced to the deal. The idea of forcing people to accept a certain political process often does not work. People should be allowed, under no duress, to adopt a constructive political agreement that puts Somalis' interest first rather than those backed by foreigners.
Message from Garbahaarey
There was quick reaction to the Dolow accord. The residents of Garabaharey took to the street to voice their anger. They called the IJA and Ethiopia to stop meddling in Gedo's internal affairs and to recall all leaders that were recently appointed.
The Dolow agreement is far from conciliatory While it endorsed reconciliation, confidence-building, peace and inclusive politics, the IJA still has work to do to expand influence without Ethiopian pressure, which makes Somali politics even more divisive.
Some argue that Madobe is using all the wrong means to expand his influence and political legitimacy. However, the controversial vote of no confidence against IJA probably incentivized Madobe to advance his strategies aimed at decreasing the influence of the central government in the Jubba region.
The plague of federalism
Somalia is becoming volatile as days goes by. Reconciliation and confidence-building processes remain a mirage and a new inter-clan feud that will reset political upheaval is imminent.
Federalism seems to be a new plague in Somalia's political arena. It creates mistrust among Somali leaders and hatred among clans. It creates a podium for foreign meddlers to further their interests. It creates perpetual conflict between regional administrations and the federal government.
Jubbaland's controversial politics is just one of many examples. We should expect foreign countries to continue efforts to use regional leaders as proxies, who themselves may seek to exploit the relationship for their own means.