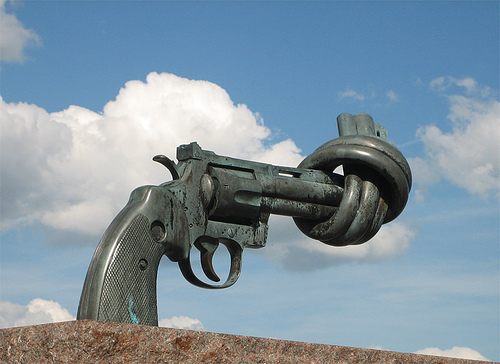 By Robert J. Burrowes
As we celebrate Mahatma Gandhi's birthday on 2 October, the International Day of Nonviolence, we have the chance to reflect on our progress in creating a nonviolent world. Obviously, creating a nonviolent world has many facets and is a long-term work-in-progress. But if we are to regenerate human society in accord with principles of love, nonviolence, justice, equity and sustainability, it is emphatically clear that we need to dramatically recreate much of our culture, particularly in the West, where hatred, violence and injustice are 'built-in'. How can we do this?
According to Gandhi: 'If we are to reach real peace in the world, we shall have to begin with the children.' So, as we reflect, I would like to encourage people to consider and, hopefully, adopt Gandhi's suggestion before it is too late. And here is why.
My father's two brothers were killed in World War II and I lost a great uncle at Gallipoli in World War I. Another great uncle was so traumatised after being wounded in action three times at Gallipoli that he died prematurely after the Great War, a psychologically broken man. I have spent my life trying to work out why humans are violent and, in the end, I discovered that Gandhi was right. Without even realising it, we humans terrorise our children and inflict phenomenal violence on them. How do we do this?
We do it by 'socializing' our children. That is, we inflict visible, 'invisible' and 'utterly invisible' violence on our children in order to make them do what we want. This violence forces the child to suppress their awareness of the mental processes, especially the feelings, that generated their original and functional behavior so that they can comply with our violence. But their obedience comes at the price of their increased dysfunctionality in the future. For a thorough elaboration of this point, see 'Why Violence?' and 'Fearless Psychology and Fearful Psychology: Principles and Practice'
So what is 'invisible' violence? Here are a few examples from my list of more than 200: blaming, condemning, insulting, mocking, embarrassing, shaming, humiliating, taunting, goading, guilt-tripping, deceiving, lying to, bribing, blackmailing, moralizing with and/or judging a child.
And what is 'utterly invisible' violence? It is deliberate interference in the expression of the child's feelings and the behavioral responses naturally generated by these feelings (including when these feelings and behaviours arise in response to our visible or 'invisible' violence). This 'utterly invisible' violence occurs when we ignore, comfort, reassure, distract, laugh at, ridicule, scream at, hit, restrain or punish a child who is crying, scared, angry or otherwise expressing and/or acting on their feelings. When we do this, our unconscious message to the child is clear: 'Don't feel and act on your feelings, unless they are happy or loving ones, or I will terrorize you until you stop!'
If you terrorize a child in this way they will become fearful of listening to their feelings. Moreover, as they lose their courage to fight back against your violence, they will accumulate feelings of self-hatred as well. However, without a safe opportunity to feel this fear and self-hatred in order to release them, the fear and self-hatred will be suppressed below their conscious awareness. And given the extraordinarily unpleasant nature of these feelings – who wants to feel like a coward and to hate themselves? – the fear and self-hatred will be projected as fear of and hatred for 'socially legitimized victim groups': depending on the social context, this will usually be people of other racial or religious groups.
So next time you wonder why humans are still fighting wars, destroying our natural environment and economically exploiting those around us, ask yourself why you expect this violence to end while we are inflicting massive violence on our children.
Of course, while creating a world culture that is nonviolent requires a radically altered approach to raising children, we must do more than this and 'The Flame Tree Project to Save Life on Earth'  maps out a fifteen-year strategy for creating a peaceful, just and sustainable world community.
But rather than talk more about the usual political and economic issues discussed in this context, I want to mention some aspects of culture that are often ignored when we consider what creating our nonviolent world means: the power of an evocative story, song, poem or painting to  inspire people to acts of courage, to acts of change. And in a culture that celebrates violence so readily that violence is regarded as entertainment and, in some countries, military displays are even incorporated into sporting events, we need powerfully nonviolent alternatives that both expose the violence and inspire us to embrace a deeper truth. Here are some examples from people committed to nonviolence.
In her novel Guantanamo Boy, children's author Anna Perera exposes the ugly reality that children have been kidnapped and rendered to Guantanamo Bay. In her critically acclaimed novel, which has been translated into several languages and nominated for many awards, Khalid, a fifteen-year-old Muslim boy from the UK, is abducted from Pakistan while on holiday with his family. 'He is taken to Guantanamo Bay and held without charge, where his hopes and dreams are crushed under the cruellest of circumstances.'
In another of Anna's books The Glass Collector, fifteen-year-old Aaron lives amongst the rubbish piles in the slums of Cairo where his job is to collect broken glass. His life is wasted, for now, but can he find a future that he can believe in?
If you would like to read some 'peace poetry' from Ghana, you might like Professor Ayo Ayoola-Amale's incredibly evocative poem 'Splendors of Dawn' on the Splendors of Dawn Poetry Foundation website: http://www.splendorsofdawn.org. Ayo's personal website with some description of her phenomenal work is here:  'Splendors' opens with beautiful imagery:
'In the footsteps of the sun comes the dawn from the womb of eternity hollering light. We heard the sounds of centuries as the breath of life caresses our mind to higher purpose with prophecy of days to come. Our dawn is born with us unearthing the seeds of light, lightning light that scent our whole soul delights as new centuries foretell. Light woke in full to the path of all life and we taste the glorious scent of Poetry, we taste life. Life was to us dawning, as our suns shine out from us.'
Australian Anita McKone has written many songs of nonviolence, to which you can listen on her website:  One of my favorites is 'If I Look Beyond the Choices Given', which includes these words (and is accompanied by her beautiful music):
So if I look beyond the choices given, my soul speaks loud and true
That my conscience is the voice of love, trusting others to love too
You may say that I'm naive but I'm creating what is true
When I stand against the insane fear that divides me from you.
But if you're lost in fear and desperate greed and want to bring about my end
They say I must use violence or I have failed to defend
But if I look beyond the choices given, the violence stands unmasked
As an endless, powerless cycle, a future driven by the past.
So if I choose to face my fear of death and defend nonviolently
I'll be strategic and courageous while keeping my humanity
Some people say I am not god, but who else could I be?
But god and fear of being god, along with all I see.
If you would like to read some 'world peace poetry' from Japan, you might enjoy this beautiful poem by Kae Morii, who is a member of the Japanese Poets Club and a Life member of the World Academy of Arts and Culture: 'Special Day': You can read a lot more of Kae's beautiful poetry here. Her poem 'Kisses' is very popular.
I kiss birds in a drowse
I kiss contours of trees to clear
I kiss a bead of dew on cornflower
I kiss a forehead of obsidian
I kiss a lip of hibiscus
I kiss a breast of grandeur ground
I kiss reason rising up
I kiss elegy sunk in your heart
The depth of you
The secret of birth
I kiss you
The moment
The sun kisses the sea
Harvey Arden champions the cause of Native American political prisoner, Leonard Peltier, whose brilliant artistic and written contributions to a life-affirming human culture, including his book Prison Writings: My Life is My Sundance can be seen here.
Pauline Bradley is a singer/activist in the UK. Here she is singing an old favorite at the Faslane Peace Camp, to remind us that 'The People United Will Never be Defeated.'
Robert Shetterly's portraits of Americans Who Tell the Truth is a wonderful and inspiring collection of portraits and narratives highlighting US citizens who courageously address issues of social, environmental and economic fairness. By combining art and other media, Robert offers resources 'to inspire a new generation of engaged Americans who will act for the common good, our communities, and the Earth'. Robert has been too modest to paint and display a self-portrait but I'm working on him!
Alice Walker's novels – including The Color Purple – short stories and poems need no introduction and they have been inspiring those committed to profound social change for a long time. At the moment, she is supporting the call for a Month of Resistance to Mass Incarceration, Police Terror, Repression and the Criminalization of a Generation. In her recent poem 'Gather', Alice writes:
It is still hard to believe
that millions of us saw Eric Garner die.
He died with what looked like a half dozen
heavily clad
policemen
standing on his body, twisting and crushing
him
especially his head
and neck.
He was a big man, too.  They must have felt
like clumsy midgets
as they dragged him down.
Bruce Gagnon, long-term campaigner to keep space nuclear-free, is also a (very political) poet! His latest poem, in response to the US-led war on Syria, 'The US-Israel Take Down List' starts with these words:
US air strikes against Syria
are illegal
under international law
but Washington and
Tel Aviv
'don't do treaties no more'
Gary Corseri also writes some evocative political poetry in response to current events. You can read his take on 'Bring Back Our Girls' and something about him here. Here's an excerpt:
From the droned villages of Pakistan and Afghanistan–
Bring back our girls!
From Nigeria, and the brothels of the Philippines–
Bring back our girls!…
From the "Occupied Territories" of Palestine
And from Israeli Porn Kings–
Bring back our girls!…
From the callous hypocrisy
Of scoffed-at dreams and snuffed-out hopes–
Bring back our girls!
But what of Gandhi's favorite song? One of them was 'Raghupati Raghav Raja Ram', a Hindu devotional bhajan, which included these words:
Chief of the house of Raghu, Lord Rama,
Uplifters of those who have fallen, Sita and Rama,
Sita and Rama, Sita and Rama,
O beloved, praise Sita and Rama,
God and Allah are your names,
Bless everyone with real wisdom, Lord.
If you have the wisdom of all of the artists above, as well as the many other people in 75 countries who are part of the worldwide movement to create a world culture that is nonviolent, you can join them in signing the online pledge of 'The People's Charter to Create a Nonviolent World'
Culture is not just something we inherit; it is something we create. It can be violent or nonviolent. What sort of culture do you create?
Happy birthday Bapu. We are trying!