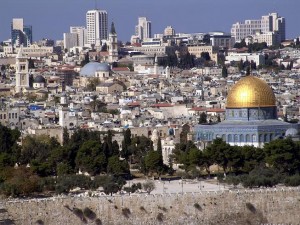 Israeli Prime Minister Benjamin Netanyahu said Sunday that security forces have been boosted significantly in East Jerusalem to prevent further violence by Palestinian youths.
He told the weekly cabinet meeting that an additional 1,000 police and paramilitary border police, including special forces, have been deployed in Arab neighborhoods in East Jerusalem.
"We will not allow the reality of Jerusalem to become one of throwing stones and firebombs, and disturbances," he said, blaming "extremist Islamic elements" for being behind the attempts to " incite Israel's capital."
"We will use all necessary force, with determination and responsibility, to ensure they do not succeed," he said in his opening remarks at the meeting.
Tension has been running high in East Jerusalem since Wednesday when a Palestinian motorist rammed his car into a light rail station, killing a Jewish baby and wounding eight others. The driver was shot by Israeli police and died of his wounds later in hospital.
On Friday, Israeli forces shot dead Orwah Hammad, a 14-year old Palestinian-American, during clashes near the West Bank city of Ramallah, where the Palestinian National Authority is located.
The mounting tension has prompted schools in the coastal city of Tel Aviv to postpone class trips to Jerusalem. The Tel Aviv Municipality said Sunday most trips were canceled following requests of parents who said they were concerned about the children's safety because the route includes sites where violence occurred.
Over the past weeks, Palestinian teenagers have clashed frequently with the Israeli police, throwing stones and flares at Israeli drivers and sabotaging the city's light rail, a symbol of the "unification" of the Palestinian occupied East Jerusalem with the Israeli West Jerusalem.
Israel captured the East Jerusalem from Jordan in the 1967 Middle East war and later annexed it in a move that has not been recognized internationally.
Source: Xinhua