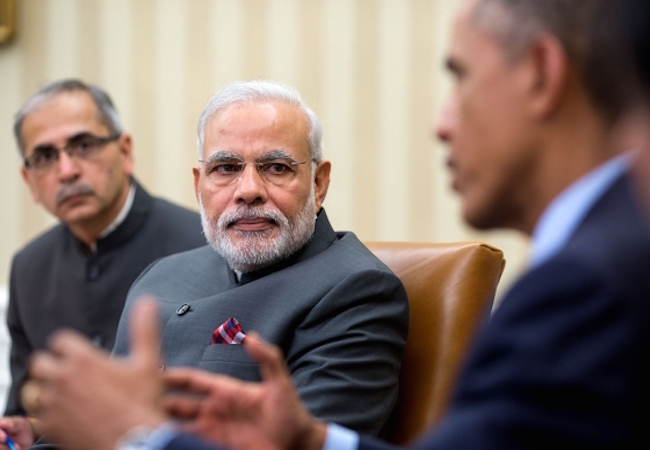 By Shahzadi Tooba Hussain Syed
President Obama is planning to attend India's Republic day celebrations on 26 January. The main event of the Day is 'Republic Day Parade' which includes a show-case of weapons.   The significant part of the visit is the negotiations between India and USA on issues like operationalising the civil nuclear deal, military purchases and greater access to India's market for US companies through foreign Direct Investment (FDI).
In 2008, India and the United States finalized an agreement/deal, to restart cooperation on civilian nuclear technology. The legislation allows for the transfer of civilian nuclear material to India. Under the deal India has committed to classify 14 of its 22 nuclear power plants as being for civilian use and to place them under IAEA safeguards. "Safeguards are the activities by which the IAEA can verify that a state is living up to its international commitments not to use nuclear programs for nuclear- weapon purposes". Under the deal: 8 Indian heavy water natural uranium reactors, which are ideal for weapons grade Pu production, have been left outside safeguards. Their joint capacity of 2,000 MW, running at 60% capacity, is adequate to produce 1,200 kg of weapons grade Pu which can produce 240 nuclear weapons annually. There is no precedent of keeping power reactors outside IAEA safeguards.
The new agenda of cooperation intended at preparing India as a new powerful state in the globe and it has also numerous aspects containing economic, strategic and energy components. On the other hand, the civilian nuclear deal which is component of the particular dialogue gained more consideration because of its adverse implications for the international Non-Proliferation regime efforts and on the security of South Asia. Because of the agreement, the India would gain the status of de facto nuclear weapon state and it would assist India to acquire civil nuclear technology from the US and other members of the NSG. Under this exemption on Sep 5, 2014; Australian Prime Minister Tony Abbott sealed a civil nuclear deal to sell uranium to India and said that "any agreement to sell uranium to India would include strict safeguards to ensure it would only be used for civilian purposes, and not end up in nuclear weapons.
The NSG is a 48-country network of uranium and nuclear technology-exporting and civil Nuclear power producing countries aimed at strengthening civilian nuclear markets while propagating a strict non-military purpose.  After giving India an exemption it seems this group is following a non criteria approach by giving exemptions to some (India) and objecting some of the others (Pakistan) on the same grounds. As when China announced its intention to sell two additional plutonium-producing heavy water reactors to Pakistan for civilian purposes, China was objected and asked to clarify the details of its sale of additional nuclear reactors to Pakistan by the USA.
While India has pledged that any U.S. assistance to its civilian nuclear energy program will not benefit its nuclear weapons program, experts say India could use the imported nuclear fuel to feed its civilian energy program while diverting its own nuclear fuel to weapons production. India has done similar things in the past; India claimed it was using nuclear technology for civilian purposes right up until its first nuclear weapons test in 1974. While its motives for the test were triggered by Pakistan's acquisition of nuclear armaments, the perceived betrayal led the international nuclear community, particularly the United Nations Security Council, to reduce India's involvement in regulatory nuclear frameworks. A Congressional Research Service report on the agreement states, "There are no measures in this global partnership to restrain India's nuclear weapons program".
Even Prime Minister Modi has affirmed his country's desire to possess a 'minimum credible deterrent' in the face of arch-rival Pakistan's nuclear program and China's economic and military acceleration. The problem this poses for the West and other nuclear material suppliers is that, apart from not being a signatory to the Nuclear Non-Proliferation Treaty (NPT), India's dual-function nuclear program (military and civilian) is greatly interwoven. India has opted to not fully disclose the suspected dual-use nature of some of its reactors.
The US-India nuclear deal and the exemption by the NSG without placing all of India's power reactors, ambitious breeder reactors program and sizeable fissile material stocks from these power reactors under safeguards, is a clear violation of these countries NPT obligations.
A significant question is how India, in the dearth of full-scope safeguards, can provide adequate assurance that U.S. nonviolent nuclear technology and Australia's uranium import will not be sidetracked to nuclear weapons purpose?
Reuters disclosed that The Rare Materials Plant (RMP), India's sole uranium enrichment plant, located at Rattehalli on the borders of Mysore, is undergoing massive capacity-building as part of India's gas centrifuge enrichment program. A new gas centrifuge plant is being built at the site to enhance the output of Highly Enriched Uranium (HEU), a fuel used in naval reactors and thermo-nuclear weapons, at least by three times the current production levels in next couple of years. Sources in the RMP said by 2016, India looks to produce at least 30,000 separative work units (SWU) per year, a common measure of the output of a uranium enrichment plant, as India is going aggressively with its nuclear program and plans to install more nuclear reactors in near future.
Another example of non responsible and disaster prone country is on April 22, 2003, the Atomic Energy Regulatory Board (AERB) permitted the resumption of operation of the wet section of Natural Uranium Oxide Fuel Plant (NUOFP) of the Nuclear Fuel Complex (NFC) in Hyderabad. The Board had suspended its operation on November 20, 2003, pending inquiry into the reasons of a chemical explosion. A specialist investigation committee of the AERB confirmed that the explosion was due to what is known as "Red Oil Reaction" — uncontrolled chemical reaction involving hot organic liquid and aqueous nitrate solution. The committee observed that the necessary conditions such as presence of nitrate, organic liquids and temperature for causing the reaction existed in the evaporator at the wet section of the plant at the time of the incident. If these kinds of activities are acceptable to grant the exceptions, Pakistan has most responsible command, control and security system.
US at one hand is trying to have deal for civilian purposes and other hand is going to participate in a showcase of Indian parade includes display of weapons. Non-proliferation is a top agenda item when it comes to Pakistan, but it is an impracticable standard when it is India. It is obvious then the "Politics has no principles". The commencement of nuclear trade with India, first by Washington in 2008 and currently by Canberra, has immense outcomes. It will profoundly upset the proliferation equation and strategic stability in the South Asian region. USA must have to adopt a fair stance when it comes to act according the criteria or principles.
International non-proliferation regime should be based on the principles of non discrimination, equal and undiminished security for all states, and there must be equal access to peaceful uses of nuclear energy.