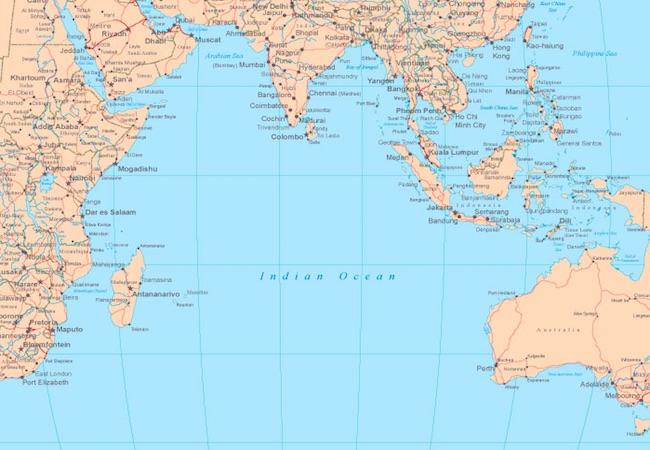 By Muhammad Ali Zoaib
Indian Ocean: the third largest ocean in the world enjoys a unique geostrategic and historical importance. It is bordering three continents: Asia, Africa and Australia with 36 littoral and 14 hinterland states including several important emerging economies and rich oil exporting countries. About 80% oil trade is through it and is considered as an important energy belt in future. It acted as an important trade route between East and West. This ocean was also used by European imperial powers to subjugate all Asian and many African countries to convert them into their colonies.
It (Indian Ocean region) is considered as the most volatile region and has world's 50% armed conflicts. It has several islands that are very important strategically such as Diego Garcia. Currently, the US is dominating Indian Ocean as it has its fifth fleet in Bahrain and is also using Diego Garcia as its Naval base. Besides, a part of its naval force is here to ensure the safe trade of oil in Persian Gulf and to counter piracy. French Navy is also present in it, but true aspirant of Indian Ocean is China and India. China has a powerful navy (PLAN; Peoples Liberation Army Navy) compared to Indian Navy but India has recently worked hard to strengthen it.  Presently both countries are trying to increase their influence in Indian Ocean. Both are in a state of competition to enhance their control in it.
India wants to block the access of China in Indian Ocean and has great fear of Chinese Sting of Pearl Strategy which has not been announce by China but this concept was presented by the US Department of Defence, and Indian media exploited it. India wants a complete hegemony in Indian Ocean and is trying to increase its control on its neighbours. David Brewster rightly pointed out the Indian quest to convert Indian Ocean into India's ocean. He further explained that Indian Xenophobia forced it to act in such a way, as Indian Monroe Doctrine allows it "to exclude foreign players from the region." How India can achieve such targets? Will it try to reduce influence of the US from Indian Ocean? India is using its soft power for this purpose and it is trying to keep islands under its influence, so it is investing heavily in the Maldives, Mauritius and Seychelles. Will India succeed to exert same influence on these Islands as it is exerting on Nepal and Bhutan. Certainly not; landlocked countries have always limited options compared to Islands so they cannot be influenced more and they can maintain some degree of independence in their foreign and defence policies. Its peculiar example is Sir Lanka which is closet neighbour of India.
Historically, India and Sri Lanka have deep cultural linkages. India interfered in the Sri Lankan civil war between Sinhalese and Tamils where it suffered badly with heavy causalities and assassination of one of its Prime Minister. This forced India to leave Sri Lanka in worst condition and Sri Lanka began to focus more on its relations with Beijing.  China invested heavily in Sri Lankan defence, energy and infrastructure including the construction of Colombo Port City until 2015 elections in which a pro-Indian party succeeded to form government. It suspended Chinese projects. It must be remembered that former Sri Lankan President Rajapaksa expelled Colombo based Indian spy agency chief before elections and accused him of helping opposition. Later he accused RAW and intelligence agencies of some countries for rallying fragmented opposition to defeat him. It seems true; this step was taken to bring such a government that can be used to reduce Chinese influence in Sri Lankan island.
The government of Rajapaksa was a pro-Chinese government and was facilitating China too much. It has a close cooperation China in all fields including defence. In 2013, Sri Lanka decided to train its military personnel from China which would have raised anger in New Delhi. Especially the docking of Chinese submarines on Sri Lankan port frequently would have frustrated India too much and have compelled India to take initiatives to bring a pro-Indian government in Sri Lanka, which is a valid step according to Indian Monroe Doctrine. A BBC report is showing present Sri Lankan government has decided to suspend Chinese funded Colombo Port project. It is important to note President Modi is the first Indian Prime Minister to visit Sri Lanka in last 28 years. It meanx India was searching for some favourable government in Sri Lanka for decades which it got in recent elections. Now we have to look what further steps India will take to prevent Chinese accession in Indian Ocean. What will China do to save its investment and influence in Sri Lanka?  The present Sri Lankan government has suspended deal with China by declaring it expensive. What will China do to protect its investment? Will China reduce interest rate on loan provided to Sri Lanka?  Will it use diplomatic tracks for this purpose? The present diplomatic policies of China have been proved very successful and surely it will like to retain its influence and investment in Sri Lanka by using all available options. It is also possible that new Sri Lankan government may request India to complete these projects which New Delhi may accept readily.  This can increase tension between New Delhi and Beijing. Further, India will also like this government to rule for a long time to increase its influence. It is very important time, today, where Indian and Chinese interests are directly at clash in Sri Lanka.
Maldives is a group of small Islands and is strategically important as it is situated almost in the centre of Indian Ocean. India has been enjoying good strategic and trade relations with Maldives and it helped to rescue President Maumoon Abdul Gayoom government in 1988. In 2009, India signed a defence agreement with Maldives which includes cooperation between its armed forces and intelligence of two countries.  Although India has not announced to establish any base in Maldives but it seems that in future it will try to establish its military base in this country. Presently, India is setting up a radar network in Maldives which will be linked with Indian military surveillance systems. It is first Indian initiative to increase its military role in Maldives and it will carry it on.
Chinese interests in Maldives are increasing.  According to Ministry of Foreign Affairs of the People's Republic of China, "Maldives is an important link of the ancient Maritime Silk Road, sharing profound historical relationship with China."   Maldives' Minister of Defence and National Security visited Beijing in November 2014 and expressed his interest to enhance cooperation for personnel training and maritime security with Chinese Defence Minister Chang Wanquan. According to Indian media reports China has a plan to build a submarine base in Marao Atoll (an Island of Sri Lanka) since 1999, which India cannot allow and it can be turned into a tension.
India and China are in a race to increase their influence in other Indian Ocean Islands States because of their strategic importance. Both are building close relations with Mauritius and Seychelles.  Presently, China is investing in forty seven developmental projects in Mauritius. In 2011, Seychelles offered China to build a naval base, which raised Indian concerns and Modi is first Indian Prime Minister to visit Seychelles since 1981. Its mean India is trying to establish a strong control over Mauritius and Seychelles to decrease increasing Chinese influence.
In his visit Modi said, "The course of the 21st century will be determined by the currents of the Indian Ocean." It is true and India wants to expel China from Indian Ocean as soon as possible and desires to have a complete dominance in Indian Ocean. No doubt India has good Strategic relations with the US but David Brewster and some other scholars believe that India will try to expel it from the Indian Ocean as soon as it develops some strong control in it. Its mean India will take some aggressive steps in future which can provoke other countries and can turn Indian ocean into a bed of conflict among great powers of the world that are India, China, the US and other regional powers.