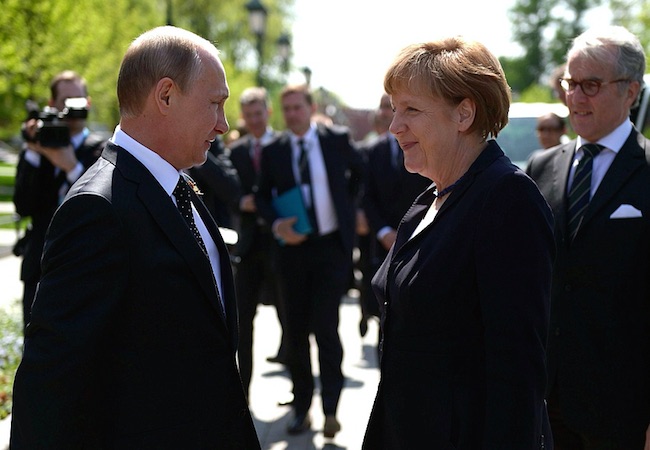 Russian President Vladimir Putin and visiting German Chancellor Angela Merkel on Sunday reiterated that the crisis of Ukraine should only be solved through political dialogue.
"I am convinced that a reliable, long-term settlement can only be achieved by establishing direct dialogue between Kiev, (the two self-proclaimed republics of) Donetsk and Lugansk," Putin said during a meeting held in Moscow, the capital of Russia, Sunday.
The Victory Day of Russia is marked on May 9 annually but on this very day of the year Russia celebrated the 70th anniversary of the victory of the Great Patriotic War, Russia's term for World War II. Merkel didn't come on the exact day for Russia's grand parade but decided to visit Moscow one day later. Before the two leaders held talks, they laid wreaths at the Tomb of Unknown Soldiers at the Red Square in downtown Moscow.
Merkel agreed that Germany would continue to work with Russia for "the restoration of the sovereignty and territorial integrity of Ukraine," and support the monitor mission of the Organization for Security and Cooperation in Europe.
Putin also stressed it was necessary for all parties to stick to the full implementation of the Minsk ceasefire agreement.
"There are reasons to believe that the Minsk process is moving, although with difficulties," the Interfax news agency quoted him as saying.
Merkel added that possibilities of making progress in solving the Ukraine crisis always exist.
While expressing his hope for the working subgroups of the three-party Contact Group on the Ukraine crisis, Putin vowed to exert all possible influence on Donetsk and Lugansk to ensure the effective work of the subgroups.
He also noted that the success of a peaceful settlement in Ukraine depends mainly on the Kiev government, calling for constitutional reforms and economic restoration in the country.
Moreover, Merkel urged all the relevant sides to do everything possible to improve the humanitarian situation in the country's eastern Donbass regions.
The two leaders also discussed bilateral cooperation and the Russia-EU relations. They agreed that the current problems should be solved through "diplomatic paths."
According to Merkel, Russia and Germany need to cooperate when facing "difficult situations." She suggested that economic spaces of the European Union and Russia should move closer gradually.
"I think in a current globalized world there are reasons to work on this so that the Russian-German bilateral relationship fits well into the context," Merkel said.
Lamenting the slump in bilateral trade with Germany, Putin pointed out that there are still German companies investing in Russia's economy and called for "removing artificial barriers on the path of the development of mutually beneficial trade and economic ties."
"(The dramatic trade drop) is clearly not in the interests of either Russia or Germany," Putin said.
Putin also urged efforts to renew the global security system, saying it should be based on nonalignment and impartial criteria under the leadership of the UN.