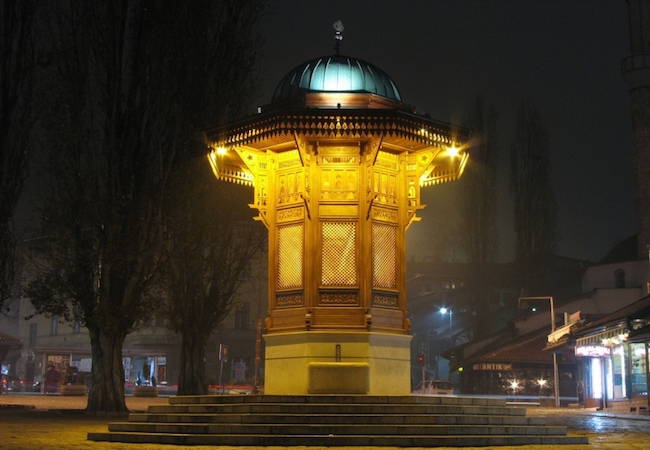 By Dilek Kütük
The Balkan economic structure may be the most unpredictable in the world due to the region's political circumstances. This issue was discussed at the Turkey-Balkan Economy Summit at Bahcesehir University in Istanbul that was organized by the International Relations Studies Association (TUIC) and host to 18 expert speakers from the Balkans and Europe including Kujtim Dobruna (Senior Economy Advisor to the President of the Republic of Kosovo), Will Bartlett (Senior Researcher to the London School of Economics) and Helene Lavoix (Director of Red Team Analysis, Paris).
While there are still optimists, pessimists have gained ground recently when pointing to the high youth unemployment, political ignorance and general hopelessness permeating the countries of the Balkans. The global economic crisis seriously affected the Balkan economies: their development was first halted and then resumed progress at only a snail's pace. After the collapse of Yugoslavia, many important economic reforms have been implemented to promote free market economies in the region. Kujtim Dobruna mentioned that economic institutions are a prime driving factor of the transition to a free market economy. These transitioning countries need to further develop their political and economic institutions to instil inclusiveness in both their policies and their actions. These institutions must ensure the establishment of a level playing field, on which people can interact and conduct business, by securing private property, fostering an unbiased system of law and providing public and administrative services. Building state legitimacy, ensuring economic stability and including the private sector in the decision-making process are some of the approaches that need to be considered when formulating development strategies in these countries.
Sanel Halilbegovic from the American University in Sarajevo emphasized the importance of cooperation between the Sarajevo Stock Exchange and Borsa Istanbul. In his speech at the conference, he stated that Turkey can be regarded as one of the largest economies in the region, therefore cooperation through exchange should be seen as a very positive step. It is important to note that real economies and the financial economies are interrelated. The benefits of such cooperation for investors and companies would be: a wider variety of investment opportunities, the improvement of the quality of information (e.g. auditing), an increase in fresh capital through the issuance of new securities, an increased reputation for both parties, increased liquidity, increased company value, and more efficient protection of investors on all levels. Such cooperation can combat the various obstacles that hinder Turkish-Balkan economic relations, and economic development of the Balkans in general, by spurring each other's mutual interest in one another, disseminating accurate knowledge and reducing the sense of insecurity that is bound to arise when dealing with the unknown. This partnership can also serve as a breeding ground for future partnerships and deepen Turkish-Bosnian economic and political ties in particular.
Turkey's investment potential is steadily increasing, especially after 2004 with the commencement of Turkey's EU accession negotiations. Turkey is one of the most important trading partners for European countries. According to Senada Šelo Šabić from the Institute for Development and International Relations in Zagreb, Turkey is the EU's 7th largest import and 5th largest export partner, and it has also started to invest abroad; between 2004 and 2013 Turkey's direct investment abroad grew from 7 to 33 billion dollars. Greece is Turkey's 14th largest import partner, and Romania is its 17th. Also, Romania, Croatia, and Bosnia and Herzegovina are Turkey's most important export countries. 4.7% of Turkish FDI abroad was directed at the Balkans between 2002 and 2012.
Turkey encourages trade and investment, and has activated its tools of production in the region. Turkey, due to its historical and cultural ties, seeks to increase its trade volume with the Balkans. In light of these aims, as Ms Sabic pointed out in her speech, Turkey has set out to undertake ambitious projects in the region. For instance, in Albania Turkey's Enka construction conglomerate joined forces with the US's Bechtel to build a 1 billion dollar highway (2010) and Turkey's Calık Holding purchased Albania's 2nd largest bank (2006-2009). In Bosnia and Herzegovina, Turkey acquired 49% of BH Airlines, opened several branches of the its state-owned Ziraat Bank in the country, therewith providing local financial empowerment, and Natron Hayat invested 90 million dollars in the country's paper industry. In Croatia, Turkey's investments include the construction of a motorway, a bank, various chain stores, hotels and involvement in marina management.
After Turkey's then-Prime Minister (now President) Recep Tayyip Erdogan held a speech asserting that "Kosovo is Turkey, Turkey is Kosovo", Turkey's cooperation and relationship with Kosovo has become an issue of increased sensitivity. Although there has been little change in the two countries' relations, investment projects are continuing and show no sign of stopping: the Turkish-US consortium of ENKA-Bechtel is building a motorway in the country valued at 700 million euro, Calik Holding is in the process of purchasing Kosovo Electricity Distribution and Supply, and Turkish Economy Bank now operates 24 branches within Kosovo. As for Macedonia, Turkey's Tosyali Holding is involved in a project that aims to modernize and to improve the management of Skopje and Ohrid airports, and it is also seeking to acquire the AD Nikšić steel-mill in Montenegro. Turkey also enjoys diverse relations with Serbia and Slovenia. The trade volume between Turkey and Slovenia was 860 million dollars in 2013 and between 2002 and 2012 Turkey's FDI stock in the country was valued at 5 million dollars. Turkey's trade volume with Serbia, on the other hand, was valued at 586 million dollars in 2012, and from 2002-2012 its FDI stock in the country was estimated at 49 million dollars.
Another point worth considering is cooperation between small and medium-sized enterprises (SMEs). Independent Economic Consultant at Macropolis Jens Bastian perceives of SMEs as an important instrument for development of the Balkan countries. The European Investment Bank (EIB) is the largest international financier, and it has financed projects totalling 28 billion euros. The European Commission's Programme for the Competitiveness of Enterprises and SMEs, or the COSME Programme for short (2004-2020), provides venture capital and mezzanine finance in the Balkans. Another EU funded initiative, namely the WB EDIF (the Western Balkans Enterprise Development and Innovation Facility), aims at increasing the financial resources made available to SMEs based in the Western Balkans, while also offering technical assistance for strategic investments in the region to support socio-economic development and the respective countries' EU accession processes. According to Jens Bastian, Balkan countries seek to boost their economic ties, find new areas of cooperation, whether in the fields of transport infrastructure, power plants, housing, tourism, or other niche areas, and rearrange legislation to open their markets to foreign investors.
Nonetheless, the work that has been done to transform the Balkan countries into functioning free market economies after the collapse of Yugoslavia has taken a serious blow due to the effects of the global economic crisis. Senior Economy Researcher at LSE Will Bartlett said that the Western Balkans have suffered from the spill-over effects of the Eurozone crisis and cannot devalue their way out of the recession due to "euroisation". Therefore, the only option is internal devaluation and structural reform. In his conclusion he mentioned that while the Balkan countries have high growth potential, this potential has been seriously dented by two recent factors: the impact of the Eurozone crisis, and fiscal consolidation and austerity programmes. Here he proposed that the Western Balkan countries consider a coordinated fiscal expansion based on investment in infrastructure, education and health that could be financed by EIB loans and the diversification of exports to countries such as Turkey and other emerging economies throughout the region.
Turkey has pursued a proactive foreign policy in the Western Balkans and assesses its successes and shortcomings by way of its various diplomatic and economic initiatives in the region. In light of its history, culture and geography, Turkey has come to employ its soft power instruments in the region, including economic investment, film, diplomacy, cultural centres, tourism, etc. Turkey's use of soft power in the Balkans was a point of focus for Prof Birgul Demirtas from TOBB University of Economics and Technology. After the end of the Cold War, the Balkans were granted with greater room to manoeuver between the international powers. During his time at as Turkey's Foreign Minister, (current Prime Minister) Prof Ahmet Davutoglu emphasized his "forward looking" vision for the Balkans ensconced in the promotion of regional self-dominion and inclusiveness, regional and European integration, and a common stance on regional and international organizations. In addition to these visions, Prof Demirtas emphasised that the concept of a "trading state" could also be applied here, as Turkey's trade volume with the Balkans increased by six from 2.9 billion dollars in 2000 to 17.5 billion dollars in 2012. Furthermore, Turkey's effective use of cultural diplomacy in the region can be exemplified by fact that Turkey operates 12 Yunus Emre Cultural Centre offices in 6 different Balkan countries. Thus, the number of Turkish-speakers throughout the region is increasing every day. Another tool of Turkey's soft power are the "Turkey Scholarships", which are applied for by thousands of student each year but only granted to 700. Briefly, other institutions that work to exert Turkish influence in the Balkans can be seen in the Turkish Cooperation and Coordination Agency (TİKA), 18.5% of whose aid is directed at the Balkans, the regional offices of the Turkish Radio and Television Corporation (TRT), and lastly, the Anadolu Agency. Finally, Prof Demirtas also mentioned the role of the increasing ties between local municipalities and the circulation of Turkish soap operas as forms of cultural interaction between Turkey and the Balkans.
Conclusion
Although the Balkans house risks to investment because of their instable political environments, the proliferation of security threats and their problems related to inadequate infrastructure and legal arrangements, today it is a region with high investment potential. Turkey's EU accession process affected its foreign policy toward the Balkans as it succeeded in transforming its system. It sought to export this experience to neighbouring countries while also working towards regional integration. The above-mentioned speakers at the Turkey-Balkan Economy Summit presented powerful reasons for and examples of Turkey's contributions to the region. Turkey may in fact come to function as the spokesman for the Balkans as it host the next G20 Summit in Antalya, during which time it could engage in formidable efforts to promote regional sustainability and inclusiveness, all the while working to attract investment to the region during the meetings with these senior officials of the top 20 economies of the globe. Also, it deserves mention that the Honorary Consulate of Bosnia and Herzegovina to Bursa, Turkey, General Manager of the furniture company Çilek, and Founder and President of the BİGMEV Foundation, Muzaffer Çilek, has been appointed as a senior advisor to the Bosniak Member of the Presidential Council of Bosnia and Herzegovina, Bakir Izetbegovic. Seeing that Turkey already enjoys good relations with Bosnia and Herzegovina, and particularly with its constituent Bosniak community, it can be expected that the economic relations between these two countries will develop in the future as their long-term, mutually beneficial friendship grows. For this to become a reality, however, Turkey now needs to set its weight behind establishing new opportunities for the people of the Balkans, specifically its youth, by supporting local NGOs with its economic, cultural and human capital, thus working to ensure stability, prosperity and interdependence in the Balkans.
Dilek Kütük is an Assistant Specialist at the Istanbul based think-tank the Turkish Asian Center for Strategic Studies – TASAM.