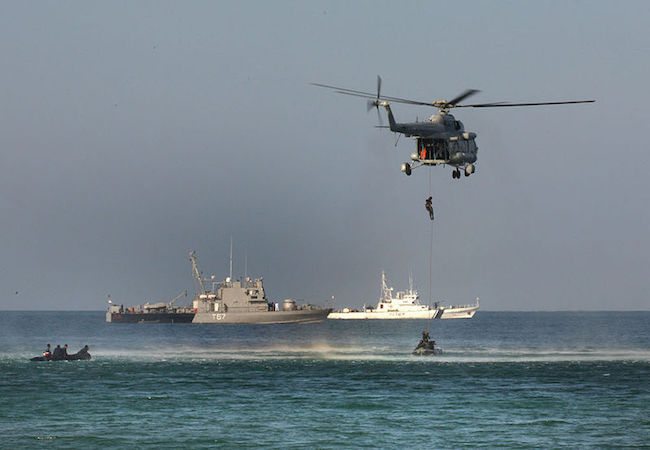 By Ahsan Ali Zahid and Hasan Ehtisham
Indian Ocean can be saved from becoming a zone of conflicts if India stops thinking it would like to own it for its name. If the West allows New Delhi to build a blue water navy, it would be just a matter of time that their creation would become their nightmare. Indian Ocean ranks fifth largest, covering 20% of the water and approximately 60 islands owned by different states and hosts four major waterways – the Strait of Malacca, the Strait of Hormuz, Bab-el Mandeb and the Suez Canal.
Interestingly, Indian Ocean had never been nuclearized even during the Cold War between the two major powers. Maritime security and strategic realm has been fronting a diverse challenge when India initiated the deployment of nuclear weapons in Indian Ocean Region (IOR), against Pakistan and China. This could undermine the nuclear balance between these three nuclear armed states and will definitely create a risk of accidental exchange of nuclear weapons. Rapid shift of Indian nuclear weapons capabilities from land to sea based will formulate a three party nuclear competition and is likely to be more unsteady and possibly far more precarious.
India is modernizing its navy at a rapid pace, which in nominal terms, the Indian navy budget has been increased up to 1,000 percent from 1991 ($468 millions) to 2011 ($4.8 billions). On the other hand China is far away from the potential to generate a stir in contemporary strategic balance with respect to IOR. Therefore, prime reason of Indian naval modernization is its aspiration of great power status by acquisition of power projection capability in maritime capacity.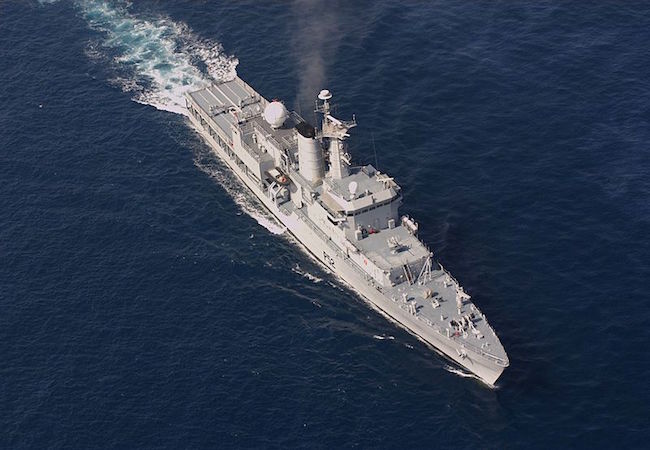 India is dragging IOR in an intense arms race by induction of first nuclear-powered ballistic missile submarine INS Arihant in 2014; it is also in the process of building two more Ship Submersible Ballistic Nuclear SSBNs. Furthermore, India was already on the track to invest in Russian-made nuclear submarine in 2012. India by now has two platforms, INS Subhadra and INS Suvarna, to launch Dhanush ship-based ballistic missiles. Indian navy has the ability to launch BrahMos missile (a joint venture between the Russia and India) which can carry both conventional and nuclear payloads.  In short, India is playing a dangerous game in pursuit of prestige and international recognition in IOR where confidence-building or institutionalized conflict-resolution mechanisms in the maritime realm is totally absent.
Apparently, Indian security situation is quite complex because of the two reasons. One, its increasing conventional arms capability advantage over Pakistan has struggled to meet several challenges and nuclear parity is favoring Pakistan. Second, Chinese economic and military advantage is substantial over India. So all the frustration in pursuit of regional hegemony is forcing India to become an offensive military power. As a result of which India has accelerated the enrichment of Uranium and fissile material to produce more and large nuclear weapons in short time. Ultimately its nuclear expansion and militarization of Indian Ocean is making South Asian region insecure.
In the backdrop of traditional rivalry, addition of the nuclear capable submarines in the Indian naval fleet is a serious threat to Pakistan and China. International community was reluctant to the fact that India is expanding its naval capabilities out of proportion and Pakistan along with China will definitely reciprocate. This immature Indian provocation would force Pakistan and other regional states to acquire similar capability and thus mitigating nuclear threat and arms race in South Asia. Ultimately, it was not surprising that China is willing to sell not nuclear but eight diesel-electric submarines to Pakistan.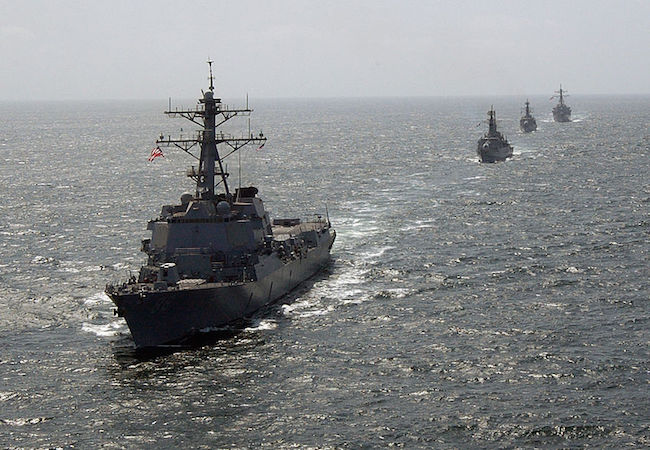 As mentioned earlier South Asia has no procedures against confrontational behavior and permanent mechanism between the Indian and Pakistani navies. Under such circumstances if India is resolute to take the route of sea based nuclear strike capability then it is highly unlikely that escalation can be controlled. Pakistan and India both rely on their mobile nuclear-capable missiles to materialize second strike capability. Notwithstanding, sea based deterrence is always being considered as assured second strike capability and advocates of sea based nuclear weapons are of the view that it provide stability. Nonetheless the picture will be gloomy if other side will invest heavily in ballistic missile defences, anti-submarine warfare and hypersonic missiles.
Indian investment in nuclear submarine is a quite obvious step taken because for the sea denial missions, submarine is a veracious choice of weapon.  Factually sea based deterrence is more favorable to Pakistan's strategic advantages, as it serves many implicit opportunities. The most vulnerable part of Indian defence is its coastal belt and the ultimate deterrent in Pakistan strategic objectives could be its navy, which can infiltrate deeper inside Indian Territory with the element of surprise attack.
During the period of cold war India was always reluctant to the presence of U.S. forces in IOR. China is main factor which transformed the dynamic of Indian strategic thinking and today, the interests of U.S. and India are congregating to generate more favorable strategic environment for both countries against China.
Regardless of Russian and Chinese opposition, India has offered a foothold to the U.S. in the Indian Ocean by signing the new ten-year Defense Framework Agreement during recent Obama visit. Including the Logistics Support Agreement (LSA), Communications Interoperability and Security Memorandum of Agreement (CISOMA) and Basic Exchange and Co-Operation Agreement (BECA) which will not only allow the refueling of the U.S. warships and U.S. Air Force planes but also regular joint military exercises and exchange program for Services officers of two nations.
In Indian strategic thinking, Chinese entry into IOR is a vital aspect behind the Indo-U.S. maritime cooperation. The Indian approach which project China as potential threat in IOR has always being exaggerated and aggressively retaliated by the Indo-U.S. policies. A profound analysis can easily determine that China is more focused in Pacific and South China Sea instead of Indian Ocean. Traditionally Chinese approach had been a peaceful maritime security and the only interest it has in IOR is trade security. Realistically, China is still behind India and the U.S. in gaining the geographical advantages and maritime power in IOR.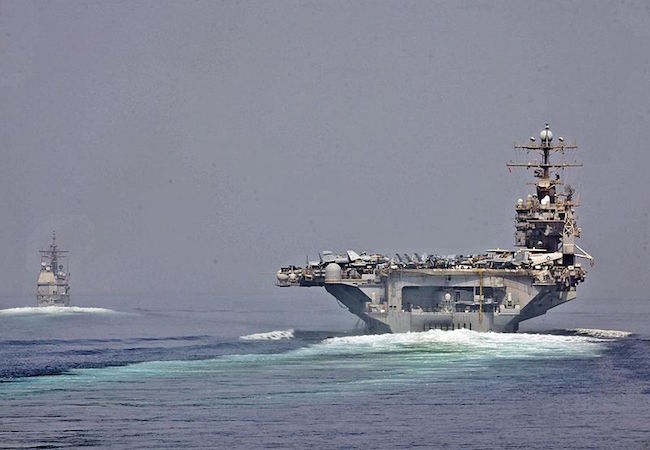 Indian Ocean Region is the oldest trade route used almost by entire world, therefore not regarded as India's exclusive sphere by China. Matter of concern over the years has been the increasing Indo-U.S. strategic and defense partnership which means that the U.S. navy can also influence the IOR. On the same note imaginary Chinese 'string of pearls strategy' is playing with the minds of Indian strategists. As in last year November, regular patrol Chinese submarine was docked in Sri Lanka. Modi called up a cabinet committee to clear $8 billion warships project to counter Chinese navy.
Considering the geographical gains which India is enjoying in IOR, the hypothesis of china's pursuit of naval dominance in Indian Ocean is implausible. With respect to the U.S., pivot to Asia policy is more likely neo-colonialism in practice with the states surrounding South China Sea and Indian Ocean Region. It wants to serve its interests through agreements in all domains, i.e., technology, economics, politics, nuclear and military to encircle China. Whereas for China, Pakistan is the best way out to reach Indian Ocean near the Persian Gulf.
Russia's role is significant in creating what nuclear-armed India is today. Russia as a major contractor of submarines, warships' plans and missile technology to India is generating a suspicion in Chinese threat perception.  There are relatively greater chances of naval arms race if we consider historical Indo-Russian naval cooperation and contemporarily increased exchange of naval collaboration between U.S. and India. Now it is up to the global players' especially U.S. and Russia, that either they should promote the global peace by denying India the acquisition of deadly war munitions like Akula-II or to sell their weaponry for making the world insecure.
Ahsan Ali Zahid is a M. Phil student at School of Politics and International Relations, Quaid-e-Azam University, Islamabad, Pakistan. Hasan Ehtisham is a M. Phil student at Department of Strategic Studies, Quaid-e-Azam University, Islamabad, Pakistan.