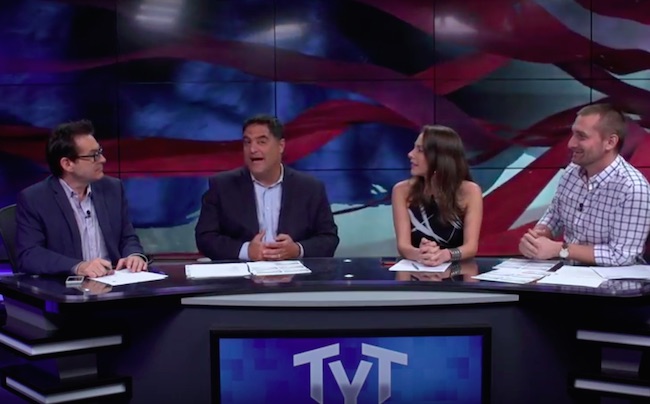 The Young Turks Cenk Uygur, Ana Kasparian, John Iadarola, and Jimmy Dore rip Mike Huckabee for his comments about the intentions of Syrian refugees. Huckabee stated, "Are they really escaping tyranny…or are they really just coming because we've got cable TV?" The Young Turks destroy Huckabee for this tasteless and insensitive comment which proves how he lacks any kind of 'Christian' empathy.
"His reaction is a perfect example of how disconnected our politicians are to the realities of what we've done in the Middle East…he sees them as animals that would come here just to take advantage of cable tv," Kasparian says. She adds that these are the people who are in search of a peaceful environment and had to risk their lives and their children's lives, in the process.
They describe Huckabee's remarks as his own unique version of Christian empathy. Dore calls him, "Demagoguing jerk," for ramping up anti-Muslim sentiments.
Uygur fires back, "And he used to be a pastor! So you'll excuse me when I have some healthy skepticism about religious zealots, whether they're Muslim or Christian…we've got to watch out for both of you, the fundamentalists, who are like 'the other is the enemy.'"
Watch the full attack below: 
[mom_video type="youtube" id="BLvzP0s8-7M"]