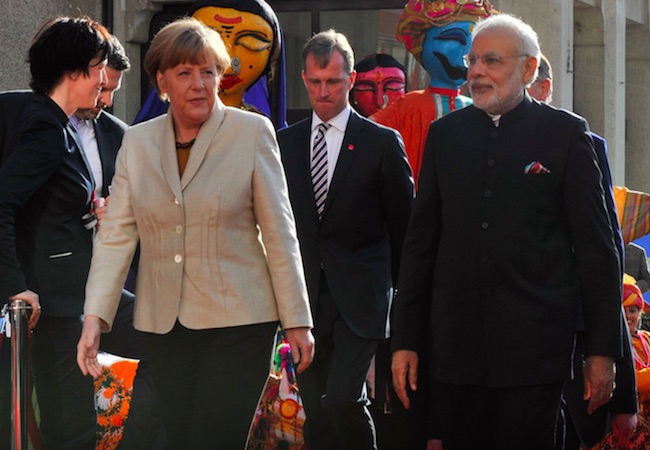 By Marcel Korff
The EU's engagement with India has been defined by economic cooperation but Free Trade negotiations are stagnating. It is now more crucial than ever before to improve onerous efforts at coordinating security and defense arrangements in order to salvage the strategic relationship. India has a lot to gain if instead of partnering with individual EU member-states, it decides to work with the Europeans collectively. Although Europe still lacks a unified foreign policy, this might just be changing with regards to Asia.
The European Union (EU)'s engagement with India continues to be limited chiefly to trade. European attempts to go beyond these bounds are viewed by Indian policy-making circles as miscalculated. Pushing for security policies "which will not help South Asia in the long run" (according to a 2011 diplomatic cable), the EU collectively struggles to be seen as a supportive entity on matters of defense. When it comes to strategic issues, India prefers pursuing bilateral ties with individual EU member-states. Though the EU and India continue to gain from increased economic cooperation, reassessing opportunities to engage on issues of security and defense is now more crucial than ever before.
India's discontent with the EU's involvement in areas beyond trade became blatantly obvious when former Ministry of External Affairs (MEA) Director (Europe – I) Dammu Ravi and other senior MEA staff were said to describe the Europeans' approach to security issues in South Asia as too "obvious, shabby, short-sighted and full of contradictions" in the above mentioned diplomatic cable. Questions regarding developments in Kashmir and Nepal are seen to be unnecessarily complicated by the EU's commitment to internationalizing these issues by pursuing an 'UN-tinged' approach. Delhi would much prefer these matters of concern in India's backyard to be approached bilaterally under the aegis of India herself.
Traditionally, the Government of India's (GOI) foreign policy has been marked by an adherence to principles of non-intervention and non-interference. This respect for nation-states' political autonomy and territorial integrity, however, has distinct limits when it comes to India's assumed sphere of influence – South Asia. Indian foreign policy here draws on the use, or threat of, its hard, militarily backed power. This year's cross-border counter-insurgency campaigns in Myanmar have again made this evident. Europe's focus on resolving conflicts through the use of soft power – manifesting itself in a tendency to sermonize about human rights and non-proliferation, especially when smaller member-states assume EU leadership roles – is futile at best and damaging at worst for Indian regional concerns. India therefore prefers partnering with individual EU member-states on matters of security, weakening an already incomplete common European foreign policy. The strategic partnership between India and the EU, nonetheless, has gained considerable strength through cooperation elsewhere.
Already India's largest trading partner, the EU is keen to further open the Indian economy to make it more competitive and attractive for investment. The '100 Smart Cities' and 'Digital India' projects are said to benefit from exchanges with European expertise, ensuring that development follows a long-term sustainable approach. The EU's involvement with China on urbanization issues has shown that large developing economies can benefit from European commitments to green urban planning and technologies. Nonetheless, EU-India Free Trade Agreement (FTA) negotiations have stuttered along for nearly a decade and are now starting to appear increasingly dormant. Stalling progress on economic exchange, an area widely regarded as Europe's biggest forte, could be reinvigorated by advances on harmonizing security strategies.
As EU economic integration is unfolding in a sluggish manner, confidence that India's cooperation with the supranational grouping is indeed fruitful can be regained by evolving the partnership on matters of security. This will, as the opening remarks by former MEA officials illustrate, not be an easy task. With the exception of Afghanistan, a limited NATO presence in Asia and absence of European institutions' voting rights in the UN General Assembly, lead Indian officials to question the relevance of the EU as a security actor. The European Commission's mere observer status in the non-proliferation association Nuclear Suppliers Group (NSG), which India is interested in joining, further contributes to these doubts. Despite little current security cooperation, there are options for integrating EU-India security strategies. These could prove more beneficial to India's interests than pursuing bilateral ties with European member-states.
Common security concerns exist and concrete albeit slow advancements have been made on coordinating counter-terrorism and maritime patrolling measures. A 'Joint Declaration on International Terrorism', for example, has started to signal unity and eagerness to converge on topics beyond trade. Though timelines for action remain vague, common interests are being identified. Coordinating anti-piracy strategies between India and the EU in the Gulf of Aden by jointly partaking in 'Shared Awareness and De-confliction' (SHADE) conferences, further indicates willingness to pool intelligence resources. These humble cooperative beginnings might ultimately prove preferable for India than bilaterally engaging with large EU nation-states.
Imperfectly harmonized EU foreign policy and pan-European proneness to ignore Indian concerns on South Asia lead India to seek bilateral links with the strongest European countries. The recently finalized French Rafale fighter jets deal, however, should raise doubts about the reciprocity of such bilateralism. Seemingly moving away from a commitment to 'Make in India' to a $ 6bn 'Make in France' strategy, pushing individual EU nation-state ties undermines Indian advancements. If defense cooperation with the EU collectively can ensure Indian-led development in the future, this must be preferred. Although EU-India security cooperation is still in its infancy, ample opportunities exist to enshrine long-term Indian gains.
With the strengthened EU-level High Representative of the Union for Foreign Affairs and Security Policy post still a recent creation, European coherence on security issues should not be overestimated. Nonetheless, the EU's foreign policy might be moving beyond traditional limitations: Willing to upset cross-Atlantic relations with the US, European readiness to join the Asian Infrastructure Investment Bank must be seen as significant on the road to independent foreign policy formulations. Focusing on overlapping security concerns, for example alleged Chinese Army-linked cyber attacks, can push the EU-India strategic partnership to the next level. An intensified Indo-European cooperation not only has the potential to benefit India but can also push Europe towards addressing its shared policy interests outside the traditional single market concerns.
Pursuing cooperation along the lines of security and defense is crucial to ensure that the EU-India strategic partnership remains fruitful in the light of stalling trade negotiations. Both sides have much to gain from further integration and untapped capacities for coordination remain abundant. Instead of chasing potentially disadvantageous bilateral agreements, India should recognize the advantages of seeing closer ties with the EU collectively. In order for a long-term, truly reciprocal partnership to flourish, Europe and India must start treading beyond trade.