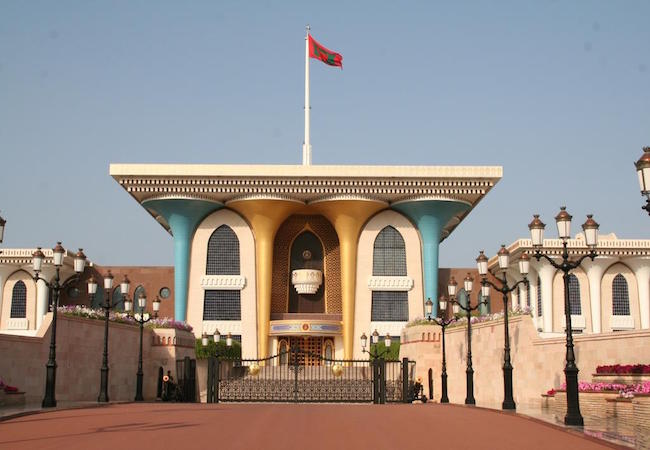 By Amr Ismail
Oman's diplomatic efforts in settling the historic nuclear deal between the P5+1 and Iran brought attention to Oman's new role in the Middle East. However, it is Oman's pragmatic foreign policy, not its neighborhood policy, which guides Oman diplomacy.
After Sultan Qaboos came to power after a palace coup in 1970, Oman has avoided involving itself in the politics and conflicts of other Arab and non-Arab countries. However, the scope of Omani diplomacy began to gradually expand after 2011 and, after the Iran deal, it became clear that Oman had come to develop its own foreign policy based on pragmatism, a foreign policy which has already harmed its relations with some of its neighbors, particularly Saudi Arabia. Here, Omani history and geography can help us to understand the finer contours of the country's newly expanding role.
The Omani Sultanate has an ancient history of trade dating back to the pre-Islamic era. By the turn of the 15th century and the Portuguese conquest of Oman, Omani traders had already been establishing contacts with Persian, Indian, East African, Chinese and Southeast Asian traders for hundreds of years. By the mid-19th century, Oman had defeated Portugal and came to rule over an "Indian Ocean Maritime Empire" that encompassed lands in present-day Saudi Arabia, Pakistan, Iran and East Africa, of which Zanzibar became the capital until it fell under British influence in 1890s.
In 1962, an anti-monarchist, pan-Arab socialist group was formed in the Dhofar province of south Oman, taking the name the Popular Front for the Liberation of Oman (PFLO) in 1968. Its aim was to overthrow British-backed Sultan Said (Qaboos's father), and to install a socialist system with the help of the South Yemen republic. The resultant conflict took place until a ceasefire was established in 1976. During the conflict, the Omani Sultanate received military assistance from the Shah of Iran and the British and Jordanian governments to aid it in its struggle against the Dhofar rebellions.
Some argue that Oman's recent steps can be explained within this historical context, claiming that it is aiming to re-establish its sphere of influence within the borders of its old empire with a focus on East Africa, China and Iran, in addition to its traditional relations with Britain, India and the US.
Notably, the Omani-Chinese strategic partnership is deeply rooted. Since 2005, the two countries have held annual strategic consultation rounds to discuss international and regional security issues, and considering Oman's strategic position in relation to the Somali coast, to work to enhance military cooperation between the two countries in combating piracy in the Gulf of Aden.
Furthermore, the bilateral trade volume between the two countries reached $23 billion in 2013, making Oman China's fourth largest trading partner in the Middle East. Oman's exports to China, mainly oil, methanol, paraxylene and polypropylene, represented nearly 30 percent of its total exports in that year. Meanwhile, China's exports to Oman account for more than 4.5 percent of all of Oman's imports. In addition, more than forty Chinese enterprises are operating within in the Sultanate.
Oman has been keen to use its relations with China to establish its influence in East Africa. In this regard, Oman's General State Reserve Fund (GSRF) and China Merchants Holdings International (CMHI) have signed an agreement with the Tanzanian government to jointly develop the $11bn Bagamoyo port and a special economic zone in eastern Tanzania.
Also, in November 2013, the Sultanate donated $1.8m to America's National Museum of African Art to promote Oman's ties to the East Africa region. In December, the Sultanate provided Tanzania with over $100,000 in equipment and training to aid in the preservation of historical data, including that on the period of Omani rule. Omani investors have also promised to inject $100m into Tanzania's pitiful national airline, hoping to revive direct flights to the Omani capital, Muscat. Furthermore, Oman Trading International Ltd. intends to invest $50 million in fuel storage facilities in Mozambique, Tanzania and Kenya in order to help supply markets in Africa.
Recently, however, it is Oman's relations with Iran that have brought the country under more intense international focus. Oman's military and economic ties with Iran are so deep that it seems almost impossible for Iran to threaten Oman. Like the rest of the Gulf, Oman's cooperation with Iran dates back to the era of Shah rule when there was no animosity between the Gulf and Iran. Here, Oman received military assistance from Iran to combat the Dhofar rebellions in the 1970s. Oman was one of the only Arab countries to not break its ties with Iran following the Islamic Revolution in the country. History has taught Oman that when it is faced with domestic instability, military assistance is available on the other side of the Gulf. In this way, Iran benefits by ensuring the Sultanate remains stable.
Reflecting on this, Oman withheld involvement in the Saudi-led campaign against the Houthi insurgency in Yemen, which has reportedly been backed by Iran. Oman learned the lesson in 1963 that a conflict can easily spill over into its territory from their troubled neighbor if it gets involved. When Iranian Foreign Minister Mohammed Javad Zarif visited Oman in May 2015 and discussed the situation in Yemen, he stressed the need for Saudi airstrikes to end and for aid to reach the Yemeni people. Muscat agreed on the need for a ceasefire, and offered to be a mediator between the Saudis and Iranians when they were ready to talk.
Nonetheless, this special dynamic hasn't strained Oman's military and diplomatic relations with other Gulf Cooperation Council countries, the UK or the US. Oman became a military partner with the US in 1980 and allows Washington to use its air space and ports for military purposes, including to counter any potential threat towards Saudi Arabia from Iran.
Furthermore, the Omani government did not condemn or punish Iran's black market trade on the Musandam Peninsula which the latter was using to ease the effects of US sanctions. Here, Oman even signed an agreement to determine the maritime borders between the two countries and to establish a natural gas pipeline across the Gulf of Oman in April 2015.
For the past few decades, Sultan Qaboos's policy of equidistance from the states around Oman has cultivated the country's well-deserved reputation as a shrewd diplomatic presence in the region. However, this policy has so far damaged its relations with Saudi Arabia and, to a lesser extent with the UAE. Nonetheless, this discomfort has had different reasons, for example, these countries' inability to agree on a gulf union currency and the location of the proposed GCC's new central bank in 2009. Also, Saudi Arabia, which considers Iran a threat on the political, military and ideological levels, perceives of Oman's offer to mediate the Yemeni conflict as a sign of 'rebellion' against Saudi supremacy within the GCC and as an action that works against Saudi interest and security. The UAE has also come to consider Omani foreign policy as unilateral in nature, arguing that it exhibits little regard for the security interests of other GCC countries. Saudi Arabia and the UAE have already been quick to punish Qatar for its adoption of what they saw as policies that worked to hinder security and harm the balance of power in the Gulf, making particular reference to the country's close relations with Iran and the Muslim Brotherhood.
In summary, as Oman draws on its historical roots and utilizes its unique geographic location in establishing and expanding its role in the region, the history of Middle East politics tells us that the countries/political players in the region are often forced to take a side when times get complicated. Oman has done this with regard to recent developments in Iran and Yemen. However, Oman's new role doesn't necessarily mean that Oman will become an influential player in the region. In all reality, the unpredictable situation in the Middle East instead makes us wonder if Oman can continue implementing the same policies later down the road.
Amr Ismail holds BS in Politics and International Relations from LSE and MA in International Relations from Queen Mary University of London. He also has a diploma in "Euro Mediterranean Relations" from Cairo University. Additionally, he contributor to Future Foreign Policy think tank and The Libyan insider.