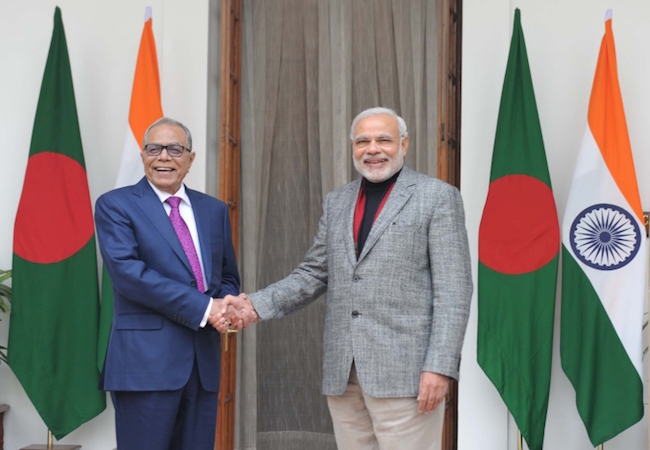 By Sanchita Bhattacharya 
On November 5, 2015, amidst a spate of killings by Islamist extremists, intended to silence moderate and secular voices in Bangladesh, Bangladesh President, Abdul Hamid declared that the country has no place for bigotry and militancy, and that the people had always been non-communal and respectful of other religions. Religious intolerance in Bangladesh has, however, seen a sharp spike, manifested in the killing of secular bloggers and the murder of Faisal Arefin Dipan, publisher of Jagriti Prokashani in the current year 2015. Dipan was murdered on October 31, 2015, in Dhaka city.
Extremists and liberals in Bangladesh are currently engaged in a life and death struggle for survival and dominance within a society long buffeted by (often state backed) Islamist extremism. The radical stream has been challenged since the Awami League (AL) secured power in the elections of December 2008, and was again returned to power with an overwhelming majority, in an election boycotted by most of the Opposition, in 2014. Meeting a long-pending demand in the country, Sheikh Hasina Wajed's AL Government initiated the War Crimes Trials (WCTs) against the offenders of Bangladesh's 1971 Liberation War. Most of the accused in these trials had reestablished themselves in the leadership of the radical Islamist formations, and had consolidated their position in electoral politics over the preceding decades, even as they cemented a vast network of institutions – mosques, madrassas and 'welfare' organizations – which they had exploited to create a mass base across the country.
The radical leadership has, on the one hand, been decimated, even as the Wajed Government has secured substantial support within the population, particularly articulated in the aspirations of the secular Shahbag Movement and the Gonojagoron Mancha. It is, indeed, the reaction to the unprecedented and combined pressure of the WCTs and the secular-democratic formations that has provoked the ongoing extremist attacks on secular voices.
According to the Committee to Protect Journalists (CPJ), a New York-based organization, at least 27 journalists and freelancers have been killed in Bangladesh since 1992. It said that the motive behind the killings of 19 have been confirmed while eight others remained unconfirmed. The victims whose cases termed as 'motive confirmed' include Niloy Neel (Freelance, August 7, 2015), Ananta Bijoy Das (Freelance, May 12, 2015), Washiqur Rahman Babu (Freelance, March 30, 2015), Avijit Roy (Freelance, February 26, 2015), Sadrul Alam Nipul, (Dainik Mathabhanga, May 21, 2014), Ahmed Rajib Haider (Freelance, February 15, 2013), Jamal Uddin (Gramer Kagoj, June 15, 2012), Gautam Das (Samakal, November 17, 2005), Sheikh Belaluddin (Sangram, February 11, 2005), Kamal Hossain (Ajker Kagoj, August 22, 2004), Humayun Kabir Balu (Janmabhumi, June 27, 2004), Manik Saha (New Age, January 15, 2004), Shukur Hossain (Anirban, July 5, 2002), Harunur Rashid (Dainik Purbanchal, March 2, 2002), Nahar Ali (Anirban, April 21, 2001), Shamsur Rahman (Janakantha, July 16, 2000), Mir Illias Hossain Delip (Dainik Bir Darpan, January 15, 2000), Saiful Alam Mukul (Daily Runner, August 30, 1998) and Mohammad Quamruzzaman (Neel Sagar, February 19, 1996).
The victims, where motives behind the killings remained unconfirmed, included Nurul Islam Faruqi (Channel i Television, August 27, 2014), Shah Alam Sagar (Oporadh Domon, March 2, 2014), Meherun Runi (ATN Bangla, February 11, 2012), Golam Mustofa Sarowar (Maasranga Television, February 11, 2012), Diponkar Chakrabarty (Durjoy Bangla, October 2, 2004), Syed Farroque Ahmed (Pubali Barta, August 3, 2002), Ahsan Ali (Freelance, July 20, 2001) and SM Alauddi (Ogrodoot, June 19, 1996).
Earlier, in October 2015, CPJ had criticised Bangladesh in veiw of the killing of bloggers, stating, "…Prime Minister Sheikh Hasina and the nominally secular Awami League party have done little to speak out for justice in these crimes, allowing political interests to trump rule of law. Authorities seem more concerned with what bloggers are writing than going after their killers".
The re-emergence of Jam'atul Mujahideen Bangladesh (JMB), a group whose entire top leadership had been hanged or jailed, is another cause of extreme concern. JMB had been responsible for a series of coordinated explosions [SAIR: 4.6] across Bangladesh on August 17, 2005, in its attempt to catalyze an Islamist revolution. 459 explosions had occurred in 63 of Bangladesh's 64 Districts (excluding Munshiganj, where devices failed to detonate) killing three and injuring more than 100 people. In an attempt to re-assert itself in Bangladesh, JMB targeted a prison van and freed three of their comrades on February 23, 2014. JMB had also established a network, and wider linkages with like minded organizations, in India and had been plotting Sheikh Hasina's assassination, among other terrorist actions, at the time of the discovery and dismantling of the Indian network. So far, a total of 25 JMB militants involved in the October 2, 2014, Bardhaman blast in the Indian state of West Bengal have been arrested – 23 in India and two in Dhaka City, Bangladesh. According to the National Investigation Agency's latest Supplementary Charge sheet, dated July 27, 2015, seven accused in the case are still at large.
On October 17, 2015, Bangladesh Police disclosed that JMB cadres had resorted to target killings, and that, over the preceding two years, JMB killed 13 religious scholars, pirs (revered religious instructors, usually of the Sufi order) and shrine followers across Bangladesh. Moreover, JMB had formed 12 regional groups to carry out attacks. This is despite the enormous losses the organization has suffered over the past decade. According to partial data collated by the Institute for Conflict Management, a total of 627 JMB terrorists have been arrested from across Bangladesh in 295 incidents, since 2005 (data till November 15, 2015).
Sectarian clashes within Islam are also a rising threat. On October 24, 2015, three small bombs were thrown outside the Hossaini Dalan, the main Shia site in the old Mughal quarter of Dhaka, as a result of which two persons were killed and 87 were injured. Describing the incident, Deputy Commissioner of Dhaka Police Mofiz Uddin Ahmed stated, "There were some 20,000 people in and outside the building at that time. They were preparing to hold the annual Muharram mourning procession when the three [bombs] were exploded outside the Hossaini Dalan." The US-based SITE Intelligence Group attributed the incident to the Islamic State (IS), which had claimed responsibility for the bomb attack. Bangladesh authorities are yet to identify the actual perpetrators of the incident.
Meanwhile, on November 1, 2015, the terrorist group Anasarullah Bangla Team (ABT) posted a list of 'targets', including 14 bloggers and writers, who it intends to kill. The list included the names of Taslima Nasrin, presently in USA; Omar Faruk Lux, Farjana Kabir Khan Snigdha and Asif Mohiuddin in Germany; Arifur Rahman and Santanu Adib in UK; Sannasy Ratan aka Samaddar Ratan in Norway; Subrata Shuvo in Norway; Julius Ceaser, Abdul Mamun, Susuptu Pathak and Nirjhar Majumder in Sweden; as well as Kadar Ali and Ajam Khan in Bangladesh. Previously, on October 19, 2015, ABT had warned media organizations against employing female staff in an email bearing the address [email protected], declaring:
Since the Islamic Sharia views working of women outside their homes without purdah as punishable offense their employers are guilty to the same degree. We are urging the media to release their women from their jobs. From now on, our instruction is the law and if you [the media] do not follow the way of Islam, the outcome will be dreadful. The towering building will come crumbling down to the ground and your heads to the feet of the soldiers of Islam.
The letter was sent from the 'head office, Chittagong, Bangladesh' by Abdullah Bin Selim, claiming to be the 'publicity coordinator' of ABT.
The traditional political conflict between the Bangladesh Nationalist Party (BNP)-Jamaat-e-Islami (JeI) combine, on the one hand, and the AL, on the other, with the exclusion of the former from legitimate power as a result of their ill-conceived boycott of the 2014 elections, has polarized the situation further. The BNP-JeI combine has sought to project AL as anti-Islam and tyrannical in campaigns that have created fertile ground for international terror groups such as IS and al-Qaida to spread influence among the remnants of indigenous terror formations and radicalized youth in Bangladesh. Indeed, on November 2, 2015, Prime Minister Sheikh Hasina Wajed accused BNP Chairperson Begum Khaleda Zia of launching a secret killing mission to save War Criminals from the ongoing trial. Wajed also claimed, "Awami League leaders, writers, publishers and foreigners are amongst the target of secret killings and they are being killed accordingly."
Meanwhile, on November 7, 2015, Minister of Home Affairs Asaduzzaman Khan Kamal claimed that 'some' of those involved in the killings of bloggers had been identified "and attempts are on to indentify the rest… Charge sheets have been submitted in two cases already and are under process in two more." In addition, reiterating the denial of IS's existence in the country Sheikh Hasina on November 8 stated, "Many quarters are pressing us to confess the IS existence in Bangladesh to create a situation here like the ones in Syria, Iraq, Afghanistan, Pakistan and Libya. They want to bring Bangladesh in line with those countries and that is the part of their conspiracy. My question is, if they can take an acknowledgement from us of the existence of IS in Bangladesh, what will be the situation of our country? We don't want a situation in Bangladesh like Pakistan, Afghanistan, Iraq, Syria or Libya."
The Government is also trying to monitor and mitigate the presence of extremist groups in the cyber domain. On November 11, 2015 Sheikh Hasina made an announcement in Parliament that her Government was moving to temporarily block the messaging and calling apps Viber and Whatsapp in an effort to curb militant activities and terrorist attacks inside the country. It is also likely to monitor popular social media like Facebook. She cited how some individuals were conducting criminal activities by misusing these social media apps, "Therefore, I will suspend operation of these apps for some days, when needed, in order to arrest the perpetrators." A day later, on November 12, 2015, Bangladesh's State Minister for Post and Telecommunication, Tarana Halim, told Parliament that the process of procuring so-called Internet Safety Solutions was already underway. She pointed out that, once implemented, the system would help in curbing all forms of cyber crimes and also monitor social media platforms, especially Facebook.
Against this backdrop, the World Bank in 2015 raised the status of Bangladesh from a low-income country to a lower middle income country. World Bank President, Jim Yong Kim lauded Bangladesh's role in empowering women, terming the country a model in women's progress.
Islamist radicalization and terrorism have long cast a shadow across Bangladesh, but this threat has been relatively contained over the past years. Bangladesh's developmental profile has also shown dramatic improvement. Nevertheless, the fight against religious bigotry and terrorism is far from over, even as a reserve pool of huge numbers of under-nourished and under-privileged people remains, to be exploited by unscrupulous elements under the guise of radical Islam.
Sanchita Bhattacharya is a Research Associate, Institute for Conflict Management