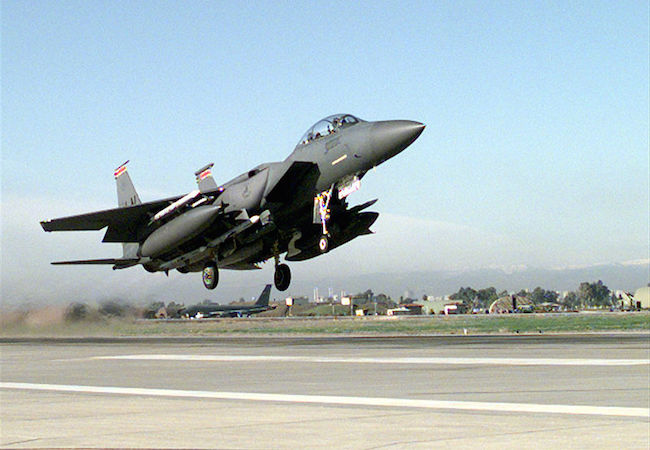 By Yavuz Yener
Chief of US European Command (EUCOM) Air Force General Philip Breedlove remarked on October 30th that some F-15 aircrafts will be sent to Incirlik Air Base, which is located in Turkey's southern province of Adana, while the current F-16s in Incirlik are being redeployed back to their NATO bases. Who is the real adversary here? The F-15 is specifically designed to fight air-to-air combat, rather than ground elements, and as far as we know, ISIS has no air capabilities.
At first glance, this decision has significant political implications for Turkey. It suggests a guarantee of direct support from the top US general commissioned to Europe. This move reinforces NATOs commitment to secure its allies amidst a deeply challenging security environment.
However, the threat assessments of Turkey and its NATO allies have slightly differed in terms of countering ISIS presence in Iraq and Syria. Despite Turkey's overt concerns, the US has never attempted to coat its assistance to the PYD (the Kurdish armed group in Syria with affiliation to the PKK) operating in northern Syria against ISIS. In addition to providing armament, US aircrafts helped the Kurds eliminate certain ISIS targets. This was the underlying reason why Turkey resisted opening the Incirlik Air Base for so long, which was previously limited to non-combatant elements such as reconnaissance, surveillance, intelligence and cargo aircraft. Since then, Incirlik has significantly facilitated on-going air raids against ISIS within the scope of Operation Inherent Resolve.
US aircrafts in Incirlik
The air base already hosts a squadron of 12 A-10 Thunderbolt II warthogs of the US Air Force. A-10s are designed for close air-support operations against ground threats. They have provided air superiority and protection to the Kurds so far, predominantly in northern Syria and Iraq against ISIS elements.
Nevertheless, the decision to deploy F-15s appears to be a bold move. F-15s are too potent for providing air support to the Kurds. In fact, it seems to be a luxury considering ISIS's non-existent airpower. F15s are the primary fighter jet aircraft of the US military, which particularly excel at air-to-air combat. They do not even carry air-to-ground missiles. The F-15 Strike Eagle is one of the most formidable and effective fighter aircrafts ever manufactured. Currently produced by Boeing, F-15s enjoy an impressive record of more than 100 aerial dogfight victories with zero losses. Its variations include F-15C, F-15D, and F-15E, which was used during the Persian Gulf War of 1991.[i] Yet, the use of the F-15E was not necessary in Afghanistan.[ii] It is expedient to note at this point that the F-15 and F-16 models are produced by different companies. Although these monsters are comparable in capacity, the title of F-16 does not numerically denote any superiority over F-15.
F-15s have the thrust power of two turbine engines. This allows the aircraft to climb at a 90-degree angle with an accelerating speed. Its maximum speed is Mach 2.5. The twin-engine configuration also enhances the reliability of F-15s. F-16s, on the other hand, show higher maneuverability skills. Produced currently by Lockheed Martin, an F-16's maximum speed is Mach 2.02, which is considerably lower than an F-15. Yet, thanks to its light weight, one F-16 unit costs about 18 million USD whereas a single F-15 costs some 30 million USD.[iii]
Political implications
The deployment decision should be construed as a reaction to the increasing Russian involvement in the region. Russia's violation of Turkish airspace is likely the primary motivator that prompted this decision. Turkish General Staff announced that Russia had violated Turkish airspace several times between October 3 and 4, which led NATO to strongly condemn the violations at the highest level.
Gen. Breedlove said the main goal is to provide "support to our Turkish ally as we help them to address their concerns about their airspace" by deploying F15s. But can a dozen F15s protect Turkey's airspace without a decent ground-based missile defense system?
Russia reportedly has 34 fixed-wing aircrafts based at Latakia, which consist of 12 Su-25s, 12 Su-24M2s, four Su-30SMs and six Su-34s according to BBC News. Su-25s and Su24M2s are Soviet-era, ground-support aircrafts that proved agile and reliable in previous combat situations. However, their precision capabilities are very limited. The Su-30SM and the Su-34, on the other hand, are more advanced aviation platforms with both air-to-air combat and precision strike capabilities.[iv]
Furthermore, the controversy over Turkey's T-LORAMIDS project still continues in an aberration. Undersecretary of Defense Industries, Mr. Ismail Demir, announced at an event organized by an Ankara-based think-tank last week that the Defense Ministry is very close to signing a deal with one of the final bidders. Although he did not cite any names, it will take years for the missile defense system in question to gain operational capability.  Hence, contrary to Gen. Breedlove's statement, it is not wise to expect F-15s to fill the vacuum left by the withdrawal of the Patriots. Turkey's airspace will still be vulnerable to middle- and long-range air threats.
In brief, the US decision to deploy F-15s will expectedly balance Russia's military superiority and presence in the region. However, it will not alleviate the ongoing risks that are imposing on Turkey's airspace. Considering the fact that the Patriot missile defenses deployed by Germany and the US are being withdrawn, Spain will be the sole actor in charge of air defense in the alliance's southeastern flank for some time. Hence, political implications of the decision seem to overwhelm its military consequences.
References
[i] "F-15 Eagle", Military.com, http://www.military.com/equipment/f-15-eagle
[ii] David Axe, "U.S. Brings Dogfighters to Counter Russians Over Syria" http://www.thedailybeast.com/articles/2015/11/03/u-s-brings-dogfighters-to-counter-russians-over-syria.html
[iii] "F-15 vs. F-16 Fighting Falcon", Diffen, http://www.diffen.com/difference/F-15_vs_F-16_Fighting_Falcon
[iv] Jonathan Marcus, "What can Russia's military do?", BBC News, http://www.bbc.com/news/world-asia-34411477