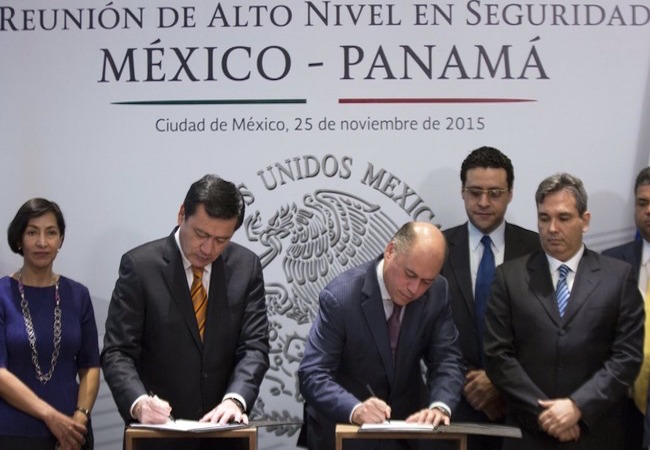 By María Gabriela Córdova
In cooperation with Colombian and Mexican authorities, Panamanian security forces captured dozens of suspects who were allegedly part of a criminal partnership between the Sinaloa Cartel, led by drug kingpin Joaquín "El Chapo" Guzmán, and the Revolutionary Armed Forces of Colombia's (FARC) 30th Front.
Following a joint, 18-month investigation, Panamanian authorities announced on November 4th the arrest of 50 suspects allegedly engaged in drug trafficking or money laundering for the Sinaloa Cartel – the world's largest transnational criminal organization – or the FARC. Two Mexicans residing in a wealthy part of the Panamanian capital allegedly served as the go-between in drug deals between the two organizations, and that connection led authorities to dismantle the network, Panama National Police Commissioner Omar Pinzón told local and international journalists.
"We detected Mexican drug cartels with connections to the FARC," Commissioner Pinzón said.
Panamanian security forces confiscated two tons of cocaine, $500,000 in cash, five go-fast boats, and 40 cars during the operation. The cooperation among the three countries "allowed us to dismantle this gang which, we have proven, was led by El Chapo Guzmán from Sinaloa," Panamanian Minister of Public Security Rodolfo Aguilera stated.
El Chapo has been wanted in Mexico and the United States in connection with drug trafficking, homicide, and other crimes since escaping from a maximum-security prison in Mexico in July. Panamanian security authorities said he hasn't been seen in Panama.
"Security operations such as the one that uncovered the nexus between El Chapo and Panama are the result of the mutual trust that has been established among the various governments, which has allowed us to share accurate and timely security information."
Cooperative framework to fight crime
To foster continuing cooperation in the fight against transnational organized crime, Mexico and Panama approved a memorandum of understanding on November 25. The Mexico-Panama High-Level Group document, which was signed by Min. Aguilera and Mexican Internal Affairs Secretary Miguel Ángel Osorio Chong, spells out a cooperative framework for the countries to work together on public security, intelligence, international security and terrorism, legal cooperation and justice, crime prevention, customs, and immigration.
In recent years, Panamanian authorities have focused on fighting money laundering to protect the country's financial sector.
"We in Panama comply with all rules established by the International Financial Action Task Force (FATF-GAFI) to shield our financial system and keep it from being used by criminals for their illegal activities," Donadío said.