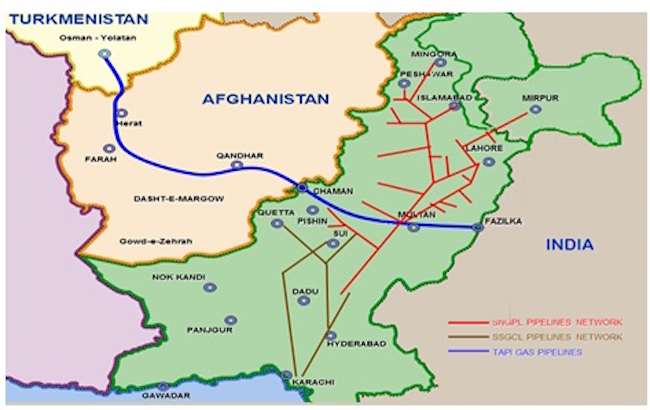 By Shahzadi Tooba Hussain Syed
Leaders from Afghanistan, India and Pakistan, converged in the ancient city of Mary, 311 km from the capital Asghabat, to launch the 1,814km Turkmenistan-Afghanistan-Pakistan-India (TAPI) pipeline, named after the countries it is designed to cross.
TAPI will carry gas from Turkmenistan's Galkynysh field having 16 trillion cubic feet of gas reserves. From the field, the pipeline will run to Herat and Kandahar province in Afghanistan, before entering Pakistan. In Pakistan, it will reach Multan via Quetta before ending at Fazilka (Punjab) in India.
Uncertainty hangs over this challenging TAPI project, however, with both security and the lack of a major commercial investor stymieing optimism. Major Western energy firms have appeared to back away from the project just because of the deteriorated security situations. Whereas the optimists consider it a reasonable way to forge economic links among major regional actors. They presume that a bolstered regional economy will foster security.
Besides security, the lack of clarity on financing is a concern. Turkmen Gaz is slated to lead the TAPI consortium, in which Afghan Gas Enterprise, Inter State Gas Systems (Pakistan) and GAIL (India) are shareholders. None of these companies, however, have the capacity to fund a project of this magnitude, which, if completed, will be one of the world's biggest pipelines. Asian Development Bank did initial feasible studies and several international companies, including Mobil, Chevron, Total SA, Exxon, had shown interest. But they later backed out as Ashgabat does not allow foreign companies to invest in their gas fields, another reason after security concerns. The apparent deadlock over Turkmenistan's terms for financing the pipeline's construction seems to have been resolved owing to the Turkmen government's new determination to diversify the markets for its natural gas. With the drastic reduction and imminent cessation of Russian imports of natural gas from Turkmenistan, China has become Turkmenistan's sole export market. While welcoming economic cooperation with China, Ashgabat has been working assiduously to avoid undue economic dependence on Beijing and therefore has been motivated to make key concessions for the construction of the TAPI pipeline. By creating the first significant overland link with India, the TAPI pipeline project will not only diversify Turkmenistan's gas exports – it will permanently alter the pattern of Central Asian connectivity.
The strategic significance of the project is huge. Once completed, TAPI can become a game changer in regional geopolitics and regional economic integration. Due to significant transit revenues, it also has the potential to smoothen the 'Decade of Transformation' (1915-2014) for Afghanistan. India is also getting benefit to reassert itself and counter China's "one road, one belt policy". Due to China's slowdown and the cut down of Russian gas purchases, the market dynamics of the Central Asian gas market are changing significantly. Turkmenistan exports gas to China, Russia and Iran. Both Russia and Iran have reduced their imports as they want to increase their own output. This made China the sole export market for Turkmen gas. These factors might have pushed Turkmenistan to develop alternatives. And South Asia could be a winner in this changing geo-economics. If the project is completed successfully, it could bring together India's 'Connect Central Asia' policy and China-Pakistan Economic Corridor (CPEC) of the Chinese 'One Belt One Road' project. Strategically this 'new silk route' is a win-win project for all the stake holders.
This challenging project demonstrated the countries' political will. Beyond the issue of securing the pipeline, regional politics, in particular Indo-Pak tension, could impact the final outcome. Now a strong geopolitical will is required among the countries involved to make this dream a reality.