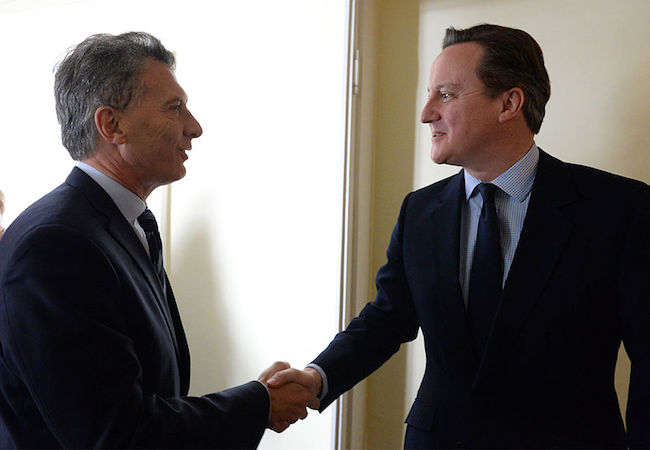 Argentine president Mauricio Macri said he wants to reach an agreement with the UK that will enable collaboration in areas of mutual interest, despite the dispute over the Falkland/Malvinas Islands, although 'we will never drop Argentina's historic claim on the issue'.
Macri believes that discussions are needed with the UK to reach a dialogue solution on on the Falklands/Malvinas sovereignty dispute, under British rule since 1833, "while bilateral relations advance in other fields to the benefit of both countries".
"We're committed to a solution through dialogue" said Macri admitting that solving the South Atlantic Islands difference "will involve many years of discussions, but at some point we must begin".
But the Argentine leader immediately underlined that "we want to open a new era of relations with the world" which will allow Argentina to develop "intelligent, mature relations for mutual benefit" with the international community with which Argentina "has been clashing in recent years".
"My objective through confidence building is that we can bring more progress opportunities to our country" said Macri who on Wednesday midday will be receiving French president Francois Hollande, following the visit from Italian Prime Minister Matteo Renzi, and the announced visit next month of US President Barack Obama.
Macri said he expects that Hollande's visit to Buenos Aires will be an opportunity to sign over twenty cooperation accords in different fields and most particularly in re-launching the Mercosur-European Union trade agreement where the main obstacle seems to be the agriculture chapter of which France is so jealous.
"I look forward to the signing of the beginning of the process…the challenge is to get it moving", said the Argentine leader, who also referred to cooperation with the United States in fighting the drugs and narcotics trade.
"We want to work with the US as Colombia, Peru, Chile…with all the countries that suffer the same scourge as we do, the advance of the narcotics industry. I think there is a great agenda on the issue, which is global that means fighting the drugs trade, terrorism, climate change so that the technological revolution generates more opportunities and greater inclusion".
Another of Macri's main points in the agenda is bringing to an end the ongoing litigation with the hedge funds, which he expects can be overcome with the support from the United States.
"We want to end with all conflicts that Argentina has been involved in for years. I'm optimistic we can reach an agreement" with those speculative funds.
In domestic policy, Macri rejected that his administration was involved in a 'witch hunt' against people faithful to previous governments. "My duty is not to go after Kirchneristas, my obligation is to make the country grow and develop", underlined Macri.
Finally the president avoided getting involved in a numbers controversy as to how many were the disappeared persons during the last military dictatorship because "what must be really understood is how serious was all that happened".
"Does it make sense to discuss the number?…Here we have many people who researched and came up with 9.000, 12.000 disappeared, and then others investigated and argued they were 30.000…What concerns me and with what I'm committed is that an episode of this nature never again is repeated and that we all live in a full democracy".