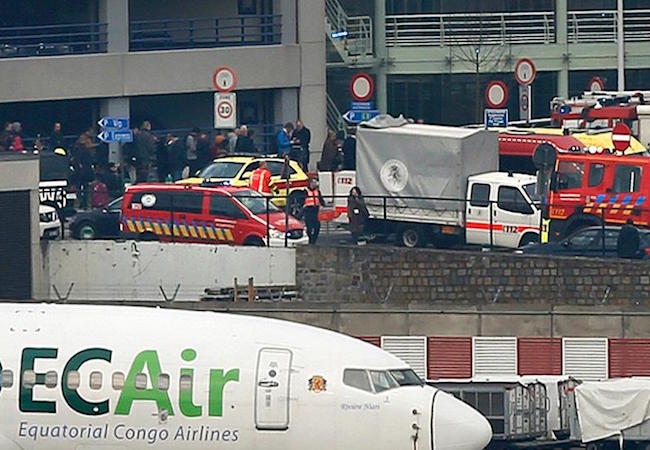 Two blasts rocked the Brussels airport and another hit a metro station close to the European Union headquarters on Tuesday morning, killing at least 13, said witnesses and local media.
Belgian media reported twin explosions were heard shortly before 8 a.m. local time (0700 GMT) at Brussels Zaventem airport, leaving the departure hall heavily damaged.
Shots were fired and there were shouts in Arabic shortly before the explosions, said the Belgian news agency Belga.
Unconfirmed reports on social media had said the blast took place near the American Airlines check-in counter, but the American Airlines said none of its employees were reported injured in the explosions.
Belgian intelligence had advance knowledge of plans to carry out terrorist attacks in the country but was unaware of their time or location, police was quoted by the French BFMTV as saying.
"Due to two explosions at Brussels airport this morning, the airport is closed until further notice," Brussels airlines announced at its official website, adding that all flights were canceled and the complex was evacuated.
Rail and bus traffic to the airport was suspended as well.
Meanwhile, the metro stations were closed and passengers were evacuated. People were asked to keep away from the metro station by staff.
Shortly after the blasts at Brussels airport, Belgium raised its alert level from three to the maximum of four, a spokesperson with Belgian Interior Minister Jan Jambon said.
The blasts, injuring a dozen people, occurred days after the arrest in Brussels of a suspected participant in the terror attacks in Paris in November 2015 that killed 130 people. Belgian police had been on alert for any reprisal action.
So far, there was no immediate claim of responsibility for Tuesday's attacks.
World leaders expressed concern about the explosions in the Belgian capital, as British Prime Minister David Cameron said on his Twitter that they would do everything they can to help.
Russian President Vladimir Putin strongly condemned the explosions in Brussels and assured the Belgian people of solidarity in times of difficulty.
"President Putin has already sent and expressed condolences to Belgium in connection with the death of civilians in a series of explosions in Brussels," Kremlin spokesman Dmitry Peskov told reporters.
Swedish Prime Minister Stefan Lofven described the blasts on Tuesday as an attack against European democracy, saying in a statement that "we will never accept that terrorists attack our open societies."
Danish Prime Minister Lars Loekke Rasmussen also denounced the explosions as a "despicable attack" on Twitter, saying that his thoughts were with the victims and their families.