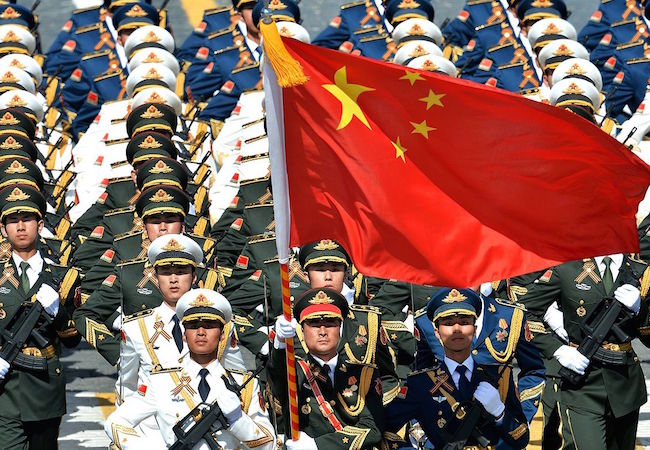 By Dr. Abdul Ruff
In a report to Congress, the Pentagon on informed that China is on its way to modernize its nuclear forces in order to and bolster its strategic strike capabilities.
Detailing China's nuclear power, Pentagon said the country was deploying new command, control and communications capabilities to its nuclear forces to improve control of multiple units in the field.  According to the Pentagon, China is working on a range of technologies to attempt to counter the US and other countries' ballistic missile defence systems, including maneuverable re-entry vehicles (MaRVs), MIRVs, decoys, chaff, jamming, and thermal shielding.
Obviously, the defence capabilities possessed by the big powers including USA and Russia are among the main factors driving China to modernize its nuclear force.  Indian fast track in updating its nuke arsenals is yet another reason Beijing has decided to focus on it nukes as a priority.
Pentagon said China's nuclear weapons policy prioritizes maintaining a nuclear force able to survive an attack and to respond with sufficient strength to inflict unacceptable damage on an enemy.  "Further increases in the number of mobile ICBMs and the beginning of SSBN deterrence patrols will force the PLA to implement more sophisticated C2 systems and processes that safeguard the integrity of nuclear release authority for a larger, more dispersed force," it said.
China's nuclear arsenal currently consists of approximately 75-100 ICBMs, including the silo-based CSS-4 Mod 2 (DF-5A) and Mod 3(DF-5B), the solid-fueled, road-mobile CSS-10 Mod 1 and Mod 2 (DF-31 and DF-31A), and the more-limited-range CSS-3 (DF-4). This force is complemented by road-mobile, solid-fueled CSS-5 Mod 6 (DF-21) MRBM for regional deterrence missions.
Pentagon reported that China insists that the new generation of mobile missiles, with warheads consisting of multiple independently targeted re-entry vehicles (MIRVs) and penetration aids, are intended to ensure the viability of its strategic deterrent in the face of continued advances in the USA and, to a lesser extent, Russian strategic ISR (Intelligence, surveillance and reconnaissance), precision strike, and missile defence capabilities. "Similarly, India's nuclear force is additional driver behind China's nuclear force modernisation," the Pentagon said in its report.
Through the use of improved communication links, ICBM (intercontinental ballistic missile) units now have better access to battlefield information and uninterrupted communications connecting all command echelons.
China has long acknowledged that it tested a hypersonic glide vehicle in 2014. The country's official media also cited numerous PLASAF (Peoples Liberation Army Second Artillery Force) training exercises featuring manoeuvre, camouflage, and launch operations under simulated combat conditions, which are intended to increase survivability.  Together with the increased mobility and survivability of the new generation of missiles, these technologies and training enhancements strengthen China's nuclear force and bolster its strategic strike capabilities.
China continues to produce the JIN-class nuclear-powered ballistic missile submarine (SSBN), with four commissioned and another under construction. The JIN will eventually carry the CSS-NX-14 (JL-2) SLBM (submarine-launched ballistic missile) with an estimated range of 7,200 km. Together these will give the PLAN its first credible long-range sea-based nuclear capability. JIN SSBNs based at Hainan Island in the South China Sea would then be able to conduct nuclear deterrence patrols, it said.
Meanwhile, amid reports that China and Pakistan are jointly opposing India's bid for the Nuclear Suppliers Group membership, the USA has said India meets missile technology control regime requirements and is ready for entry into the exclusive club. State Department Spokesman John Kirby said the US president reaffirmed during his visit to India in 2015 that the US view was that India meets missile technology control regime requirements and is ready for NSG membership.  His remarks came in response to a question on reports that China and Pakistan have joined hands to oppose India becoming a member of the Nuclear Suppliers Group (NSG). "Deliberations about the prospects of new members joining the Nuclear Suppliers Group are an internal matter among current members," he said.
Defending its move to block India's entry into the NSG, China recently claimed that several members of the 48-nation bloc shared its view that signing of the NPT was an "important" standard for the NSG's expansion. Chinese Foreign Ministry spokesman Lu Kang said in Beijing that not only China but also a lot of other NSG members are of the view that Nuclear Non-Proliferation Treaty (NPT) is the cornerstone for safeguarding the international nuclear non-proliferation regime.
Asked about reports that China is pushing Pakistan's entry into NSG linking it to India's admission into the bloc, Lu said the NSG is an important part of NPT, which has been the consensus of the international community for long. Although India is not part of the NSG, Indian side recognizes this consensus, he claimed.
India, Pakistan, Israel and South Sudan were the four UN member states which have not signed the NPT, the international pact aimed at preventing the spread of nuclear weapons.  Last month, Pakistan Prime Minister's Advisor on Foreign Affairs Sartaj Aziz had said that China has helped Pakistan to stall India's bid to get NSG membership.
Off and on some  experts do raise, at times seriously  mostly or as a mere routine matter,  the specter of a third World war, though already the US led NATO has  been continuing a terror wars in Mideast to ensure  energy and routes security.
China's focus on South China and sea and its efforts to keep its nuclear forces in combat readiness gives the world the impression about an impending world war.
It is, however, not necessary that there would another world war or a big war to be launched by Washington or NATO that would exclusively target China, a veto power. As it is known there is clearly some tacit understanding among the veto members not wage a direct war between or among the veto powers.
No nuclear power, howsoever close it may be to USA, Russia or any other big power should be allowed to be a member of NSG until they sign the NPT for safeguarding the international nuclear non-proliferation regime. Since power is sincere or honest, any nuke power can proliferate nuclear material to put the humanity in greater risks.
China's modernization effort could be a usual routine check of the effectiveness or otherwise of  its nuclear forces, maybe with more vigor than hitherto.