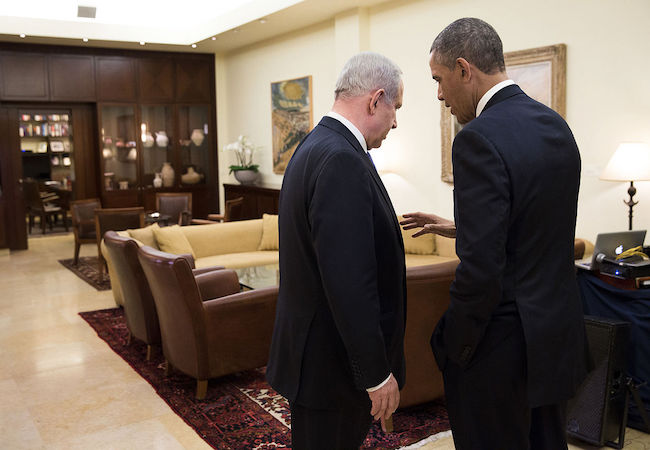 By Dr. Abdul Ruff
As the fight for presidency by the Republican and Democratic candidates get intensified in USA with a very few candidates remaining for the contest, President Barack Obama must know his happy days at White House are coming to an end soon. World expects Obama to    ensure peace in Mideast as his major achievement by arm twisting the  unwilling fanatic and  fascist regime Israel to agree for  credible peace  as per the Arab peace Plan of 2002 that would have full cooperation of the GCC and entire world that is frantically seeking  a new peaceful era in West Asia.
The question is will Obama care for world opinion at all when his opinions are not at all listened to by anyone including Israeli leaders? Does it not mean the Obama diplomacy has failed!
Israel, imposed on Mideast into Palestine in 1948 by USA-UK big twins, has over years of western aid and arms& technology supply has become a monstrous fascist and illegal nuclear power in the region, threatening the very existence of Palestinians. The Zionist regime has taken the 'permanent' US shield for all criminal operations against humanity for granted and so much that today Jews decide the foreign policy for USA especially for West Asia and South Asia.
The US presidents make ritual trips to Israel not to declare the continuous US led Western support but in doing so Washington openly admits that  the Israeli role in the foreign policy making of USA, especially in West and South Asia. It is not surprising that many countries like India are   trying to be in the good books of Israel and strike military deals for Zionist terror equipment. .
When he assumed power at White House, there was a strong belief in the world that US President Barack Obama would try to fight for world peace and get the Palestinians out of Israeli terror blockades and stop the Israeli illegal occupation and crimes against humanity, by ending their intermittent terror attacks.  However, he disappointed the world by supporting the Israeli terror regime in Mideast because he was pursuing the US national interest in Mideast by using Israel.
As the regular US President, Barack Obama just advance the imperialist and capitalist policies very religiously. Though he protected the  US-Israeli  secret nexus and Pentagon supply of terror goods to Tel Aviv,  Obama once famously said he would "always have Israel's back," may be rethinking that promise as aides begin weighing options in response to Israeli leader Netanyahu's election criticism of Obama's foreign  policy and his disapproval of a two-state solution to the Middle East conflict.
When, some time back, President Obama warned that the United States would reassess its relationship with Israel though Israel did not think any new problem cropping up in the bilateral relations as it is the 'prime duty' of USA and its NATO allies to shield Israeli regime.  However, following Obama's warning that the United States would "reassess" its relationship with Israel, the White House was not only reconsidering the diplomatic cover along with veto it has long given Israel at the United Nations but was also looking at a range of other possibilities to put pressure on its historically close ally to help resolve the Palestine issue. Bu later, when Palestine pushed for full UN status for conducting international affairs as a soverign nation, Obama used its power to support Israel and oppose Palestine. Obama thus reveled his true Zionist color.  Even US officials who hitherto promoted Zionist regime and shielded all its crimes against humanity by misusing media networks have begun take a strong position on Israel. .
As a fascist tradition, US presidents not only misuse the American parliament to support all Zionist crimes against humanity but also, in order to obtain political support of US Jews,  encourage the criminal ruler so Israel to address the august body in Washington. But the US parliament is meant for Americans to pass laws, among other things.
Why should US leaders allow Israeli leaders to address the US lawmakers – is there something common between them? Do the US values like capitalism and imperialism plus fascism serve as the strong bridge between Israeli East and American West?
Americans should be ashamed of the fact that off and on Israeli leaders insist on addressing the US Congress to discuss Israeli politics and instruct US policy makers – both domestic and foreign – the course they are supposed to pursue in a given situation. When they persistently insist, the Republicans and even Democrats make the necessary 'arrangement' for hawkish Zionist rulers to address the US lawmakers.  Israeli leaders address the US Congress and direct the president to execute what is necessary for the promotion of Israeli regime.
Let Israeli leaders are free to misuse their own parliament Knesset for mere anti-Palestine, anti-Arab propaganda purposes but how can they do the same of misusing US parliament for that purpose?
There is an emerging opinion among most Americans to let Israel defend its own actions and crimes against humanity and Washington should be less active in protecting Israel in international forums. The bipartisan leaders are finding new ways to reinforce the message of US opposition to Jewish settlement expansion.
Many Arab leaders and governments have come to view Israel's occupation of Palestine and its behavior towards the Palestinians as strictly an Israeli-Palestinian problem, not an Arab one. That's a departure from a bygone era when the struggle against the occupation was a central theme that brought Arab states together. Therefore, Qatar's official foreign policy towards the occupation and the plight of Palestinians sets it apart from the majority of the Arab world.
Recently, the 16th Doha Forum has wrapped up with speakers from around the world touching on issues ranging from global and regional security to conflict resolution and climate change. Achieving Middle East peace directly linked to ending Israel's occupation of Palestine and Israel must end occupation of Palestine, said Qatar's foreign minister Sheikh Mohammed bin Abdurrahman Al Thani, while speaking at the  16th Doha Forum. He stressed the need to support human rights and bolster security for the people of the Middle East region – and around the world. "Repression, tyranny, double standards and violating human rights and basic freedoms constitute the underlying threats to elements of human security," he said. According to Sheikh Mohammed, achieving peace in the volatile Middle East is directly linked to ending the Israeli occupation of the Palestinian territories, including Jerusalem.  Al Thani also made it clear the main foreign policy instrument of his country is the soft diplomacy of "mediation" efforts, while at the same time "discouraging the use of force by Israeli regime to resolve disputes".
Saeb Erekat, the Palestinian Liberation Organization's chief negotiator with Israel, spoke about his people's need for international backing to force Israel to end its decades-old takeover of Palestinian lands. Erekat compared what he called the "right-wing extremism" of Benjamin Netanyahu, Israel's prime minister, with that of Abu Bakr al-Baghdadi, the leader of the Islamic State of Iraq and the Levant (ISIL, also known as ISIS) group. "What is the difference between one who calls himself the leader of the Jewish state, and another who calls himself as the leader of the Islamic State," he said in one his many sharp rebukes of Netanyahu. "The two-state solution is the only possible solution that would put an end to the suffering of the Palestinian people," he said.
Even as international outcry for the creation of Palestine state and internal discussions on containing Israeli aggression continue unabated, Obama seems not to be in hurry to solve the worst ever conflict in human history. The US double speak is evident from  the way the USA plays mischief with Palestine  and GCC at the same time by speaking  for the Zionist crimes.
However, the White House appeared in no rush to lower the temperature in the worst US-Israeli crisis in decades, sparked by Netanyahu's campaign declaration that there would be no Palestinian state on his watch. The White House officially made clear that it had little faith in Netanyahu's effort to backtrack since winning election and insist he was in favour of a two-state solution, long a cornerstone of US Middle East policy.
Interestingly, there was no sign of any imminent move to turn the administration's heated rhetoric against Netanyahu into a tangible shift in policy.
As USA was readying for a nuclear deal with Ira against the will of is real, some analysts questioned whether Washington was merely posturing to put the Israeli leader on the defensive at a time when an end-of-March deadline looms in US-led nuclear diplomacy with Iran that Netanyahu vehemently opposes. The Obama government put everything on the table except security assistance, thinking this would allow Netanyahu time to walk back his comments on Obama more credibly.
Obama eyed on the powerful US Jewish support for the Democrats in Presidency poll. The US officials privately were mindful of the risk that the diplomatic storm could drive a deeper wedge between the White House and the influential US pro-Israel lobbyist camp and cause problems for Obama's fellow Democrats as the 2016 presidential campaign approaches.   Many strategists voiced skepticism that the US government would shift its stance towards Israel in any substantive way, arguing that despite White House annoyance at Netanyahu, there would likely be too high a domestic political cost to pay for alienating pro-Israel Americans.
But the White House pressure had other motives as well. There's an effort to apply leverage to the Israelis to get the prime minister to move on some things when he has a new government formed, as there was a US wish to see Israel release frozen Palestinian tax funds and take other goodwill gestures.
Israel takes care not to annoy Washington beyond certain point as it depends on US veto to shield its crimes from any possible punitive measures against the criminal rulers for its crimes against Palestinians and humanity at large.  Among the most serious risks for Israel would be a shift in Washington's posture at the United Nations. If USA refuses to use its veto for Israel , all Jewish leaders would be in  jails.
The United States has long stood in the way of Palestinian efforts to get a UN resolution recognizing its statehood, including threatening to use its veto, and has protected Israel from efforts to isolate it internationally. But most European governments incensed by Netanyahu's campaign comments against Palestinian statehood, have joined in another push for such a resolution, ignoring US-Israel pressure tactics.
David Makovsky, a former member of Obama's team in Israeli-Palestinian peace talks that collapsed last year, said the question is: "Will the U.S. consider avoiding a veto over the parameters to a final-status deal with the Palestinians?"    "There's no doubt that this approach will lead to a firestorm between these two governments if they go forward," said Makovsky, now at the Washington Institute for Near East Policy. Another option under consideration could also be controversial. A report from the government to Congress about US loan guarantees to Israel, including how much is used for settlements, could contain language critical of expanded construction on occupied land in the West Bank.
Observation
Today humanity is fully aware of destructive and anti-human nature of capitalism that promotes expansionist military trends like imperialism and colonialism. Occupation of and continued Israeli aggression against Palestine, like Indian brute occupation of neighboring Jammu Kashmir, does not let peace dawn in the world. Even countries that seek help from the USA, Israel or India also condemn the brutality and repression of these 'rogue' powers against the oppressed nations under their colonial yoke, notwithstanding the "help" being   offered by the colonialist nations.
All these years ever since Israel was established in Mideast by the then big powers led by UK-USA twins, the western rulers pampered the illegal regime in Mideast with terror goods and technology, and money, today Israel has every reason not to take any warning from western capitals seriously and deny a chance for peace in West Asia. Comprehending the total failure of his triclomacy, President began supporting the Israeli fascism as part of NATO imperialism. While in Israel, Obama, who also after sumptuous dinner with Jewish leaders, refused to visit Palestine, declared US shield for Israeli regime.
That is tragedy of the Palestinians and diplomacy itself.
Will Obama's United States is not likely to reverse its opposition to the powerless Palestinians becoming a full-fledged UN member and a soverign nation? Instead of stopping   a large sized aid and terror goods supply to Israel, some fanatic US lawmakers already have threatened to push for a cutoff of the meager US aid to the Palestinian Authority whenever it talks about sovereignty from the Zionist fascist yoke or goes ahead with seeking justice and war crimes charges against Israel for war crimes in the Gaza Strip, killing thousands of innocent Palestinians, women their children inclusive.
Will Obama refuse meetings with Israeli leaders and their US lobbyist till he leaves the White House?
President Obama has to take hard decision to disobey US Jewish dictates and declare Palestine a soverign state and support the cause of Palestine UN, by using veto for the Palestine for a change. Will he?
Or, will the White House seeker Trump who is not sympathized with Palestinians make a shift in his approach by openly supporting the Palestinians cause, if he elected to presidency?
It is really funny that President Obama is unable to make Israel listen to him when USA offers huge aid packages to Israel but some American senators and Congress men – the traitors of US democratic foundations for freedom and peace – get sumptuous bribes from Israeli government and Jewish politicians to help the Israeli regime eat the US terror cake.
Obama has enough economic and military tools to get a positive response from Tel Aviv only if he has the will and broad-mind a true statesman should have!
Whether Obama decides to change the petrified US policy for Palestine and Arab world or not, time is overdue for US lawmakers and law-breakers to think seriously about the future of children of Palestine and protect its people as part of their international duty.
Enough of shielding the Zionist criminal wars!