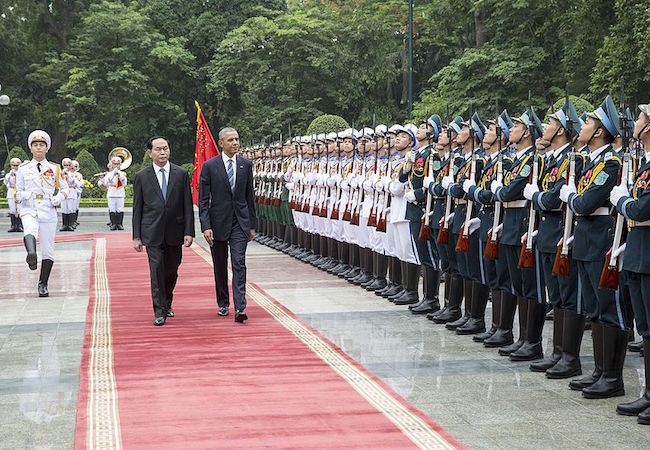 President Obama announced that the United States will lift arms embargo and begin selling arms to Vietnam, making China cheer up, instead of worrying as expected in Washington. Beijing welcomed the US decision to lift a weapons embargo and outwardly praised the end of the embargo, even though it is seen by other regional powers as a counter to Chinese aggression in the South China Sea.
The end of the weapons embargo is seen by some as the American response to Chinese aggression in the region. Now Vietnam will have access to US military weapons and technology that China has long coveted but can't access because of a weapons embargo imposed on it by the US and European Union in 1989. China does not view Vietnam as its regional enemy, unlike some other nations.
Hua Chunying, a spokeswoman for the Chinese Foreign Ministry, said "We certainly hope that the development of this friendly relationship can be conducive to this region's stability and development", confusing the US strategic community.
Tensions have increasingly grown in the South China Sea since 2014 when China began building islands on top of reefs there. "In addition to surface-to-air missiles and radar facilities, the islands are also expected to station Chinese warplanes. The scale of the multibillion-dollar effort by China has challenged the military status quo that has defined the Western Pacific since the end of World War II
China's reaction is surprising considering its relationship with Vietnam and its other neighbors in the South China Sea, as well as its feelings about US role of interference in territorial disputes there. But, at least one analyst said it exemplifies how complicated relations between the two world powers are.  The regional powers  have openly objected to  the Chinese  operations  on the South China Sea and sought US interference in the region  to  pressure China to  stop all  military related operations there.
However, Chinese strategic experts view the development as being 'logical" and "reasonable" and don't want to look overly sensitive or irritated, because USA-China relations are very complicated and "very important".  Both are veto powers with certain special rights and privileges and cannot take the tensions to a war level.
Washington as the only super power can monitor and control the global scene and as such the lifting of the arms embargo may have sent a sobering signal to leaders in Beijing about a potential power shift in the region, but it was difficult to judge the real impact without seeing what other moves the USA has planned to make in the sensitive region.
President Obama, focusing on his Asia Pivot project to contain Beijing globally, however said the lifting of the arms embargo had nothing to do with China, but said it and Vietnam had mutual concerns about maritime issues and the importance of maintaining freedom of navigation in the South China Sea. While Washington doesn't take sides, Obama said, it does support a diplomatic resolution based on 'international norms and 'not based on who's the bigger party and can throw around their weight a little bit more,' a reference to China."
Meanwhile, Beijing's neighbors in the South China Sea, feeling the pinch of US-China tensions, aren't taking any chances. These essentially America's friends are getting together directly, in all sorts of ways and at all sorts of levels. But they know they literally cannot do a thing against China's wishes as USA is also playing mischief.
Many countries are closely watching the 'show' evolving in the region and also taking active part in the tension's development, if not resolution of it.  There are mechanisms, such as the high level talks that began last year among Japan, Australia, and India on topics including maritime security in the far away SCS by ways of bilateral deals, such as India's $100 million loan to Vietnam to buy patrol boats, and Japan's leasing of five surveillance aircraft to the Philippines, bolstering those Southeast Asian nations' ability to keep an eye on waters where China challenges their territorial claims.
As visible tensions between China and regional powers on the one hand, and USA and China, on the other, South China Sea is bound to continue to boil.
There is no region globally where USA seeks peace or strives as the super power to work for peaceful situations. However, there is one country that Washington wants to protect and disallows any tensions is fascist Israel, seeking to expand its illegal boundaries by intermittent wars with the besieged Palestinians. USA does not want to extend this approach to the rest of the world.
Possibly, US strategic community and Pentagon experts prefer Israeli 'tasty' food to their own and they like the Islamic blood stained Jewish hands as their own.  They are the strategic partners with secret terror operations being conducted globally and killing Muslims.