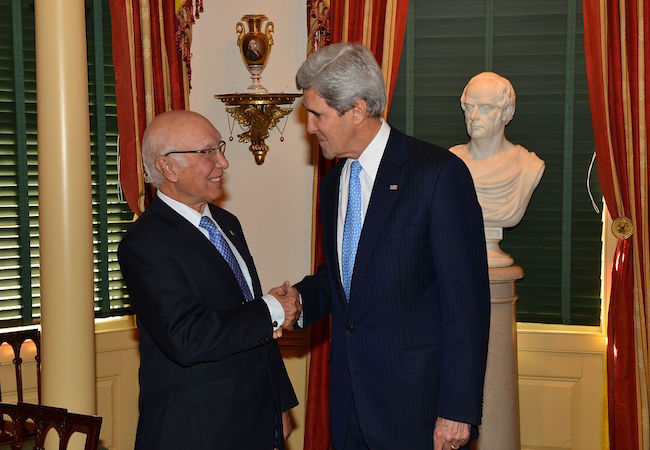 By Dr. Abdul Ruff
Pakistan and India are two nuclear powers in South Asia, fighting for Kashmir. Both now want to be in the NSG, dedicated to curbing nuclear arms proliferation globally.
In order to mobilize support for the Nuclear Suppliers Group (NSG) membership, Pakistan has maintained its diplomatic push after the US super power backed India's bid to join the 48-nation club of nuclear trading countries.
Pakistan Prime Minister Nawaz Sharif's adviser on foreign affairs Sartaj Aziz had a telephonic conversation with the foreign ministers of Russia, South Korea, New Zealand among others in order to gain support for the country's application for NSG membership.
Pakistan Ministry of Foreign Affairs spokesperson Tasnim Aslam at a detailed briefing for diplomatic missions of the NSG countries in Islamabad highlighted the factors, which placed Islamabad's application for a NSG membership on solid grounds, including country's technical experience, capability and well-established commitment to non-proliferation and nuclear safety and security.
Pakistan's Ambassador to Austria, Ayesha Riyaz, had in a letter addressed to NSG Chairman Rafael Grossi on May 19 said the decision to seek membership in the group reflected Islamabad's support for international efforts aimed at preventing the proliferation of weapons of mass destruction.
Pakistan has the expertise, manpower, infrastructure and ability to supply NSG-controlled items, goods and services for a full range of nuclear applications for peaceful uses, and Islamabad is urging the NSG to adopt a non-discriminatory criteria-based approach for group membership.
Though Pakistan solidly backed American war on Afghanistan and complied with all requirements of Washington on 'doing more" on terrorism USA does not think it necessary to support Pakistan's bid for NSG. Not only Pakistan lost Muslims in aiding the NATO terrorist gangs that made Islamabad an easy haven for their joint terror operations against Islam and Muslims. In fact, Pakistan now stands destabilized, its economy collapsing beyond recognition. USA gave just a few peanuts to Pakistan as service charges for supporting USA in targeting Muslims in the region.
Pakistan always thinks USA would take care of its interests and hence did not seek NSG membership so long.  Islamabad sought a membership of the exclusive nuclear trading club after Indian Prime Minister Narendra Modi secured Washington's backing for New Delhi's bid for a membership. There are hints that India may not be get entry into NSG for a variety of reasons.
The support of Mexico and Switzerland for Pakistan is seen as important in the wake of China opposing India's NSG membership arguing that it was not a signatory to the Nuclear Non-Proliferation Treaty (NPT).
The USA and many other NSG member countries have supported India's inclusion based on its non-proliferation track record and just ignored its non compliance with NPT regime. The NSG is a 48-nation club dedicated to curbing nuclear arms proliferation by controlling the export and re-transfer of materials that could foster nuclear weapons development.
Russia has been a military ally of Russia and a major customer of Russian terror goods for years. Now USA also plays some fiddle on behalf of India. Whether or not Russia would support Pakistan against Indian wishes remains to be seen.
Pakistani diplomats, competing with Indian counterparts, are sure of their nuclear country becoming an NSG member. Whether or Pakistan would secure membership on this important forum remains to be seen, though Pakistani government is fully ready assume membership as soon as it gets the nod.