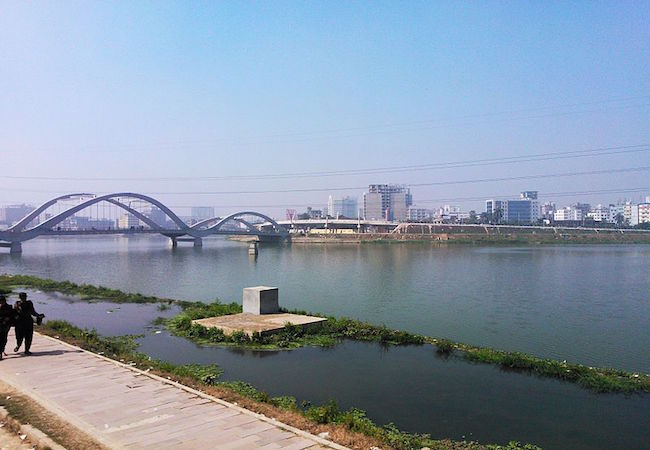 By Dr. Abdul Ruff
One of objectives of 'Asia pivot' policy of USA has been to target China as a military ally of Russia and keep the Asian nations away from Chinese influence. Washington has been able to put pressure on Russia not to dominate the nations in Asia with military tie ups.  In this respect, there is a stiff completion and even conflict among China, India and Japan to shift Bangladesh away from China. Obviously USA backs its NATO ally Japan in its effort to bring Bangladesh to US control by investing more money than China does in Dhaka. USA has managed to coerce a shaky Sri Lanka looking for profitable economic ties with Beijing to move away from China and 'listen" to New Delhi by using the 'War crimes against Tamils' card.
Since Sri Lanka is eager to save the state Singhalese war criminals, it also seeks help from Indian government that having failed in poll after poll in the country is seeking "helping" image abroad by inaugurating a cricket stadium in Colombo jointly by Indian PM Modi and Lankan President Sirisena.
China's investment in Sri Lankan port facilities was pushed back following the US-backed regime-change in Sri Lanka, which saw the removal of former President Mahinda Rajapakse at the January 2015 election and the installation the pro-US Maithripala Sirisena as president.
New Delhi, as a new "strategic partner" of Washington and rival of Beijing, now plays for America and claims that China is encircling India under its "string of pearl strategy." And in line with Washington's "pivot" against China, Japan is backing US provocations in the South China Sea and supporting the territorial claims of Vietnam and Philippines.
Japanese Prime Minister Shinzo Abe invited Bangladesh Prime minister Hasina to attend last month's outreach meeting during the G7 Ise-Shima Summit in Japan. Abe promised Bangladesh that he would release $1.5 billion this year from a $5 billion loan agreed during his visit to Bangladesh in 2014.
After cutting Russian influence, into size world over the US regime has been making strenuous efforts to contain China in Asia. By using his black background, Obama has played too well to cut Bangladesh and Sri Lanka from China funded projects and made India the alternative beneficiary.
China 
China remains Bangladesh's main supplier of military hardware, its largest trading partner and continues to make large investments in the country. Since 2010 Beijing has supplied Dhaka with five maritime patrol vessels, two corvettes, 44 tanks, and 16 fighter jets, as well as surface-to-air and anti-ship missiles. Dhaka has also ordered new Ming-class submarines that will join the Bangladesh fleet later this year.
China is Bangladesh's largest trading partner and the cash-strapped Hasina government is seeking more investment from China. China has substantial interests in Bangladesh. It is already involved in upgrading Chittagong port and also won a $705 million contract for a two-lane tunnel under the Karnaphuli River.
Dhaka is highly dependent on Chinese investment. China currently has a $705 million contract to build a two-lane under-water tunnel connecting Chittagong port and Karnaphuli River Valley. In early May, the Hasina government also approved the $4.47 billion Padma Bridge rail link project. The Asian Infrastructure Investment Bank (AIIB), which was initiated by Beijing, recently granted a $66 million loan for two power distribution projects and the improvement of transmission lines in Bangladesh.
Chinese investors are also keen to shift labor-intensive industries, such as garment manufacturing, to Bangladesh in order to exploit its cheap labor. Bangladeshi wages—in manufacturing and non-manufacturing sectors—are less than one-fourth of those in China and half of that in India.
Impact of Asia pivot on Bangladesh 
Like the port at Hambantota in Sri Lanka and Gwadar in Pakistan, Sonadia was to be part of Beijing's "string of pearls" strategy—a series of Chinese-funded port facilities across the Indian Ocean to safeguard its shipping from the Middle East and Africa. China is heavily dependent on these sea lanes for importing energy and raw materials.
Thus Bangladesh has become the focus for increasing geo-political rivalry between China, India and Japan—the latter two backed by the USA. Recently, Chinese investment bids in Bangladesh reportedly have been outflanked by Indian and Japanese corporations over port and power plant projects.
In line with Washington's "pivot" to Asia, India and Japan are attempting to undermine Chinese influence throughout the region. Under pressure from the USA, India and Japan are attempting to undercut the relations between Beijing and Dhaka.
Obviously on instruction from the White House, Indian government is attempting to strengthen political relations with Bangladesh and undermine Chinese influence. The India government's interest in Bangladesh is part of its "Act East policy," which is backed by the US and aimed at aggressively promoting its interest in South East Asia and the South China Sea. Transit routes through Bangladesh would provide a direct land route from India to Burma and South East Asia.
Indian PM Narendra Modi visited Dhaka last June and signed agreements with the Hasina government, including a deal to end a four-decade border dispute between the two countries. The Land Boundary Agreement demarcated borders and river water sharing between the two countries. Modi also promised a $2 billion line of credit and the release of a previously agreed $800 million. A total of 22 agreements were signed, including on maritime security and the establishment of special economic zones in Bangladesh.
Indian businessmen attending the Bangladesh Investment and Policy Summit in Dhaka in January promised to invest over $11 billion in various infrastructure projects, including a gas pipeline from the Indian state Orissa to Bangladesh and an LNG power plant.
According to media reports, India's state-owned Bharat Heavy Electricals Limited (BHEL) is soon to sign a $1.6 billion power station construction contract with Bangladesh after undercutting China's Harbin Electric International Company. The 1,320MW thermal power station will be located in Khulna district, southern Bangladesh. It would be the largest foreign project by an Indian power company.
The BHEL agreement further highlights India's efforts to undermine Beijing's economic and strategic influence in Bangladesh and throughout South Asia, as part of Washington's "pivot" to Asia, directed at undermining China and preparing for a possible war.
Deep sea port 
Bangladesh industry has grown rapidly over the past decade but the country does not have a deep-water port. Recent years has seen intense competition between India, Japan and China for various seaport contracts in the country. Bangladesh lacked a deep-water seaport because many powerful players are pushing for too many contending plans.
India was concerned that the planned Sonadia port would have increased China's presence in Bay of Bengal and is close to India's Andaman and Nicobar Islands. This low-lying and mostly uninhabited archipelago of 572 islands is strategically important for India, housing several military bases and surveillance and monitoring stations. India's Tri-service Andaman Nicobar Command was created in 2001 at an estimated $US2 billion to safeguard India's interests in the region. Facilities on the islands monitor shipping through the Malacca Strait.
Bangladesh had previously agreed to assign the Sonadia seaport development to China. However, Hasina did not sign the scheduled agreement when she visited Beijing in 2014 because of pressure from the USA and India. Japan would build a new port in Matabari, a few kilometres away from Sonadia. Beijing said it wanted to develop another port at Payra. Last month Bangladesh, signed a contract with a Dutch company to build the Payra port.
China had carried out extensive feasibility assessments and agreed to provide 99 percent of funds to build Sonadia near Chittagong, the country's major port. When Bangladesh PM Sheikh Hasina visited China in June 2014 it appeared likely that a deal on the multi-billion project would go ahead. While no agreement was signed, Chinese state media reported that "both sides expressed willingness to have further negotiations." Bangladesh, however, later admitted that the port deal would not proceed because "some countries, including India and the United States, are against the Chinese involvement."
The Indian media has reported the power station deal as a "second setback" for Beijing, following the failure of a long-planned Chinese deal with Bangladesh to build the huge Sonadia deep-sea port. It became clear last July that Bangladesh was moving to shelve the proposed Sonadia port after it signed an agreement with Japan to build a deep-water port in Matarbari, just 25 kilometres from Sonadia.
In 2005, US Defence Secretary Donald Rumsfeld said that China's plans for Chittagong harbour were part of Beijing's "string of pearls" that also involved a Chinese-built port at Gwadar in Pakistan, and facilities in Myanmar, Cambodia and the South China Sea.
Bangladesh's Hasina government decided to build another port in Payra, to the west of Chittagong and much closer to the Indian coastline. While the project was first announced in 2013, the bill to establish the port was passed by the Bangladesh government on March 2.  Dhaka is also considering an Indian proposal to build the $15.5 billion project. India's shipping ministry warned that if New Delhi "does not take a call on the project, then the Chinese government could step in and develop it for their own commercial and strategic advantages." China and some European governments have already expressed interests in the project.
New Delhi is currently building a transit route to the northeast of India through Bangladesh using rail, road and waterways. The northeastern states of India are currently connected by a narrow stretch of land, the Siliguri Corridor or Chicken's Neck.
Chinese panic 
Under pressure from Washington's "pivot" against China and India's integration into this increasingly provocative geo-strategic policy along with the expectations of great benefits form USA, Dhaka appears to be distancing itself from Beijing.
However, comprehending the new situation of USA-China rivalry and Indian role, Bangladesh is eager to expand the chances for benefits from all possible sources and it does not oblige USA and India against China.
Chinese Defence Minister Chang Wanquan's recent high-profile trip to Bangladesh May 28–30 further highlights the intensifying geo-political rivalry in the region. Chang, who was accompanied by a 39-member delegation, met with Prime Minister Sheikh Hasina, President Abdul Hamid and senior defence officials, including the Bangladesh army, navy and air force chiefs.
Hasina told Chang that Bangladesh wanted to strengthen its cooperation with China, especially in the fields of economy, agriculture, and infrastructure. She also said that her government would continue working with Beijing on the Bangladesh, China, India and Myanmar (BCIM) Economic Corridor, which aims to increase trade and economic activity in the region. Chang said China wanted to "expand strategic relations with Bangladesh," including deepening bilateral cooperation and increasing military exchanges and personnel training in new equipment technology.
The visit followed indications that the Bangladesh government might be accommodating to economic and political pressures from India and Japan.
Observation 
USA pushes other countries seeking some favors from Washington or NATO to absolute submission, by making them do exactly what the Pentagon-CIA-Neocons trio wants. India and Japan are doing exactly what USA wants in Asia. By insulting and belittling Pakistan after having misused it for terror wars in Afghanistan and elsewhere to kill Muslims, USA signals to India that it has wound up Pakistan ties in favor of 'terror victim' partner of USA.
The shifts and the intense international competition over infrastructure investment and other projects in Bangladesh show that every country in the region is being drawn into the maelstrom of war tensions created by the US drive against China.
India wants to seen as an ally of super power on terror gimmicks is understandable. Bangladesh dream of becoming important nation with US or Indian support is not genuine. Americans do not spend on others just for nothing.
The veto powers led by USA have increased the sale of terror goods to third world by escalating terror wars and unleashing world war propaganda. China just plays the second fiddle. New Delhi plays as official agent of USA for some false reasons.
Under conditions of sharpening geo-political tensions created by Washington's pivot, Bangladesh's ability to manoeuvre between the major powers to advance its interests is becoming increasingly limited.  Bangladesh, like Pakistan, could lose its sovereignty if it also plays into US hands, willingly or otherwise.