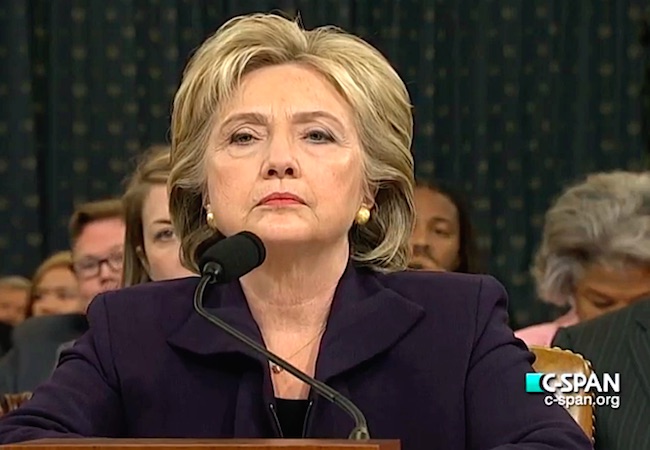 U.S. FBI Director James Comey on Thursday defended his decision not to recommend charges against Hillary Clinton, but refuted several of her statements to justify the use of private email setup as secretary of state.
At a congressional hearing that lasted nearly five hours, Comey told U.S. lawmakers that while the FBI found no basis to conclude that Clinton had lied to the agency, some of the former U.S. secretary of state's email defenses were false.
During her hearing last October at the House Select Committee on Benghazi, Clinton, now the presumptive Democratic nominee for the 2016 U.S. presidential election, said there was nothing "marked classified on my emails, either sent or received."
"That's not true," said Comey during the hastily arranged hearing at the House Oversight and Government Reform Committee, two days after he announced the FBI's recommendation of not bringing any criminal charges against Clinton in her email investigation.
"There were a small number of portion markings on, I think, three of the documents," said Comey.
However, Comey later acknowledged that all the three emails were not properly marked, which may lead to the impression that they were not classified.
Moreover, when asked by Trey Gowdy, a Republican member of the committee, whether Clinton's statement that no classified material was transmitted through her private email account to others was true, Comey replied in the negative.
During his announcement of the FBI recommendation on Tuesday, Comey in a rare step detailed major findings of the investigation, including the finding of 113 emails which contained classified information at the time they were sent or received through Clinton's private email system.
"Secretary Clinton said she used just one device. Was that true?" Gowdy, who also chaired a congressional panel investigating the 2012 deadly attack at U.S. diplomatic facilities in Benghazi, Libya, asked at one point.
Again, Comey said Clinton's statement was false.
In his later exchange with Gowdy, Comey also confirmed that Clinton's insistence on having turned over all work-related emails and her statement about her lawyers having read the email content individually was not true.
On Tuesday, Comey revealed that apart from the approximately 30,000 work-related emails Clinton provided to the State Department in 2014, investigators later discovered several thousand work-related e-mails that were not among the group of 30,000 e-mails.
But, Comey said the FBI found no evidence that any of the additional work-related e-mails were intentionally deleted in an effort to conceal them in some way.
"Our assessment is that like many e-mail users, Secretary Clinton periodically deleted e-mails or e-mails were purged from her system when devices were changed," he said on Tuesday.
The FBI's Tuesday recommendation dispelled some of the cloud the year-long FBI investigation into Clinton's use of private email servers has cast over her presidential campaign.
Immediately after the hearing, Clinton's campaign expressed satisfaction, saying that Comey's testimony had cleared up some of the concerns about the FBI's decision.
The testimony "clearly knocked down a number of false Republican talking points and reconciled apparent contradictions between his previous remarks and Hillary Clinton's public statements," campaign spokesman Brian Fallon said in a statement.
Thursday's hearing, however, was not the first time Clinton's email defenses were refuted by government officials.
A long-awaited report by the U.S. State Department's independent watchdog revealed in May that Clinton never requested permission to use her private email account during her stint in the State Department despite her repeated claim in the last 12 months that her practices were allowed by the department.
The 83-page report also added new details about her motivation for the setup of the private emailing system.
Clinton said previously on many occasions that her exclusive reliance on a personal email account for business was due to "convenience." However, newly disclosed email communications between her and one senior aide indicated otherwise.
In November 2010, Huma Abedin, her then deputy chief of staff discussed with her about "putting you on State email" to protect her email from spam. Clinton declined the suggestion, saying that she did not "want any risk of the personal being accessible."
The report also indicated inconsistency in Clinton's claim that there was no indication that hackers had ever managed to hack into her email account.
According to the report, two Clinton's immediate staff discussed via email in May 2011 that Clinton was concerned that someone was "hacking into her email" after she received an email with a suspicious link.
Neither Clinton nor her staff reported the incident to computer security personnel within the department as required by existing policies, said the report.