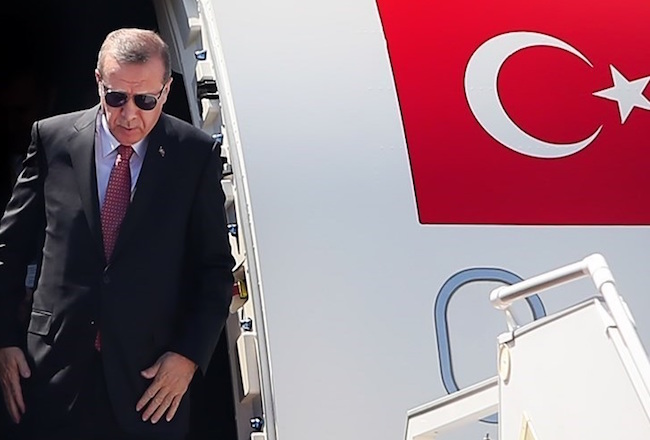 By Dr. Abdul Ruff
In recent times, Turkey has been facing a lot of problems simultaneously both from outside and from within that try to destabilize the former Ottoman Empire -the only Muslim nation in European continent, seeking the entry into European Union.
Once again military in Turkey struck on July 15 at the elected government with a preplanned coup and, once again, failed to oust and punish the AKP government as it plans.
Once again the elected government in Istanbul has the opportunity to realize that its main enemy is not in Syria or the Kurdish freedom movement but is hiding well within Turkey with the "protection" of anti-Islamic and anti-Turkey sources and it strikes when it finds the time is ripe for subversive operation: Turkish military and Fethullah Gulen, seem to manage a hidden shadow government ever ready replace the elected government, are the prime cause.
Instead of protecting turkey the coup attacked Turkish sovereignty. The coup began shortly before 11 p.m. local time on July 15 Friday, when gunshots were first reported in Ankara. As military helicopters flew over the entertainment hub of Beyoglu district in Istanbul, televisions aired footage of military tanks and TV stations reported Turkish state TV had been taken over by military officials. CNN Turk reported that soldiers had entered its offices in Istanbul and cut off its broadcast. An anchor said, "We must abandon the studio, ..and I am being asked to leave the studio." A camera showed an empty anchor desk as chants of "Soldiers out!" could be heard inside and outside the studio. The channel later resumed normal programming.
Shortly after dawn, video footage showed soldiers surrendering in masses. At least 200 soldiers turned themselves in to police in Ankara.  Turkish state media reported they walked away from tanks and abandoned their posts on the Bosphorus Bridge, which connects the European and Asian sides of Istanbul.
When the coup began, soldiers blocked two bridges the Bosporus and Fatih Sultan Mehmet bridges in Istanbul between the European and Asian sides. Military helicopters attacked the headquarters of TURKSAT satellite station on the outskirts of Ankara. The state-run news agency said the coup plotters in the helicopter had drowned.
The coup attempt began late Friday, with a statement from the military saying it had seized control "to reinstall the constitutional order, democracy, human rights and freedoms, to ensure that the rule of law once again reigns in the country, for law and order to be reinstated."   A fighter jet shot down a helicopter that had been commandeered by "coup plotters," a Turkish presidential source told CNN. The Turkish military claim of a takeover was read by an anchor on state broadcaster TRT. She said the military imposed martial law.
A military statement read on Turkish state TV announced that martial law had been imposed across the country and a curfew had been declared. The statement added that Turkey was now being run by a "peace council" and that a new constitution would be drawn up soon. In an emailed statement, the pro-coup faction said they are determined to fight and urged people to stay indoors. Reports of ongoing violence further fueled the notion that the government still hadn't attained full power.  The statement was made on behalf of the "Peace in the Nation" council, the announcer said.
Some senior military leaders refused to back the coup attempt, appearing on television to denounce the plotters and urge soldiers back to their barracks. "Those who are attempting a coup will not succeed. Our people should know that we will overcome this," Gen. Zekai Aksakalli, the commander of the military Special Forces, told the private NTV television by telephone.  A senior Turkish official told the Associated Press that 1,563 military personnel have been detained in the coup attempt. At least 16 coup plotters were killed in a clash at Turkey's parliamentary headquarters.
Gen. Umit Dundar, the newly appointed acting chief of the general staff, said that officers from the Air Force, military police and the armored units were mainly involved in the coup attempt. More than 190 people died in the clashes, including 41 police officers, two soldiers, 47 civilians and 104 people described as "coup plotters." ..
Fighter jets buzzed overhead, gunfire erupted outside military headquarters and vehicles blocked two major bridges in Istanbul. Soldiers backed by tanks blocked entry to Istanbul's airport for a couple of hours before being overtaken by pro-government crowds carrying Turkish flags, according to footage broadcast by the Dogan news agency.
The military did not appear unified, as top commanders went on television to condemn the action and order troops back to their barracks.
Witness Katherine Cohen, an American who's staying in an Istanbul hotel, said she heard a loud explosion at sunrise, and gunfire and jets all through the night. For much of the night, fighter jets flew low over Istanbul while armored vehicles streamed across a main bridge in the city. Gunshots rang out on Bosphorus Bridge, sending pro-government protesters down to the ground. In Ankara, gunfire rang overnight as jets circled above. "When I stuck my head out, I could see helicopters shooting," said Diego Cupolo, a photojournalist in Ankara. He said he could see tracer rounds zip through the air. Bombs were thrown at the parliament building in Ankara. A helicopter the government says was stolen by coup plotters was shot down by an F-16. A Turkish government spokesman confirmed that an F-16 fighter had shot down a helicopter that had been commandeered by soldiers supporting the coup.
Turkish Parliament Speaker Ismail Kahraman told the Associated Press a bomb hit one corner of a public relations building inside the parliament complex, injuring some police officers. Elsewhere, troops also fired in the air to disperse a growing crowd of government supporters at the Taksim monument in Istanbul as military helicopters flew overhead. A nearby mosque made an anti-coup announcement over its loudspeakers.
Prime Minister Binali Yıldırım admitted to Haberturk TV that an "attempt" had been made against the government and warned "those who carry out this attempt will be subjected to heaviest punishment." Earlier, Justice Minister Bekir Bozdag spoke on national TV, calling on "everyone to raise their voices against this attempt by the military and to embrace democracy."
PM Binali Yildirim has called all legislators for an emergency meeting Saturday, Anadolu reported.
More than 1,500 military personnel were arrested across the country, said a senior official who was not authorized to speak to the media. The state-run Anadolu news agency said more than 1,100 were wounded.
Erdogan returns
The violent, chaotic night in Turkey ended with at least 90 people dead following an attempted coup; and President Recep Tayyip Erdogan's reappearance after hours of uncertainty.
President Recep Tayyip Erdogan, who traveled to Ankara overnight from the seaside resort of Marmaris, addressed the country Saturday morning from Istanbul's Ataturk airport. He called the attempt "treason." Erdogan took the forces he apparently suspects of masterminding the coup to task. "Now I'm addressing those in Pennsylvania," he said, in an apparent reference to Fethullah Gulen, a cleric and former ally who lives in exile in Pennsylvania. "The betrayal you have shown to this nation and to this community, that's enough. If you have the courage, come back to your country. You will not have the means to turn this country into a mess from where you are."  In a statement, however, Gulen denied any connection to the coup attempt and said he condemned it.
In his TV address, Erdogan blamed the attack on supporters of Fethullah Gulen. Erdogan has long accused the cleric and his supporters of attempting to overthrow the government. The cleric lives in exile in Pennsylvania and promotes a philosophy that blends a mystical form of Islam with staunch advocacy of democracy, education, science and interfaith dialogue.
Erdogan vowed that Turkey would "overcome this invasion" and called on Turks to "gather in squares and see what this minority can do with their tanks and artillery against the people." Erdogan insisted that the coup attempt wouldn't succeed. "They have pointed the people's guns against the people. The president, whom 52 percent of the people brought to power, is in charge," he said. "The enemies won't succeed as long as we stand against them by risking everything." But despite the president's vows, the coup plotters were determined to fight to the end.
Ordinary Turkish citizens appeared to heed Erdogan's call, as TV footage showed marching through the streets of Izmir and Istanbul waving Turkish flags. Crowds also gathered in Ankara's main square. "Throughout history those who make coups have been unsuccessful, and I absolutely believe that these will be unsuccessful as well," Erdogan said.
Tens of thousands of protesters took to the street after Erdogan's call to confront the military was broadcast on television. Many waved Turkish flags and chanted their support for the President. Some climbed on tanks and blocked the path of military vehicles with their cars. But some soldiers got hugs from apparent supporters.
Ömer Çelik, Turkey's EU negotiator, tweeted images that he said showed some of the damage at the Turkish Parliament: "Our country has been subjected to treacherous enemy attack, which displays betrayal to the nation, their uniforms and morals. The necessary response has been shown to the enemy and it is still being shown," he said.
In Washington, a statement from the White House said President Barack Obama and Secretary of State John Kerry agreed that both sides "should support the democratically elected government of Turkey, show restraint and avoid any violence or bloodshed." A senior Defense Department official said that the unrest was having "no impact" on anti-ISIS missions flown out of Incirlik Air Base in southeastern Turkey. NATO Secretary General Jens Stoltenberg issued a statement calling for "calm and restraint, and full respect for Turkey's democratic institutions and its constitution."
President Erdogan claimed he is in control of the country early Saturday as loyal military and police forces quashed a coup attempt during a night of explosions, air battles and gunfire that left scores dead. He vowed that coup supporters "will pay a heavy price for their treason to Turkey." Colonels and generals implicated in the rebellion were fired and loyal troops rescued the military chief who had been taken hostage at an air base on the outskirts of Ankara.
Military chief of staff Gen. Hulusi Akar is taking over the command of the operation against the coup plotters
Latest
In Istanbul, Erdogan addressed crowds in the city, telling them that the coup had been quashed. "The government is in control," he told supporters as they chanted his name. "Fifty percent of the people elected the President and that President is on duty." He said those involved will be dealt with. "So far as we believe, so far as we're alive, we'll be prepared to die in the cause to tackle these people … we're not going to compromise."
Erdogan was elected Prime Minister in 2003. Under his rule, Turkey became a powerhouse in the Middle East. His reign came to an end in 2014, and his own party's rules prevented him from seeking a fourth term. He ran for President — and won. Before this, the President of Turkey was a largely ceremonial role, but Erdogan tried to change that by altering the constitution to give him more power. He was active in Islamist circles in the 1970s and 1980s.
Under Erdogan, who is extremely religious, conservative, religion had started to play a more important role in Turkey, which still is a largely secular country.
While it was unclear whether Erdogan had quashed the uprising, the government is slowly reasserting its authority early Saturday. As the morning wore on, crowds emptied out of Istanbul's Taksim square, where many gathered the night before. A total of 1,563 military officers were detained across Turkey, a source in the President's office said.
Erdogan also admitted that his general secretary was abducted by coup makers. He was later rescued in an operation at an air base. A Turkish lawmaker said he and his colleagues were hiding in special shelters in the bowels of the parliament building after at least three explosions near the complex in the capital, Ankara.
As the crisis unfolded, there were reports that access to popular social media sites like Twitter and Facebook had been blocked within the country. Facebook declined comment, but Twitter said it suspected "intentional" interference with its service.
The chaos capped a period of political turmoil in Turkey blamed on Erdogan's increasingly authoritarian rule, which has included a government shake up, a crackdown on dissidents and opposition media and renewed conflict in the mainly Kurdish areas of the southeast.
The coup attempts along with anti-government demonstrations off and on   reveal the hidden agenda of anti-Turkey and anti-Islamic forces operating across the western globe to destabilize Turkey with a view to present it as a part of destined Middle East rather than Europe.  Turkey seeks membership of EU as a legitimate European entry with Islamic mindset.
Istanbul is slowly limping back to normalcy. Turkish Airlines resumed flights out of Ataturk, which had earlier been overrun by protesters. Opposition soldiers had attempted to seize control overnight in various locations across the country, including the capital Ankara.
Why military coup?
Turkey has faced yet turmoil in recent times.. Of the 90 people dead, most were police officers killed in a gunfire exchange with a helicopter near the parliament complex in Ankara, Turkey's NTV reported. It said the building was damaged in the night's attacks. At least 1,000 people were hospitalized in Istanbul and Ankara.
Turkey's Police Chief Celalettin Lekesiz said 16 coup plotters were killed in clashes at Turkey's military police command. In images broadcast on CNN-Turk, dozens of soldiers walked among tanks with their hand held up, surrendering to government forces on Istanbul's Bosporus Bridge. Discarded gear was strewn on the ground. People, some holding flags, climbed onto the tanks.
In Washington, a statement from the White House said President Barack Obama and Secretary of State John Kerry agreed that both sides "should support the democratically elected government of Turkey, show restraint and avoid any violence or bloodshed."  A senior Defense Department official told Fox News that the unrest was having "no impact" on anti-ISIS missions flown out of Incirlik Air Base in southeastern Turkey.  NATO Secretary General Jens Stoltenberg issued a statement calling for "calm and restraint, and full respect for Turkey's democratic institutions and its constitution."
Is USA also behind the coup for any specific reason or at least indirectly backing the coup? Apparently not! Is not Washington angry with Turkey for its decision to reconcile with Russia?
Turkey, a NATO member, is a key partner in US-led efforts to defeat the Islamic State group, and has allowed American jets to use its Incirlik air base to fly missions against the extremists in nearby Syria and Iraq. A coup against the democratically elected government could make it difficult for the United States to continue to cooperate with Turkey.
Who benefits from all these military coups and demonstrations?
The moot question is why military coups take place in countries while in countries like USA, UK, India, etc where military plays dominant roles and even indirectly controls the government  by delivering  intelligence reports.
Had the coup team succeeded in ousting the  ruling AKP government,  it would have jailed all Brotherhood leaders and even killed some of them- as Egyptian dictator had done to its own first ever elected government of President Morsi.
Turkey's AKP government must ruthlessly punish the coup plotters so that never in the history of Turkey would there be another attempt for coup.
Military cannot be allowed to take over the elected government, people and democracy.