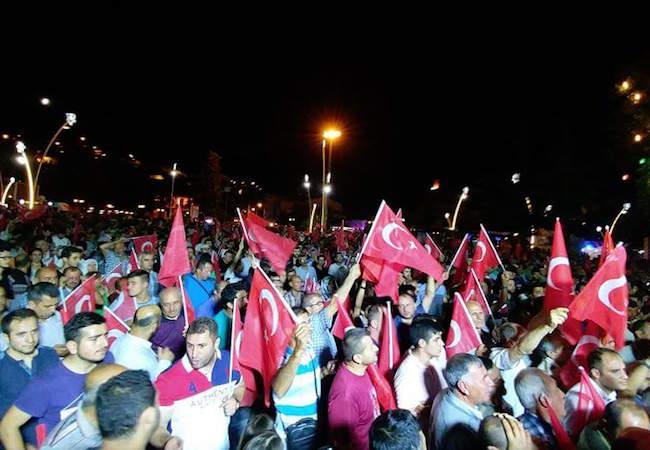 By Dr. Abdul Ruff
When Turkish government declared emergency to streamline the system, being eroded over years of democratic   experiments and destabilization moves by the anti-Islamic forces in the country having western sponsorship, western powers quickly criticized the President Erdogan move. But now the emergency has become a boon to create order in the country. .
For five days in a row since the failed coup, people have taken to the streets here to show their support for President Recep Tayyip Erdogan and the government. In the heart of Turkish capital Istanbul, Turkish flags dominate Taksim Square, as if saluting the AKP government for brave action to put down the military coup and save and safeguard the nation from possible destabilization.
Today, Turkey is a proud nation by retaining sovereignty from the coup plotters and their foreign sponsors. Popular newspapers declared: "No compromise from democracy", highlighting President Erdogan's comments. Another read: "State of emergency for the coup plotters, peace for the citizens". Media have fully comprehended the danger Turkey was facing a just few days ago.
On the steps of Gezi Park, which was the epicenter of anti-government protests three years ago, is a recently-erected platform. Between them hangs a banner with a Turkish flag imprinted on it that reads: "Sovereignty belongs to the Nation".
Turkey's armed forces have been dealt a significant psychological blow by the attempted coup, and their prestige and status have been damaged. After the failed coup, the crackdown followed. In fact, as soon as it became clear that the coup had failed, the crackdown began – first with the security forces, then spreading to Turkey's entire civilian infrastructure. In the words of one Turkish columnist it was a "counter-coup" – a cleansing of the system, in the style of a coup, which had taken place in the past. The express aim of the president is to "cleanse all state institutions". And the target is what he calls "the parallel state" – a movement headed by an arch-rival in self-imposed exile in the US, accused of plotting the coup.
Coup took the people by shock as Turks had assumed that coups were a thing of the past. Not only does this latest plot come as a threat to the country's democracy but it has also stymied its ability to act in its key role as a provider of regional security.
The number of people arrested or thrown out of their jobs stretches into the tens of thousands. From judges to teachers, civil servants to soldiers, the list is extensive. There are very real fears among anti-Islamic and anti-Turkish people about what will come next.
Shattered lives
President Recep Tayyip Erdogan's declared aim is to root out followers of a former ally, Islamic cleric Fethullah Gulen, who became his arch-rival and went into self-imposed exile in the US in 1999. Fethullah Gulen has made a lot of enemies but he also has a large number of followers and they are accused of plotting the coup. Gulenists, who espouse a tolerant form of Islam, are thought to donate up to 20% of their income to the movement. They have roles in all sectors of Turkish society and local reports say some Gulenists have confessed to involvement in the attempted coup.
The order, one follower was quoted as saying, came from a civilian teacher known as Big Brother. Exactly who is a Gulenist is very hard to assess, but President Erdogan blamed the movement for damaging corruption allegations that entangled the sons of several Turkish ministers in 2013.
At Caglayan Court House, families of privates and military students accused of taking part in the coup attempt await the latest news.  Ahmet's 16-year-old son, studying at a military high school in Istanbul, was detained and imprisoned.
Turkey's crippled morale
Turkey's armed forces had already been trying to recover from the prosecution of high-ranking officers caught up in two cases that were eventually overturned. This botched coup has reversed this scenario. More than 100 generals have been detained for their involvement, amounting to nearly a third of Turkey's high-ranking officers. Almost all major army units have lost at least one of their commanding officers. Aside from the top brass, the purges have so far resulted in the arrest of more than 3,000 soldiers and some 7,500 police officers.
Whilst the purges are undoubtedly necessary in light of the acute threat posed by the conspirators, they will inevitably cripple the morale and capabilities of the Turkish forces, which are currently facing a series of unprecedented threats. In addition to numerous one- and two-star generals, the alleged conspirators include Adem Huduti, who commanded the 2nd Army.
The 2nd Army has the task of protecting the most perilous borders – with Syria, Iraq and Iran – and leads the fight against the Kurdish militant PKK in south-eastern Turkey. So the attempted coup may have a considerable impact on Turkey's ongoing fight against the PKK.
The failed putsch will also affect the combat against jihadist group Islamic State (ISIS). IS has escalated its operations in Turkey substantially over the last year. Both dismantling its networks within the country and preventing the transit of jihadists from Syria require close collaboration between the armed forces, police and national intelligence. Yet by targeting the police and national intelligence headquarters and clashing with police forces throughout the night, the coup plotters have destroyed all mutual trust and confidence between the three pillars of Turkish security.
Furthermore, as long as the purges continue in military and police ranks, neither side is likely to fully embrace the other as a trustworthy partner. This will come as a major complication in Turkey's effectiveness in tackling IS. This mistrust is also likely to characterize how the country's political leadership will view the armed forces, at least until it is confident that the conspirators have been weeded out. Nonetheless, the aftershocks of the plot will continue to plague civilian-military relations for the foreseeable future.
The post-coup purge may be the time to get rid of the suspected cheats. Another possibility is that the government is also weeding out opponents from Turkey's Alevi community, which numbers some 15 million. Turkey's ruling AKP is predominantly a Sunni Muslim party which gains support from an Islamist base. The Alevi sect combines elements of Shia Islam with pre-Islamic folk customs.
What will Erdogan do next?
President Erdogan has seen the rise of Islamic education in Turkey's schools and universities as a personal mission. Since his Islamist-rooted party came to power in 2002, the number of children educated in segregated religious schools known as "Imam-Hatip" has soared by 90%. He has repeatedly said he wants to raise a "pious generation" and has reformed state education accordingly.
Erdogan sought to reverse the many closures of religious schools that came in the wake of Turkey's last coup in 1997, which he compared to the cutting of an artery. He has also moved to shut down Gulenist-run schools outside Turkey. Reports from Romania say Turkish officials have told 11 to close, but the schools argue they fall under Romanian rather than Turkish jurisdiction.
What is less clear is why university deans are also being targeted. The officials told to leave their posts are unlikely to be Gulenists. There is some suggestion that a revamp of Turkey's 300 universities is being prepared. On Wednesday, Turkey's higher education authority banned academics from travelling abroad and said anyone currently outside Turkey should return home. This could hark back to a 2010 cheating scandal in Turkey's civil service exams. When 3,227 were suspected of cheating because they scored top marks, the government suspected Gulenists.
What is more, Turkey's ability to contribute to NATO is likely to be reduced visibly, as both an effective deterrence posture and force projection rely strongly on the cohesion between the political and military elites over the strategic objectives of the country,
The coup attempt may also push the leadership into rethinking the country's involvement in the anti-IS coalition, given that a number of fighter planes that took part used Incirlik airbase. The base also hosts foreign aircraft belonging to the anti-IS coalition.  Though it failed to unseat Turkey's elected government, the 15 July coup plot succeeded in hampering Turkey's ability to protect itself and to act as a security provider in a volatile region that will continue to present complex security challenges for Nato.
It is not only for Turkey's sake but for NATO's too that the Transatlantic Alliance will need to stand by Turkey at this difficult time. No-one really knows how extensive that movement is, but followers of cleric Fethullah Gulen are suspected of infiltrating some of the posts closest to the president, including chief military aide Ali Yazici and air force adviser Lt Col Erkan Kivrak, A "Gulenist clique" in the army was behind the coup, officials say. And they came so close, says the president that they were within 10 or 15 minutes of assassinating or kidnapping him.
The purge is so extensive that few believe it was not already planned. And there seems little chance that everyone on the list is a Gulenist. The sheer numbers are sobering. Some 9,000 people are in custody and many more are out of a job. Although accurate details are difficult to come by, this is the current list:
There are deep suspicions and widespread fears of what the president is planning next. He is expected to make a major announcement on Wednesday. Some have compared the crackdown to the fallout of the military coup of 12 September 1980. But that resulted in executions and 600,000 detentions, so current events are far less dramatic.
There seems little chance of martial law being declared, as the army is so deeply damaged by the botched coup. But emergency measures could be on the cards. Detention without charge could be extended and firing civil servants could be approved without the need for parliamentary approval.
Will there be curfews? That seems unlikely when it suits the government to have supporters on the streets at night. Will the death penalty be reinstated 12 years after its abolition?
Observation
Recap: Coup attempt launched in Istanbul and Ankara on 15 July midnight ; Bosphorus bridges blocked in Istanbul; warplanes attack police and intelligence buildings in Ankara;: President Erdogan, who is on holiday in south-west Turkey, appears on CNN Turk via Face Time to urge resistance; Parliament in Ankara is bombed and soldiers and tanks fire at protesters; 03:00 President Erdogan arrives safely at Istanbul airport and is mobbed by supporters; 06:00 Soldiers surrender on the Bosphorus bridges; At least 260 people were killed and 1,400 wounded
The forces' integrity will be hard to salvage and chronic problems in Turkey's civilian-military relations, which many thought had been recuperating in the past few years, will now be exacerbated instead. Amongst the government's critics there are concerns that the announcement of a state of emergency might lead to more authoritarian rule, giving President Erdogan greater powers to sideline parliament.
Thousands gathered here to watch President Erdogan on giant screens on Wednesday night as he announced the implementation of a three-month state of emergency. Some in the crowd burst into applause, clearly appreciative of the measure. President Erdogan pledged that the country's democracy would not be harmed and fundamental rights and freedoms would not be curbed. "This step is taken to cleanse the supporters of the Fethullah Gulen terrorist organisation from state bureaucracy, to place the state in strong hands in order to make democracy function better," he said.
Deputy Prime Minister Numan Kurtulmus assured Turks on Thursday that the government would not declare any curfews, free market rules would not be affected and fundamental rights would not be compromised. "Our business has suffered. People do not want to go out on the streets unless they have to," says Kemal, a taxi driver. "Now we have to wait and see. If they abuse the power to issue decrees, then we will be facing further problems," he says. "I am anxious for the future of Turkey," says an academic whose work-trip to Canada has been blocked due to the latest crackdown. He does not want to give his name, and says no more.
Public perception of the armed forces had already been hit in recent years by allegations of coup plots against the AKP government of Recep Tayyip Erdogan. Importantly, those cases were eventually thrown out because of mostly fabricated evidence.
The attempted coup and the previous alleged plots have been blamed on Fetullah Gulen, a controversial US-based Islamic cleric, whose movement is suspected of infiltrating public and private ranks with the eventual aim of taking over the reins of the country.