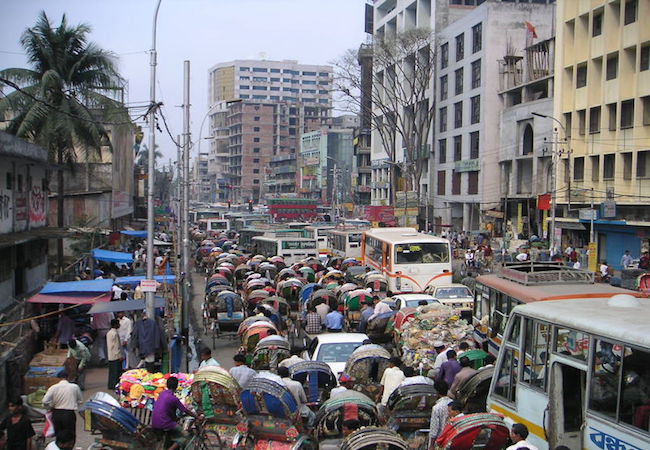 By Dr. Nanda Kishor
As the world is reeling under the fear of terrorism the recent attacks on Bangladesh by Islamic State of Iraq and Syria (ISIS) has come as a rude shock not only to Bangladesh but to the whole of South Asia. The 1 July 2016 attack has come as a real challenge to the Bangladeshi government. Though several scholars claim it to be a reaction to the execution of several Islamist leaders by the secular government, by no way we can connect these two events together for the simple reason that ISIS would not go by any such specific incident to take revenge rather would find a place which is conducive for it to grow and for sure Bangladesh has all the qualities to qualify as one.
The execution of Motiur Rahman Nizami is not entirely connected with the attack by ISIS. The tendency to move towards extreme path and Jihad can be attributed to the previous regime of Khaleda Zia as she wanted to be populist in her measures and used Jamaat-e-Islami to further her political career. Jamaat to a large extent endorses views that are closer to Pakistan's ambitions in Bangladesh. Jamaat has also recruiting base for several terrorist groups, including Harkat-ul-Jihad-al-Islami Bangladesh (HuJI-B) for a long time. All of these organisations have a single aim of creating an Islamic theocratic state in Bangladesh and Pakistan is the one which is fuelling terrorism in the name of supporting Islamic groups but essentially taking revenge for the 1971 debacle. Pakistan still sees it as a humiliation and would go to any extent to destabilise Bangladesh. This is more evident as Sheik Hasina seeks India's help in solving lot of issues relating to foreign policy. India is not doing any favour to Bangladesh as the help offered by Bangladesh in terms of curbing insurgency and terrorism is clearly acknowledged. The question continues to remain: how did ISIS have inroads to Bangladesh? Bangladesh has large Sunni population and there has been efforts by the radical groups to bring in Sharia but Bangladesh civil society is strong enough to resisit that temptation and remain as a secular state. This is something the radical groups are unable to handle.
There is no doubt that ISIS is moving towards nations with large Muslim population in the South and Southeast Asian counties and Bangladesh is a breeding ground with several frustrated citizens with memories of 1971, corrupt governments and deep religious divide between Muslims and minority religious groups. The killing of bloggers and non-Muslims are some of the examples of such intolerance deeply rooted in some of the powerful organisations. The people involved cannot be called as fringe elements as the government seems to be struggling to control. Sheikh Hasina has a track record of targeting radical groups trying to disturb peace in the country. Her rival political groups even tried topple her government several times. For sure, Bangladesh does not come under the scanner as a country which is non-Islamic or anything but it sees it as a breeding ground and it wants to exploit the vulnerability of the civil society coupled with political goals of few groups. The Bangladeshi society is also sharply divided with regard to the execution of few individuals due to war crimes of 1971. Some in the society celebrate them as heroes where as some see them as traitors who were obstructing the independence of East Pakistan and its transformation to Bangladesh.
Though there is some amount of speculation on the claims of ISIS staking claim on all the attacks that are happening in Bangladesh, one cannot deny its percolation within the Bangladeshi society as ISIS produced some chilling evidences including photographs from the blast site before any other media. Rather than going behind what has to be done with ISIS, the Bangladeshi government needs to check home grown terrorism. ISIS is not recruiting people directly is clearly evident its operation. It is using home-grown terrorist organisations for recruitment and execution of some of its plans. The Bangladeshi government's dilemma is to deal with its own civil society, there are possibilities of use of excess force which may vitiate and deplore the confidence on the government and may lead to possible attack on political leaders. If major attack on political leaders happen then there would be greater political tragedy leading it back to prior 2009 situation.
Bangladesh as a country can think of working in coalition with countries who face similar threat. In such a scenario, it is important for Bangladesh to see where its interest converges. India is one such country with whom it has worked before and continues to work on issues from development to countering terrorism. India has the capacity and required resources to do so. It is high time for Bangladesh to augment its interest to stay secular and augment the global support to fight against the menace of ISIS before it takes too deep root and destroys its secular fabric.