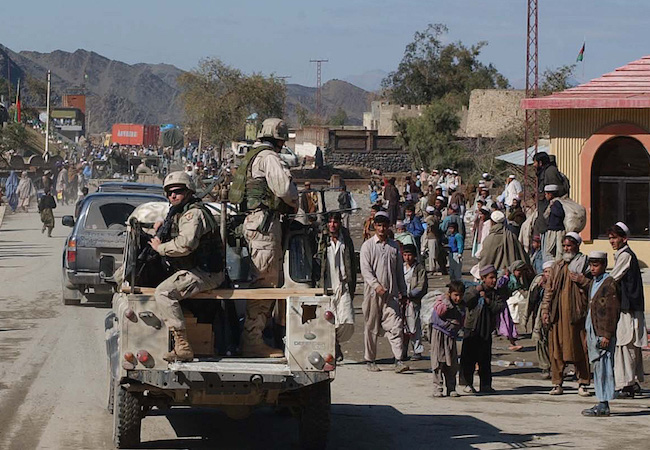 By Laiq Zirack
Political analysts believe that sour relations of both India and Afghanistan with Pakistan are the main cornerstone of India – Afghan depth strategic partnership and cordial political ties.
After toppling Taliban in 2001, India has immensely shown its interest in deepening its ties with the landlocked country, and has contributed to the tune of over $2 billion dollars to socio-economic rebuilding in Afghanistan.
However relations with India have remained shallow in the last decade, in particular at the beginning of the establishment of new national unity government ( NUG) in Afghanistan. President Ashraf Ghani attempted to redefine ties with Pakistan and approached very hopefully to control Taliban attacks and seek Pakistan's assistance in bringing in Taliban to the negotiation of peace and reconciliation process which as a result a gap was also seen to be created between Afghan – India ties for couple of months; for which President Ashraf Ghan was criticized inside the country for trusting on Pakistan and taking distance from India. But Ashraf Ghani also understood Pakistan's dilemma and promptly restored relations with India.
Currently a feeling of hostility by Afghans toward Pakistan has never been so severe and intense. Recently, in June, Pakistan closed Torkham door in the face of thousands of people who daily moves to Pakistan, which as a result trade was also negatively affected. In spite of that, two months later Pakistan closed another strategic gateway with Afghanistan, The Afghan – Pak friendship gate in the southern province Kandahar. Closing the Pakistan – Afghanistan friendship gate restricted the moves of people and incurred millions of dollars loss to Afghan traders and farmers whom trucks were loaded with seasonal fruits and other agricultural products spoiled for being waiting so long to cross the gate to Pakistan.
Agriculture sector which contributes 40 percent to Afghanistan's GDP and 60 percent of Afghanistan's population rely on agriculture for their livelihood and family sustenance; is considered the mainstay of Afghanistan's economy, USAID reported in January 2015. Thousands of people moves to both side of Durand line every day, most of the people those who go to Pakistan are for treatment and business purposes.
Afghanistan for not having a direct access to ocean is in desperate need to use Pakistani ports and transit routes to connect with India and import and export Afghan commodities to other countries and Closing either Torkham or Pak – Afghan friendship gateways every time incurs millions of dollars loss to Afghan side. This act of Pakistani officials considered against international trade norms has further strained the relations between the two countries and feelings of hostilities and anger by Afghans have grown.
Unsuccessful diplomatic relations with Pakistan over the last decades have provoked Afghan government to look up for new trade partners in the region, and find ways to reduce dependency on using Pakistan's ports and routs for transit and trade purposes.
Afghanistan's necessity to use Pakistan's Gwadar port and transit routes by virtue of not having a direct access to ocean; has always been used by Pakistani authorities as a pressure and control button and whenever tension arise between the two countries, so Pakistan either close transit routes or restrict Afghan traders' access to Gwadar port or Wagah border in a bid to put pressure on Afghan government to act in alignment with Pakistan's demands and wants. But it looks like Pakistan is losing this game and the scenario is rapidly changing for Afghanistan's interests in the region.
Recently, president Ashraf Ghani in a meeting with the UK special envoy to Pakistan and Afghanistan Owen Jenkens in Kabul, in unheard of before warned Pakistan that Afghanistan is no more a landlocked country as several other transit routes and options are available for import and export of commodities for Afghan traders.
Afghanistan to be turned into a regional transit hub
However, lack of direct access to ocean and troubling neighbor are the main setbacks to Afghan trade and business growth but the geographical location of the landlocked country is the most important strategic point one can speak of. it has always been remained an eye-catching bird in the past, which had attracted many hunters in the region.
Globalization and the economic growth of neighboring countries in particular of China and India is changing the prospects of this war – stricken and conflict zone into a gateway of south and central Asia.
Recently, in the month of September this year, the first ever cargo train from China arrived in to Hairatan port located in the north of Afghanistan, signaling Beijing's efforts to consolidate ties with Kabul, as part of One Belt One Road (OBOR) initiative along the ancient Silk Road. However, One Belt One Road initiative has sidelined Afghanistan in terms of routs and roads and will not be strategically benefiting Afghanistan as much as the ancient Silk road once did, but still connecting Hairatan port is boosting hopes among the Afghan officials to find access to alternative routes for transit.
On the other hand, India $500 Million investment in Chabahar port is a total game changer for the region. The chabahar port that will bypass Pakistan is considered an effort to free Central Asia and in particular Afghanistan from reliance on transit ways of Pakistan. The port will also hugely assist India to grow its trade with Afghanistan and central Asian countries.
Pakistan does not allow India to export goods through Pakistan to Afghanistan and central Asia. These barriers have limited India's trade with the Central Asian countries to $2 billion due to India's lack of geographical contiguity with central Asia. On the contrary, China's trade with central Asian countries reaches to a staggering $50 billion.
On top of that, several nations in central and south Asia have entered into agreements for projects like TAPI and CASA – 1000 to supply energy and light to homes in Pakistan and India through Afghanistan. In December, 2015 when the shareholders of TAPI Company Limited signed agreement in Mary, Turkmenistan, people took out to streets in several cities of Afghanistan to celebrate the moment and boosted hopes among Afghans for reliable sources of employment and the start of better economic prospects.
TAPI and CASA have major geopolitical significances. The projects represent an opportunity to improve relations in the triangle corner of south Asia. These projects next to its huge economic merits that it has for the participating countries, will also play a role of inter – dependency diplomacy. In near future, Afghanistan turning into a regional transit hub and the prospects of stability in volatilities of Afghanistan, Pakistan and India political ties are not beyond reality