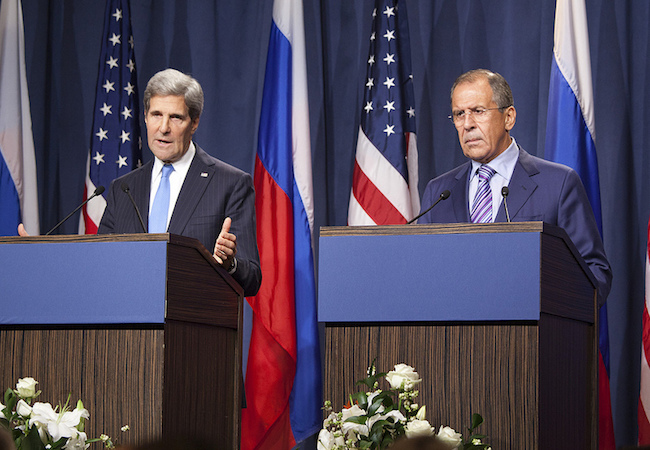 By Dr. Abdul Ruff
At the outset, one point as a clarity should be mentioned straightaway here. The terror wars targeting energy rich Arab world launched by USA and its NATO, jointly or separately have not wound down as USA is seriously considering a permanent war to impose the prowess of its militarism on the world. USA and NATO only used Afghanistan and Pakistan with blessings form Saudi kingdom in order to legitimize its permanent war by extending, as per its plan, the terror wars into Arab world and control oil production and sale.
Now Syria, where thousands of Muslims lost life, thousands have  fled the nation to neighboring nations, is in turmoil  for the last 5 long years, has become a safe sanctuary for all anti-Islamic nations and others to target Muslims and reduce Islamic populations in West Asia where most of populations are Muslims. For the first time in years, super powers USA and Russia are cooperating and even coordinating their terror operations as USA does not sincerely wish to end war in Syria and other Arab nations.
USA seeks to remove or replace Assad, a Shiite, who wants to continue to be the president without facing the Sunni people in polls, but Russia bats for the "troubled" man who now has regained some strength after Russian involvement.
Both USA and Russia keep killing Muslims while Turkey, an ally of USA by NATO, helps USA in attacking the minority Syrians.
While it is not yet clear what exactly Moscow has in its mind taking on the anti-Assad Muslims there, but USA cannot even think of a peace deal to end the bloodbath there.  Even years of US-Israeli shuttle diplomacy no peace is in sight in Mideast as Palestinians are getting killed by Israeli military with US terror goods.
Recently, US Secretary of State John Kerry and Russian Foreign Minister Sergei Lavrov announced a new cease-fire agreement that both sides hope will clear the road to peace for a troubled nation that's been torn apart by a five-year civil war. Kerry and Lavrov met all day in Geneva to work on the deal, which at one point seemed unlikely. Later on Friday the Sept 09, both sides announced the pact during a news conference.
Thank you all for tremendous patience during the course of a very long day," Kerry said at the start of his remarks. "Today, the United States and Russia are announcing a plan which we hope will reduce violence, ease suffering and resume movement toward a negotiated peace and a political transition in Syria."
The leaders said that step will be followed by a larger cease-fire, closer to one that was agreed to in February but not effectively implemented. It lasted a few weeks. Members of both governments and the news media were skeptical that an agreement could be reached Friday, especially after Lavrov said during a break that he was about ready to "call it a day."
The deal agreed to by Kerry and Lavrov calls for a cease-fire between the U.S.-backed Syrian rebels and President Bashar al-Assad's regime, as well as his Russian and Iranian allies. The fighting is being interrupted, Kerry said, to allow for deliveries of humanitarian aid — particularly in the heavily contested city of Aleppo.
As it turns out, Kerry and Lavrov were able to hammer out agreeable terms, which were then communicated to President Barack Obama. "I believe it is important for them to check with Washington," Lavrov said during the approval process. "I apologize for the delay. We cannot help it." Friday's agreement is seen as one step in what both sides hope will be a series of advancements toward the end of the Syrian civil war, which is now in its sixth year.
The agreed-upon cease-fire is scheduled to begin at sunset on Sept. 12. If it holds for a week, the U.S. and Russian militaries would then begin steps to combine operations to eliminate obstacles to peace — including militant groups the Islamic State and Jabhat Fateh al-Sham, formerly known as the al-Nusra Front. The plan also calls for a demilitarized zone and uncontested access for humanitarian aid. "If implemented, if followed, the plan has the ability to provide a turning point," Kerry added. "The suffering we have witnessed in Syria over the course of five years now is really beyond inhumane. "The United States is going the extra mile here because we believe that Russia, and Lavrov, have the capability to press the Assad regime to stop this conflict and to come to the table and make peace."
Earlier, the US President Barack Obama said he is not optimistic about the future success of a possible cease-fire in Syria despite ongoing talks between the United States and Russia. Obama, speaking Sunday at the G20 summit in China, said he does not think any new deal would last long enough for a political resolution in Syria. John Kerry, who met with Russian Foreign Minister Sergei Lavrov on the sidelines of the economic summit, said "a couple of tough issues" remain, but did not elaborate. Despite the nearing impasse, Obama said he is committed to continuing efforts. "It is worth trying," Obama said to reporters. "To the extent that there are children and women and innocent civilians who can get food and medical supplies and, you know, get some relief from the constant terror of bombings, that's worth the effort. And I think it's premature for us to say that there is a clear path forward, but there is the possibility at least for us to make some progress on that front."
Obama said it's essential for Russia to be involved in a political solution. Obama and Russian President Vladimir Putin plan to meet Monday. "Our conversations with the Russians are key because, if it were not for the Russians, then [Syrian President Bashar al-]Assad and the regime would not be able to sustain its offensive," he said.
Obama's relations with Putin are strained now not only because of the Syrian situation but Moscow's moves in Ukraine and the possibility the Russian leader is trying to help Republican presidential nominee Donald Trump get elected. Russian Deputy Foreign Minister Sergei Ryabkov told reporters the two sides are close but it is important for the United States to distinguish "the so-called moderate opposition from the terrorists." Syrian rebel groups have worked alongside al-Nusra Front, which is now known as Jabhat Fateh al-sham or the Syria Conquest Front. "I will say that we are close to reaching a deal with the United States… there are no grounds to expect that everything would collapse."
Kerry, at a news conference, reiterated the continuing efforts to make a cease-fire work. He did not comment about a July information-sharing proposal that would include coordinating air attacks against Jabhat Fateh al-sham in exchange for Russia pushing to stop offensives by Assad's government.
Kerry later told reporters: "An awful lot of technical things have been worked out, a lot of things are clear, but there still remain, a couple of tough issues. "We've got to figure out how to make certain both of us can be comfortable with the resolution to those issues, so that's what we're working on." Yesterday Obama also met with Turkish President Recep Tayyip Erdogan, whose military has recently clashed with US-backed Kurdish fighters in Syria.
"We discussed ways in which we can further cooperate in that regard," Obama said after meeting with Erdogan, who survived a failed military coup Erdogan's government is unhappy with the United States for not extraditing Fethullah Gulen, the Turkish cleric who now lives in exile in Pennsylvania. Erdogan blames Gulen for plotting the coup.
USA is supposed to respect the NATO member and help Turkish government and not those who sought to kill President Erdogan and destabilize Turkey, but U.S. officials say they are awaiting sufficient evidence to justify the request to extradite Gulen, who is 75 and says he is in failing health. Erdogan said the United States and Turkey should adopt a "common attitude" against terrorism. Double speak is not good for allies. He noted there is a distinction between "good terrorists or bad," he said, an indirect reference to Gulen and United States support for Kurdish fighters in Syria.