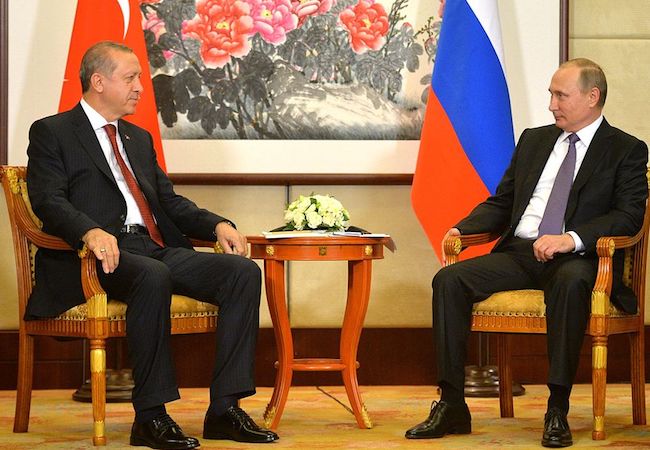 By Dr. Abdul Ruff
Strategic alliance
Clearly, Russia and Turkey is fast moving to build a strong, if not anti- unilateral posture of USA, alliance to improve trade and economic and strategic alliance.
Russia and Turkey have put tensions over Syria behind them to agree a gas pipeline deal which would open a new route for Russian energy to Western Europe. After kissing and making up from a downed Sukhoi fighter jet over Syria, Russia and Turkey are back to being business partners again. Gazprom and Botas Petroleum agreed on Oct. 10 to push ahead with the so-called Turkish Stream pipeline. Russian President Putin received Turkish President Erdogan in a Tsarist-era palace outside his home city of St Petersburg in August, when the two leaders, both powerful figures, announced plans for acceleration in trade and energy ties between two nations.
Russia and Turkey have signed an agreement to build a gas pipeline from Russia, a project that was suspended amid tensions between the two countries. The TurkStream pipeline would bring Russian natural gas to Europe on a southern route that would bypass Ukraine. "The agreement provides for the construction of two lines of the main pipeline across the bottom of the Black Sea," said Aleksei Miller, head of the state-owned Russian energy giant Gazprom. Miller said the lines would be built by the end of 2019, with the pipeline planned to carry Russian gas to Turkey and possibly European Union member Greece.
Russia froze talks on TurkStream when Turkish-Russian relations plummeted after the downing of a Russian fighter jet on the Syrian border by Turkish forces in November, with Moscow imposing trade and travel sanctions against Turkey and Russian and Turkish officials making personal attacks against each other. But a letter of regret from Erdogan on the death of the plane's pilot has led to a normalization of ties.
However, progress on Syria, over which they remain deeply divided, has been more problematic. Talking to media, Erdogan described the topic as "very sensitive", but said he had discussed Turkey's military operations in Syria with Putin. Both leaders said they had agreed on the importance of delivering aid to the city of Aleppo, whose opposition-held eastern sector has been encircled by Russian-backed Syrian forces for all but a short period since July. "We have a common position that everything must be done to deliver humanitarian aid to Aleppo," Putin said, adding he had agreed with Erdogan to intensify military contacts.
The agreement between Russian president Vladimir Putin and Turkish president Recep Tayyip Erdogan in Istanbul on October 10 would, if implemented, redraw the energy map of Europe by allowing Russia to bypass some of its gas around Ukraine, though it might hurt a few countries.
TurkStream
The Turkish Stream pipeline was designed by Gazprom as an alternative route into southern Europe instead of through Ukraine. It was to planned to have a total capacity of 63 billion cubic meters (bcm), consisting of four parallel pipelines each with a capacity of 15.75 bcm. Last October, Gazprom said it would cut the capacity by around 25%, citing its planned Nord Stream II pipeline. But that pipeline has now been dealt a mighty blow by a Poland anti-trust ruling. Gazprom claims it will go it alone now that its main European partners, including Shell, are out for now.
TurkStream, to be operated by Gazprom, the Russian state-owned gas monopoly, was proposed by Putin two years ago as a replacement for the abandoned South Stream pipeline which had involved co-operation between Russia and several EU countries. Talks faltered after the crisis triggered by the shooting down of a Russian Su-24 war plane by Turkish forces over the Syrian border in November 2015. But relations have thawed rapidly since June when Erdogan voiced regret for the downing of the Russian jet.
The agreement on October 10 came on the sidelines of the World Energy Congress in Istanbul, where Russian President Vladimir Putin met his Turkish counterpart, Recep Tayyip Erdogan, for talks. It was the Russian leader's first visit to Turkey since November when he attended the G20 summit in Antalya. "I am convinced that the process of normalization of our ties will continue rapidly," Erdogan told reporters during a joint news conference. The meeting in Istanbul was the third time in three months that Erdogan and Putin have met, stoking fears in the west that Moscow is exploiting tensions between Turkey, a NATO member with hopes of EU accession, and its traditional allies. The Turkish presidency dismissed such fears. "Neither Turkey's alliance with the West nor its relationship with Nato is up for debate," she said.
Moscow has become more wary about doing gas deals with Brussels after the EU blocked Russia's South Stream pipeline, according to Russian Foreign Minister Sergey Lavrov. "After the failure of South Stream, we will be ready to extend Turkish Stream to the territory of the European Union only after we received an unambiguous formal paper that guarantees the implementation of this project," Lavrov said, speaking to European businessmen in Moscow. Lavrov stressed that, according to experts, in the foreseeable future it will be very difficult for EU countries to live without Russian energy resources. "For Turkey, this means another natural gas pipeline that will promote the country as a global energy hub. For Russia, the project is important because it will bypass the territory of Ukraine as a transit country, which has repeatedly proven itself as unreliable partner," said economist Anna Glazova in an interview with Izvestia daily.
The gas pipeline agreement committed both Moscow and Istanbul to construction of two lines of pipes beneath Turkish waters on the bed of the Black Sea, with a combined capacity of 30bn cubic metres of gas. One would serve the Turkish market and the other the rest of Europe. The gas deal would also strengthen ties between Moscow and Ankara at a time of growing mistrust between Turkey and the west in the wake of the coup attempt that plunged the country into turmoil three months ago and killed 270 people.
When the agreement to build the Turkish Stream pipeline was reached in December 2014, it was assumed the pipeline would replace South Stream that had been blocked by the EU. However, after the Turkish air force shot down a Russian jet last year, the project was suspended. The plan for TurkStream emerged after Russia dropped plans to build the South Stream pipeline to Bulgaria due to opposition from the European Union, which is trying to reduce its dependence on Russian gas. Talks resumed after Ankara apologized to Moscow for the incident. In August, Russian President Vladimir Putin met Turkish counterpart Recep Tayyip Erdogan. The Turkish president said his country is interested in resuming talks on constructing the pipeline, including gas deliveries to Europe once it is in Turkey.
Rapprochement
As Turkey and Russia signed the deal for the construction of a major undersea gas pipeline, they vowed to seek common ground on the war in Syria, accelerating a normalization in ties nearly a year after Turkey shot down a Russian warplane. Turkish President Tayyip Erdogan hosted Russia's Vladimir Putin at an Ottoman-era villa in Istanbul for talks which touched on energy deals, trade and tourism ties, defense and the conflict in Syria, where the two leaders back opposing sides. "Today has been a full day with President Putin of discussing Russia-Turkish relations … I have full confidence that the normalization of Turkish-Russian ties will continue at a fast pace," Erdogan told a joint news conference.
The warming relations between NATO member Turkey and Russia comes as both countries are dealing with troubled economies and strained ties with the West. Putin said Moscow had decided to lift a ban on some food products from Turkey, imposed after the Turks shot down a Russian fighter jet near the Syrian border last November, and that both leaders had agreed to work toward the full-scale normalization of bilateral ties. They signed a deal on the TurkStream undersea gas pipeline, which will allow Moscow to strengthen its position in the European gas market and cut energy supplies via Ukraine, the main route for Russian energy into Europe. Erdogan also said plans for a Russian-built nuclear power plant in Turkey would be accelerated. Time lost on the Akkuyu project because of strained relations would be made up, he said. In 2013, Russia's state nuclear corporation Rosatom won a $20 billion contract to build four reactors in what was to become Turkey's first nuclear plant, but construction was halted after the downing of the Russian jet.
The rapprochement continued, with Putin and Erdogan overlooking their differences on Syria to agree closer military and intelligence co-operation. Ankara's relations with the US and European nations, in contrast, remain strained by what Erdogan perceived as slow and halfhearted backing after the attempt to overthrow him in July. Since then, Turkey has railed against Washington's refusal to immediately extradite Fethullah Gulen, the exiled Islamic cleric accused of masterminding the coup plot, a claim he strongly denies. It has also been riled by western warnings about the scale of the post-putsch crackdown that has seen more than 100,000 people sacked or dismissed from their jobs.
Russia is also building Turkey's first nuclear power plant, and Erdogan said the sides agreed to accelerate the project. Putin also said the two leaders agreed on the need to deliver aid to the besieged Syrian city of Aleppo, where Russian air strikes are supporting government forces, although the two sides were at odds over the "security" of the delivery routes.
The Russian leader also said his country was ready to reduce oil production and supports OPEC's initiative to cut production as a way to increase oil prices. "We believe that a freeze or even a reduction in the production of oil is probably the only appropriate decision for maintaining [the] sustainability of global energy," Putin said. Putin was due to hold talks with Venezuelan President Nicolas Maduro in Istanbul.
The gas pipeline deal is good for both Turkey and Russia. It is not so good for Ukraine and Bulgaria, who will lose out now that the South Stream pipeline is no longer needed. Bulgaria was going to collect transit revenues from that deal. "Turkish Stream hurts Ukraine because it deprives them of the trans-Balkan route that supplied Turkey via Ukraine, Moldova, Romania and Bulgaria. So it also deprives Bulgaria, Moldova and Romania of transit fees. Bulgaria is even unhappier than the others of course since South Stream is dead.
Differences
Despite their detente, Presidents Putin and Erdogan remain deeply at odds over Syria. It NATO links and its own separatist movement do not let Turkey come closer to Russia over Syria.
Russia has backed Syrian President Bashar al-Assad with a year-long air campaign against the rebels fighting him. Turkey backs the rebels and wants to see Assad out of power. On Saturday, Russia vetoed a French-drafted U.N. Security Council resolution that would have demanded an end to air strikes and military flights over Aleppo. A rival Russian draft text failed to get a minimum nine votes in favor. Erdogan said there would be further talks with Russia over the conflict in Syria. But there was little sign of any concrete progress toward reconciling their differences. "We discussed … how we can cooperate on this matter, especially on humanitarian aid to Aleppo, what strategy can we implement so people in Aleppo can find peace," Erdogan said. "We will come together with our foreign ministries and top military leaders and intelligence officers."
Though Turkey has softened its previous demand for the immediate departure of President Bashar al-Assad, it remains a key supporter of rebel forces that are battling the Syrian armed forces and their allies, while Russia is one of the Syrian president's staunchest allies. Putin said that Turkey and Russia had agreed on the importance of delivering aid to the embattled Syrian city of Aleppo, insisting that they had found a "common position" that everything possible must be done to allow humanitarian supplies as long as their safety could be ensured.
But with Russia accused by the US of bombing a UN aid convoy last month, it remained unclear what this would mean in practice.
Observation
The deal Russia and Turkey signed on the pipeline that can handle up to 32 billion cubic meters of gas per year. Gazprom CEO Aleksey Miller said he expects the project will be completed by 2019. On the stock side of the equation, it's impossible to say whether the pipeline is good for Gazprom's share price, because the stock hasn't been over $5 since April.
Obviously, one country that would be extremely disappointed and deeply worried about the growing ties between former Ottoman Empire and former Russian Empire by striking gas deal that indirectly belittles the prowess of USA as the global power and the only surviving super w power. Some of the strategic experts might feel the pinch of the positive consequences of the engineered and failed coup in Turkey and the shooting of a Russian war plane by Turkish forces, apparently on the orders from the Pentagon-CIA high command.
The present trends shows the bilateral economic ties would grow further, deepening in security matters and on global issues. However, how far Turkey, a NATO member, would be able to resist the strenuous pressure tactics of Washington remains to be seen.