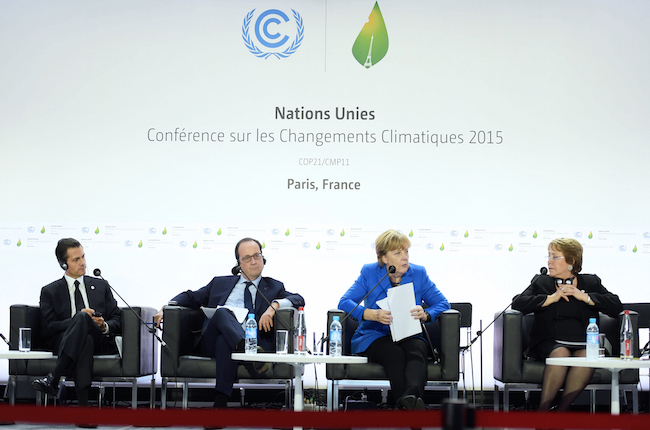 By Shahzadi Tooba Hussain Syed
Pakistan ratified the Paris Agreement on Climate Change that commits nearly every country to lowering planet warming greenhouse gas emissions to help stave off the most drastic effects of global warming.
Nearly 200 countries agreed Climate change accord in December 2015, which came into force on 4 November 2016. The agreement commits world leaders to keeping global warming below 2C, seen as the threshold for safety by scientists, and pursuing a tougher target of 1.5C. The carbon emission curbs put forward by countries under Paris are not legally-binding but the framework of the accord, which includes a mechanism for periodically cranking those pledges up, is binding. The agreement also has a long-term goal for net zero emissions which would effectively phase out fossil fuels.
At least 55 parties to the UN's climate convention (UNFCCC), responsible for at least 55 percent of global greenhouse gas emissions, had to ratify it for it to take effect. Hundred and eleven countries have ratified the Paris agreement, including 10 of the largest polluters. These countries cover more than 55% of global emissions. The world's top three emitters of carbon dioxide – China (27%), the US (15%) and India (7%) – have ratified the agreement.
Dubbed the Paris Agreement, it is the first-ever deal binding all the world's nations, rich and poor, to a commitment to cap global warming caused mainly by the burning of coal, oil and gas.  In its praise it is said that "Humanity will look back on November 4, 2016, as the day those countries of the world shut the door on inevitable climate disaster".
This meant drastically and urgently cutting emissions, which requires political commitment and considerable financial investment. The urgency was brought home by a UN report on Thursday which warned that emissions trends were steering the world towards climate "tragedy".
By 2030, said the UN Environment Program, annual emissions will be 12 to 14 billion tons of carbon dioxide equivalent (CO2e) higher than the desired level of 42 billion tons. The 2014 level was about 52.7 billion tons. 2016 is on track to be the hottest year on record, and carbon dioxide levels in the atmosphere passed an ominous milestone in 2015.
Pakistan's Permanent Representative to the UN, Ambassador Maleeha Lodhi, deposited the Instrument of Ratification signed by the President of Pakistan at a ceremony held at United Nations Headquarters in New York.
With this ratification Pakistan has become 112th country to ratify the agreement which entered into force earlier this month. Pakistan had signed the agreement on the first day of its opening for signature in New York in April this year.
The conditions for the agreement's entry into force were met on Oct 5 requiring ratification by at least 55 countries that account for 55 percent of all global greenhouse gas emissions. The agreement obliges member states to keep global warming below 2 centigrade regarded as the threshold for safety by experts and scientists.
Pakistan's ratification is in line with its firm commitment to the purposes and objectives of the Climate Convention. It also highlights the resolve of the Government of Pakistan to remain fully committed to the implementation of the Paris Agreement.
In Pakistan the cabinet has also approved a Climate Change bill. The salient features of the bill, according to the proposals are: a 'Pakistan Climate Change Council' would be established. The body would be a high climate change decision making body which will either be chaired by the prime minister or a person nominated by him. The federal government may appoint federal and provincial ministers, chief ministers, Azad Jammu and Kashmir and Gilgit-Baltistan chief secretaries as members of the council. Different projects will be prepared under this authority and will be implemented by the provinces.
Another major achievement in this regard is that Pakistan has become member of the exclusive club, producing over 1,000 megawatts of electricity through renewable energy sources. Pakistan had achieved 1135 MWs of installed capacity of electricity on basis of renewable sources of energy. This capacity would be increased to 1185 MWs by next month when first project of renewable energy under China Pakistan Economic Corridor using wind power would be installed at Gharo. Out of these 1135 MWs the country has been producing on basis of renewable sources, the country has been producing 590 MWs on basis of wind power, 400 MWs on basis of solar energy, 145 MWs power produced through bagasse available with sugar mills in Northern Sindh and Southern Punjab.