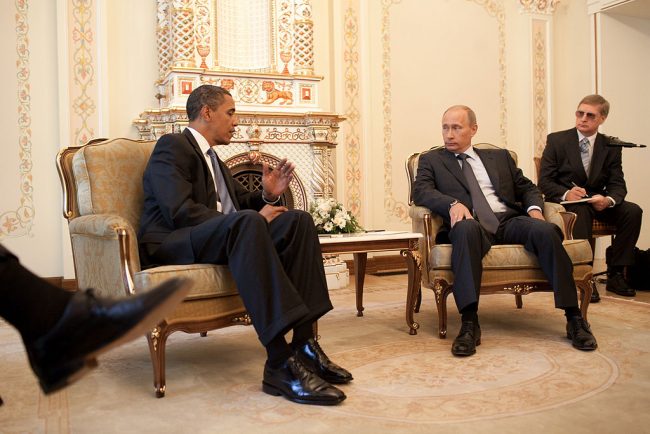 By Abdul Ruff
American President Barack Obama who is enjoying his last days at White House as US president and the custodian of it, completing two terms and literally the world leader and his Russian counterpart Vladimir Putin met in Lima, Peru's capital for around four minutes on November 20 at the APEC summit in what is likely to be their last in-person meeting before Obama leaves office. The two leaders met at the start of the summit meeting and reportedly briefly discussed about Syria and Ukraine. They exchanged pleasantries and remained standing as they spoke.
President Obama later said at a news conference he told Putin the USA is deeply concerned about bloodshed and chaos in Syria "sown by constant bombing attacks" by the Syrian and Russian militaries, and that a ceasefire and political transition were needed. "As usual I was candid and courteous but very clear about the strong differences we have on policy," Obama said.
President Obama said he didn't discuss any controversial issues like Crimea or cyber attacks or alleged Russian meddling in the US election in the meeting with Vladimir Putin in Lima, an encounter that's likely the last between two leaders divided by Ukraine, Syria, human rights and cyber warfare. "As usual, it was a candid and courteous meeting but it was very clear about the strong differences we had on policy," Obama said in a news conference after a summit of Asia-Pacific leaders in Peru. "The issue of the elections did not come up because that's behind us and I was focused in this brief discussion on moving forward."
Later at a separate news conference, Russian President Vladimir Putin said US President-elect Donald Trump confirmed to him he was willing to mend ties; he also said he would welcome President Obama in Russia. "The President-elect confirmed he is willing to normalize Russian-American relations. I told him the same. We did not discuss where and when we would meet" Putin also told a news conference in Lima after the APEC summit that Russia is ready to freeze oil output at current levels. Putin said he thanked Obama during Sunday's meeting in Lima "for the years of joint work". "I told him that we would be happy to see him (Obama) in Russia anytime if he wants, can and has desire", Putin said.
It was the first meeting between the two leaders since Donald Trump's win in the Nov. 8 presidential election. During the campaign, Democrats accused Russia of interfering in a way that helped Trump, the Republican nominee. U.S. intelligence officials have tied the Russian government to the hacking and subsequent leaking of Democrats' e-mails that harmed Hillary Clinton's campaign. The recent US elections, Trump's victory and hacking weren't discussed during the "very brief" meeting, Peskov said via text message.
World's top leaders Obama and Putin have had a challenging relationship. The US president had warned Putin last week about consequences for cyber attacks attributed to Moscow that were seen as trying to influence the US election. Obama said he also urged President Putin to help implement the Minsk peace agreement by working with France, Germany, Ukraine and the United States to halt the conflict in Donbass region of Ukraine.
Syria is a major bottle neck between two counties, Obama said he conveyed US concerns about the bombing of civilians in Aleppo by the Syrian government and Russian forces, and he urged Putin to implement a ceasefire in eastern Ukraine, where the Russian military is involved in the country's civil war — "to see if we can get that done before my term is up," Obama said.
Notwithstanding the reports of their closeness, sources say that the Trump-Putin bond that may or may not be real. Obama has opposed Putin over Russia's annexation of Crimea, its backing of the Syrian government and the cyber attacks that weighed on the U.S. electoral process. During a press conference in Berlin on Nov. 17, Obama said Trump should continue to support U.S. policy in these areas. "My hope is that the president-elect coming in takes a similarly constructive approach, finding areas where we can cooperate with Russia where our values and interests align, but that the president-elect also is willing to stand up to Russia where they are deviating from our values and international norms,'' he said.
Seeking to prolong terror war on Islam and Muslims, Obama has called on his successor Trump to "stand up'' to Putin when Russia pursues policies that are at odds with American interests. Trump displayed an affinity for Russia and Putin during his campaign, and the Russian leader has said Trump's election is an opportunity to restore the relationship between the two world powers. 
Putin's foreign policy aide, Yuri Ushakov, blasted the Obama administration as recently as Nov. 17. "The departing team has recently been doing everything it can to push our relations into a such dead-end that will be quite difficult for the new team, if it wants, to pull them out of it," Ushakov said.
The brief encounter with the Russian president, conducted with the help of a translator, came as Asia-Pacific leaders gathered for a Sunday morning session. There are no plans for a second meeting, said Putin spokesman Dmitry Peskov. Obama, who leaves office in two months, could be seen uttering the word, "OK," and Putin was observed reacting with facial expressions, as journalists were permitted into the Asia-Pacific Economic Cooperation leaders' summit for a few minutes to take photographs. Obama also made his way around the room to greet other leaders.
A summary of the "brief and informal" discussion, provided by the White House, said Obama restated USA and allies' commitment to Ukraine's sovereignty, urged Putin to uphold Russia's commitments under the Minsk agreements, and said US Secretary of State John Kerry and Russian Foreign Minister Sergei Lavrov must keep working with the international community to reduce violence and alleviate Syrians' suffering. A bombing campaign by Syria's government has intensified in recent days. The USA has criticized Russia for backing the Syrian regime in a civil war that has killed more than 300,000 people.
APEC
Asia-Pacific Economic Cooperation or APEC in short is a forum for 21 Pacific Rim member economies that promotes free trade throughout the Pacific region. It was established in 1989 in response to the growing interdependence of Asia-Pacific economies and the advent of regional trade blocs in other parts of the world; to defuse fears that highly industrialized Japan would come to dominate economic activity in the Asia-Pacific region; and to establish new markets for agricultural products and raw materials beyond Europe.
The first APEC Economic Leaders' Meeting occurred in 1993 when US President Bill Clinton, after discussions with Australian Prime Minister Paul Keating, invited the heads of government from member economies to a summit on Blake Island. He believed it would help bring the stalled Uruguay Round of trade talks back on track. At the meeting, some leaders called for continued reduction of barriers to trade and investment, envisioning a community in the Asia-Pacific region that might promote prosperity through cooperation. The APEC Secretariat, based in Singapore, was established to coordinate the activities of the organization.
In January 1989, Australian Prime Minister Bob Hawke called for more effective economic cooperation across the Pacific Rim region. This led to the first meeting of APEC in the Australian capital of Canberra in November, chaired by Australian Foreign Affairs Minister Gareth Evans. Attended by ministers from twelve countries, the meeting concluded with commitments for future annual meetings in Singapore and Korea.
An annual APEC Economic Leaders' Meeting is attended by the heads of government of all APEC members except Taiwan (which is represented by a ministerial-level official under the name Chinese Taipei as economic leader. The location of the meeting rotates annually among the member economies, and a famous tradition, followed for most, but not all, summits, involves the attending leaders dressing in a national costume of the host country.
Countries of the Association of Southeast Asian Nations (ASEAN) opposed the initial proposal, instead proposing the East Asia Economic Caucus which would exclude non-Asian countries such as the USA, Canada, Australia, and New Zealand. This plan was opposed because of the member countries in the America Region, and strongly criticized by Japan and the United States.
USA and Russia for years have conducted themselves as opposite poles fighting for military supremacy and global influence one has to see if Presidents Putin and Tramp change the rule of game in order to make the world safe and secure. The nature of simultaneously cooperative and confrontational relationship between these top world powers does confuse the world.
Obama would leave presidency as incumbent president Donald Trump would assume office on January 20 and soon thereafter would announce his team and policies.
World attention is focused on Trump's presidential action at White House.
Speculation is indeed interestingly thrilling, especially for those who supported Trump candidacy to end the Democratic misrule, possibly once for all. By following the Republican policies especially on escalation of terror wars on Islamic nations and global Muslims, the Democratic regime has become irrelevant in US politics…