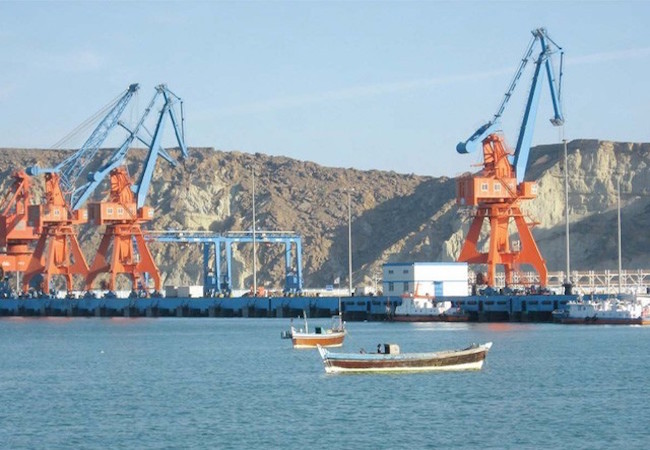 By Babar Khan Bozdar
Pak-China friendship is higher than Himalaya and deeper than the ocean. This economic corridor is the fruit of that friendship. The corridor will further enhance the friendship and strengthen brotherhood. The plan for corridor stretching from China to Pakistan into deep water ports on the Arabian sea dates back to 1950. Construction of Gwadar port was also in consideration but the project was ceased due to political instability in Pakistan, the fall of  Musharaff regime and subsequent conflict between the Pakistani state and Baloch militants.
Though the project was proposed by General Musharaff, it was postponed because of political instability in the state; however, it was again initiated by the then president Asif Ali Zardari following his visits to China when he was invited along with all political party leaders to a luncheon in the honor of Chinese premier "Li Keqiang" in the President House on 22 May 2013. Both leaders agreed to enhance mutual cooperation and develop long-term plans in the form of China-Pakistan economic corridor.
CPEC megaproject includes:
1. Chinese finance projects
2. Energy projects includes wind, thermal and hydro projects
3. Infrastructure projects include Peshawar-Karachi motorway, Havelian dry port, and two other projects
4. Gwadar includes the establishment of international airport, hospital, and some other projects
5. Other Projects includes cross-border optical fiber cable and digital terrestrial multimedia broadcast
There are some public sector developments projects (PSDP) as well. The three routes have been proposed for within the corridor project: Western route, Eastern route and the Central route. The Western route will cover 2674 km-long distance. Future central route consists of a network of roads entering Gwadar via cities of Basima, Khuzdar, Sukkur, Rajanpur, Layyah, Muzaffargarh and will terminate in Dera Ismail Khan. In fact, the Eastern route is not part of the corridor, but a project of National Highway authority. NHA chairman claimed that Eastern route is not part of CPEC, while it is a part of NHA projects to overcome the traffic burden to the corridor.
There is a saying that "who has a trade may go anywhere". Similarly, economic corridor unites both countries in a new era of cooperation and access to the major part of the world. In fact, the economic corridor will diffuse tension and promote regional cooperation, harmony, and integration. The economic corridor through road and sea links connects several nations into one transnational entity. Strong economic and human connectivity is a major source of trade and exchange of goods and services to generate revenue.
Though Pakistan is facing rampant official corruption, militancy, separatism and political instability, these core issues might hijack the corridor. China is also unhappy because Baloch insurgents are opposing development of Gwadar port and are creating hurdles. Baluchistan factor is going to complicate things. Baloch insurgents who oppose the development of Gwadar have blown up numerous gas pipelines and have attacked Chinese engineers and it might be a troublesome situation for Chinese workers here in Baluchistan. Insurgents don't want to see development in Gwadar and Baluchistan unless it becomes an independent state. They fear that if Baluchistan is developed and Gwadar becomes operational, outsiders will move in and the demography of province will be disturbed and native people will become minority.
Various separatist leaders of Baluchistan are opposing CPEC and development of Gwadar Port. In this regard, Barhamdagh Bugti, the leader of Baloch Republican Party (BRP) criticized the corridor and called for UN resolution. China has been significantly troubled by East-Turkestan movement which was responsible for the death of hundreds of Chinese in the last two years. China is also worried about ethnic violence from Uighur rebels in its mostly Muslim northwestern Xinjiang province.
PTI-led government in North-West Frontier Province is also opposing corridor, because they are not satisfied with the route and resources distribution. The reason behind this opposition is a change in original route and diverted economic gains which are beneficial to Punjab only. Thus, there is huge resentment and hatred in other provinces against CPEC.
Security concerns have been the most critical challenge to the corridor. China and Pakistan are trying to meet them. A group of militant organizations like BLA, ETIM, TTP and some other terrorist groups from Afghanistan might be the bone of contention. CIA, Mossad, and RAW are continuously assisting, supervising and supporting these terrorist organizations to destabilize Pakistan but "Iron brothers" should be aware of their intention to make corridor successful and secure it from their impious intentions.
Babar Khan Bozdar is a Research Affiliate at Strategic Vision Institute in Islamabad. He can be reached at [email protected], [email protected]