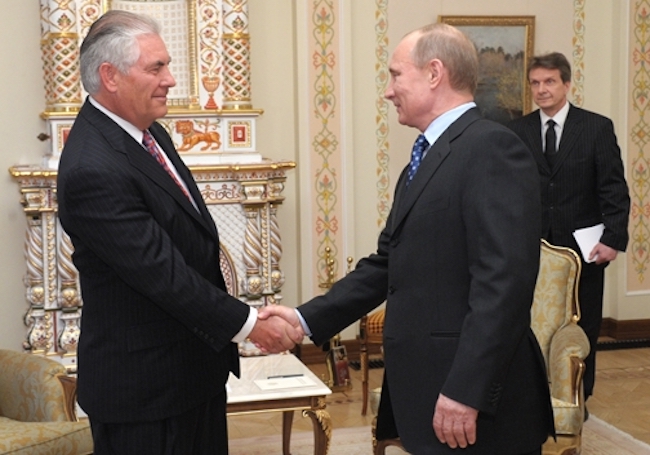 By Abdul Ruff
The wealthy businessman Donald Trump, the US president elect to replace Barack Obama, as speculated, has opted for wealth people for his cabinet positions and billionaire ExxonMobil CEO Rex Tillerson as his top diplomat is one.
Rex Tillerson, President-elect Donald Trump's apparent choice to be the next foreign minister in his government, has ample experience in dealing with Russia and  many other nations, but strictly as a businessman, not a diplomat. Exxon has operations in dozens of countries, some of them politically volatile or estranged from the USA. First among them is Russia, which has leaned heavily on Western companies for technology and know-how to tap its vast oil and gas resources.
Persons close to Trump's transition team said that Trump had selected Tillerson to be America's top diplomat. The prospect of Tillerson's nomination for secretary of state has raised concerns, given intelligence assessments saying Russia interfered with the US presidential election to help Trump.
Trump's tapping of Tillerson lifts hope of US rapprochement as relations between former Cold war rivals have not made any significant improvement even after the Sept-11 hoax to terrorize Islamic world when Russia moved closer to US by supporting for Bushdom war on terror, targeting Islam and Muslims.
Rex Tillerson, a friend of Russia
A native of Wichita Falls, Texas, 64-year-old Tillerson is a career Exxon employee, having joined the company after graduating from the University of Texas in 1975 with an engineering degree. Groomed for an executive position, he spent years in the rough-and-tumble world of oil production, working in Exxon's central US, Yemen and Russian operations. By the 1990s, Tillerson was overseeing many of Exxon's foreign operations. He played a key role in Exxon's involvement in the huge Sakhalin oil and natural gas project on Russia's eastern coast. That was a warm-up for a $3.2 billion deal in which Exxon and Russian state-controlled Rosneft announced they would work together to explore for oil in Russia's Arctic region. Production is expected to begin in the next decade.
Tillerson joined ExxonMobil in 1975 as an engineer, before rising to become president and chief executive on 1 January 2006, overseeing business activities in more than 50 countries. Appointed CEO in 2006, he had been due to retire in March. But his lack of formal policy and government experience, and embedded relationship with a hugely powerful energy company is bound to result in sharp questions in the Senate confirmation hearings. Tillerson expected to retire next year. His heir apparent, Darren Woods, has been in place for a year, so there would be virtually no disruption to Exxon's succession plans if Tillerson were to become secretary of state.
Tillerson took charge of Exxon's operations in Russia in 1998, and navigated the company through major difficulties after Vladimir Putin came to power and the Kremlin demanded that earlier oil-and-gas deals be revised in favor of Russia's state energy giants Gazprom and Rosneft. In 2011, as Exxon CEO, he negotiated a long-range, multi-billion dollar joint venture with Rosneft to explore for oil in Russia's Arctic.
Tillerson has argued against sanctions that the US and European allies imposed on Russia after it annexed the Crimea from Ukraine in 2014. He also has backed free trade and an expansive US presence in the Middle East, stances at odds with the more isolationist approach Trump has pitched to his supporters during the campaign.
The businessman has publicly opposed sanctions on Moscow that thwarted his attempt to pursue huge oil deals in the Russian Arctic.  For this, he was awarded Russia's Order of Friendship by Vladimir Putin in 2013 and the Kremlin welcomed his nomination with an aide praising him as a "very solid figure" with whom Putin and Russians have "good, business-like relations."
In 2011, Tillerson flew to the Russian resort town of Sochi to meet Russian President Vladimir Putin for the announcement. As news photographers recorded the scene, the men shook hands and smiled broadly at each other. "This project promises to be highly interesting and ambitious," Putin said, according to a Rosneft press release. Exxon exploration in Russia, he said, "will open new horizons."
Exxon steadily expanded its Russian business while its rivals faced expropriation and regulatory obstacles.  Interestingly, in 2013 Putin awarded Tillerson the Order of Friendship, an honor given to only to highly friendly foreigners who improve relations with Russia. Tillerson is a special case. "My relationship with Vladimir Putin, which dates back almost 15 years now, I've known him since 1999 and have a very close relationship with him," Tillerson said in a speech a few years ago at the University of Texas-Austin.
The sanctions against Russia, if they remain in place for an extended time, could threaten the joint venture with Rosneft, and at Exxon's annual meeting in 2014, Tillerson urged Western political leaders to consider the very broad collateral damage of who are they really harming with sanctions.
Besides Russia, Exxon also has operations in Indonesia, Azerbaijan, Chad, Equatorial Guinea, and many other countries. Africa and Asia were its leading sources of oil production in 2015. The company says its diverse global portfolio of oil and gas projects helps mitigate risks. In 2015, Exxon paid Tillerson compensation that the company valued at $27.3 million, most of it in stock awards. At the end of 2015, he held awards that had not yet vested that were worth $149.2 million.
New direction
Donald Trump defended his nomination of Tillerson as America's next secretary of state, dismissing concerns about the oilman's ties to Russia and saying US foreign policy needed a new direction. The nomination, which capped weeks of debate about the right candidate, was the most keenly awaited in Trump's cabinet as the world waits to see how the incoming Republican president intends to alter US foreign policy.
Since it looks certain that Tillerson would be Trump's secretary of state, by law, he would have to either sell his Exxon shares and stock options or recuse himself from government matters that have a "direct and predictable" effect on his financial interests. Failure to do one or the other would likely result in criminal charges, since Cabinet members, unlike the president and vice-president, are covered by statutes designed to prevent conflicts of interest. If Tillerson didn't sell the stock, he would have to stay out of decisions for a wide swath of the secretary's job including climate change matters, the oil industry or many dealings with Russia. it' may be  unacceptable to have a secretary of state who has a lot of oil company stock or stock options. Putting the stock in a blind trust would not be allowed because it would remain a financial interest for Tillerson
Still, it's not unheard of for a high-profile businessman to serve as secretary of state.
Bechtel, the big, privately held San Francisco engineering and construction firm, gained stature and prestige — and likely an advantage in bidding for foreign contracts — when President Ronald Reagan picked George Shultz as secretary of state and Caspar Weinberger as secretary of defense. Both had been top Bechtel executives. Most so-called democracies promote top businessmen for ministerial berths as per the capitalist system requirement.  At the time, Bechtel had its own foreign policy, especially in the Middle East and didn't particularly care if its objectives were not aligned with those of the USA.
Trump has stoked alarm among Democrats and fellow Republicans ahead of his 20 January inauguration by calling for closer ties with Moscow, in contrast to received wisdom in Washington that Russia remains a global security threat. That sentiment — coupled with the fact that Trump is at loggerheads with some Republican senators over a CIA assessment that Russian hackers helped him win the election — may complicate Tillerson's confirmation hearings.
Trump, who announced the nomination, hailed Tillerson as a "great diplomat" and "one of the greatest and most skilled global business leaders of our time" at a campaign-style rally in the traditionally Democratic-leaning state of Wisconsin that helped elect him. The 64-year-old Texan, who, like Trump, has no experience in government and spent his entire career at Exxon, "has the insights and talents necessary to help reverse years of foreign policy blunders and disasters," Trump told the crowd.  "Rex is friendly with many of the leaders in the world that we don't get along with and some people don't like that," Trump told the crowd in West Allis, without mentioning Russia or Putin. "They don't want him to be friendly. That's why I'm doing the deal with Rex, because I like what this is all about," he added. "Instead of jumping recklessly from one intervention to another, my administration will build a long term strategy for stability, prosperity, peace, and rebuilding our own country."
Politicians on both sides of the aisle have expressed concerns over Tillerson's ties to Russia. Senior Republican Senator John McCain has called Tillerson's ties to Putin "a matter of concern." "Vladimir Putin is a thug, bully and a murderer, and anybody else who describes him as anything else is lying," McCain has said. McCain and other senators have backed a congressional probe into intelligence assessments on Russian election interference, putting top Republicans on a collision course with Trump, who dismissed the reports as "ridiculous".
A series of establishment Republicans, including former secretaries of state Condoleezza Rice and James Baker, and former defense secretaries Donald Rumsfeld and Robert Gates have lined up to praise Tillerson.
If confirmed, Tillerson will face the hugely sensitive job of representing overseas a president apparently intent on trashing protocol and upending relationships built on decades of delicate diplomacy. Beyond thorny ties with Russia, Sino-US relations are strained after a series of moves by Trump that provoked China, now the world's second-largest economy, and controversy is also rife over his global business empire.
Trump postponed a press conference at which he was to unveil plans for separating himself from his global business dealings, instead writing on Twitter that his adult sons would manage the company. The 70-year-old billionaire is now putting the finishing touches to his cabinet with former Texas governor Rick Perry and Montana Representative Ryan Zinke his reported picks for energy and interior secretary respectively.
Last week Trump greeted a stream of special guests in New York including rapper Kanye West and Bill Gates, the richest man on the planet who dedicates his life to philanthropy. Gates said Trump had an opportunity to inspire Americans to embrace innovation as John F. Kennedy once promoted space exploration. "We had a good conversation about innovation, how it can help in health, education, the impact of foreign aid and energy, and a wide-ranging conversation about power of innovation," Gates said afterward. Trump also met with Vogue editor-in-chief Anna Wintour, who was a vocal supporter of his Democratic rival Hillary Clinton.
Observation: Implication for US-Russia relations
This economic development took place even while USA and Russia are officially at loggerheads over several issues, including the western economic sanctions. Success in Russia required aligning the company's interests with those of the Russian government, and good relations with Russian strongman President Putin.
Donald Trump's decision to nominate ExxonMobil CEO Rex Tillerson is proving to be a pleasant surprise to Russia. It's a rarity for Moscow to be enthusiastic over a US president's choice for secretary of State. It certainly wasn't the case for either of the past two secretaries, Hillary Clinton and John Kerry.
Even more than the election of President  Trump, which brought Russia's State Duma to its feet in a standing ovation, the nomination of  Tillerson seems evidence to Russians close to the Kremlin that the new government will move seriously to implement Trump's sketchy campaign promises about restoring good relations.
Putin, who has met frequently with Tillerson, Tillerson is well known and liked in Moscow, where he has been doing business for almost 20 years, but he is also seen as a completely different type than the US diplomats the Russians have regularly dealt with. Tillerson as Secretary of State would signify the greatest discontinuity in US foreign policy since the end of the Cold War.
For the foreign policy establishment in Moscow, Tillerson is a realist not driven by ideology, but a hard-nosed pragmatist who will focus on getting things done, and leave aside the many political and philosophical issues where Russia and the US will never agree. Sergei Karaganov, one of Russia's most senior foreign policy hands, has met Tillerson and says that his ratification would be a signal that genuine and lasting detente between the two powers is a real possibility. Karaganov is sure Russia can re-align the relationship in ways that will stress areas of concord and cooperation, and find ways to manage the differences.
Sergei Markov, a past adviser to Putin, says the whole foreign policy team that Trump is assembling makes it look like a break with past practices may be imminent. "We see Gen. James Mattis being named to be Defense secretary, and that looks to us like someone who could steer military cooperation between the US and Russia away from constantly obstructing each other and toward cooperation.." Michael Flynn, who's going to be White House national security adviser, is a person who advocates clear-eyed cooperation with Russia in areas that matter to both of us,"  Markov says,  "We don't imagine these people are special friends of ours, or anything like that, but it will be very refreshing to have diplomatic counterparts who are interested in practical deal-making. "Our experience over the past decade and a half is that we don't have negotiations in any real sense, we just get lectures and ultimatums from our US counterparts," Markov adds.
But some Russian experts are more skeptical that there are a lot of illusions on both sides as Russians and Americans really don't want to know each other. They suspect there will be a hard awakening for Trump's people, when they realize that making deals in the very complex realm of diplomacy is not much like the business world. Alexander Konovalov, head of the independent Institute for Strategic Assessments in Moscow argues Putin knows what he wants, but not sure if Trump has a very clear idea how to handle Russia.
One has to wait for January 20, on which President Trump assumes power as the boss of US super power, for his new foreign policy course to take real shape.